Let's end the year on an obnoxiously sweet note with homemade Coffee Marshmallows. If you want to send someone a late gift or sabotage a New Year's resolution, here you go.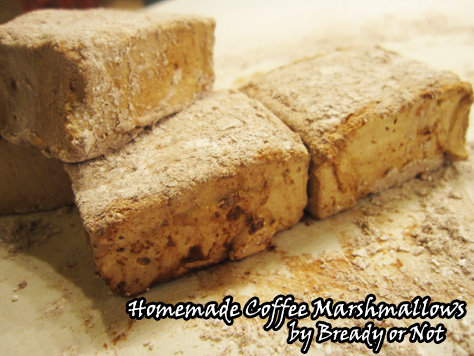 This recipe involves lots of beating. No, not with a stick. You'll want a good stand mixer, or be ready for your hand to vibrate to numbness if you use a hand mixer. I don't recommend doing this with a whisk in hand. Your hand might fall off.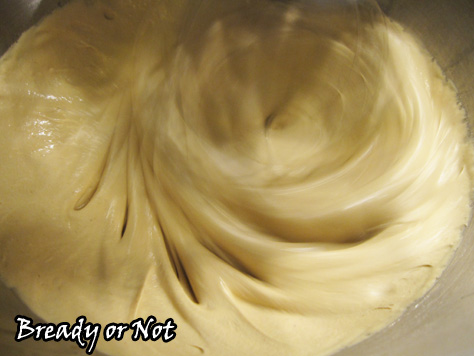 Not recommended, unless your last name is Skywalker and you have access to cool prostheses.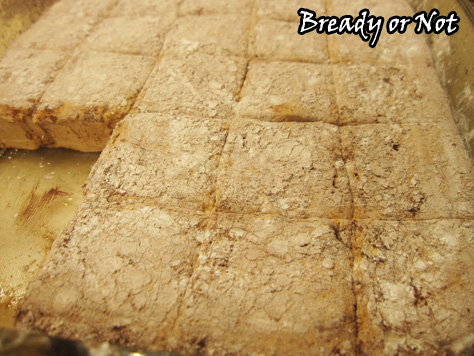 Once I started the recipe, I had the bulk of it done in about an hour. My stove is reeeeaaally slow to heat up. I did the mixing in my valiant Kitchen Aid.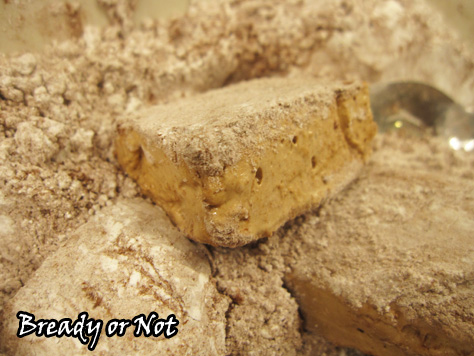 The results were fantastic: soft yet dense blocks of sugary goodness, coated in more sugary goodness.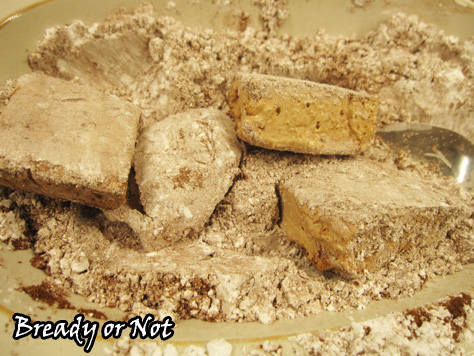 This makes a 9×13 pan. That's a lot of mallows. They're supposed to stay fresh up to a week if they are well-sealed. Bag these things up! Eat them by themselves, or plunked in coffee or hot chocolate.
Originally posted at the Holy Taco Church.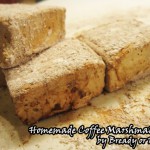 Print Recipe
Bready or Not: Coffee Marshmallows
This recipe makes a big batch of Coffee Marshmallows! Eat them straight or plonked in hot chocolate or coffee. They make for a lovely homemade gift.
Ingredients
Powder coating
1/4

cup

confectioners' sugar

1/4

cup

corn starch

1

tablespoon

Dutch-processed cocoa powder

sifted
Marshmallows
3/4

cup

warm water

divided

1

Tablespoon

espresso powder

3

envelopes

Knox gelatin

1 1/2

cups

white sugar

1

cup

light corn syrup

1/2

teaspoon

salt
Later mixing stage additions
2

Tablespoons

Dutch-processed cocoa powder

sifted

2

teaspoons

vanilla extract

Pam

or oil for pan
Instructions
Whisk together 1/2 cup warm water and the instant espresso. Let this cool in the fridge for a bit.

In a medium bowl, sift together the powdered sugar, corn starch and cocoa powder.

Grease a large casserole dish (like 9x13 or 10x8) with Pam or vegetable oil. Sift a small bit of the powdered sugar/cocoa mix over the bottom of the pan.

Pour the cooled coffee into the large bowl you will use for the mixing phase. Sprinkle the gelatin onto the coffee and let it sit for at least 10 minutes. Have a whisk attachment ready on your mixer.

In a medium sauce pan with an attached candy thermometer, combine the granulated sugar, corn syrup, salt and remaining 1/4 cup of water. Start heating this on medium until the sugar is dissolved and then crank it to high heat. Bring the mixture to a hard boil and cook for 1 minute, until the candy thermometer reaches 240 degrees. The color will start to change.

With the mixer on low, VERY CAREFULLY pour the boiling liquid into the gelatin/coffee mix. Once it's all in there, turn it to high and beat for 10-15 minutes, until it has doubled in volume and holds stiff peaks. Note that the color will change dramatically in stages.

Add in the remaining cocoa powder and vanilla extract and beat for another minute or so, until they are mixed in.

Pour the very sticky goop into the ready casserole dish. Use a well-greased spatula to even it out. Add a few tablespoons of the cocoa/sugar mix and use your fingers to dust that over the top. Cover the dish with foil or plastic wrap and let it firm up. Give it at least four hours, or overnight.

Run a knife along the edges of the pan to loosen the marshmallows. You can try inverting the whole block onto a large cutting board, or use a knife or pizza cutter to do basic rectangles and then remove portions at a time. Cut the marshmallows into 1-inch cubes and toss them in the cocoa/sugar mix.

Store the coffee marshmallows in an airtight container for up to one week. Enjoy them straight-up, or in coffee or hot cocoa.

OM NOM NOM!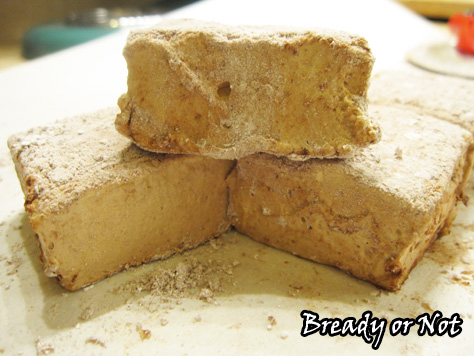 Save
Save