I present to you one of my very favorite chicken crock pot recipes, one I previously shared at Novelocity.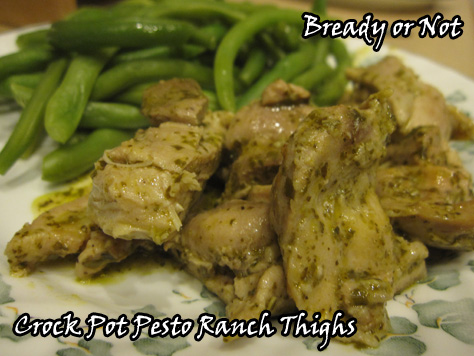 Seriously, I've been making this about once a month for a few months now. My husband even requests it. This is impressive since he 1) does not like ranch dressing 2) does not eat pesto.
There's something about the combination in this recipe, though, that is just plain savory and delicious.
This is my go-to meal when I'm on a writing deadline. It mixes up in five minutes and cooks itself over the afternoon, and produces chicken to feed us–quite happily–for days.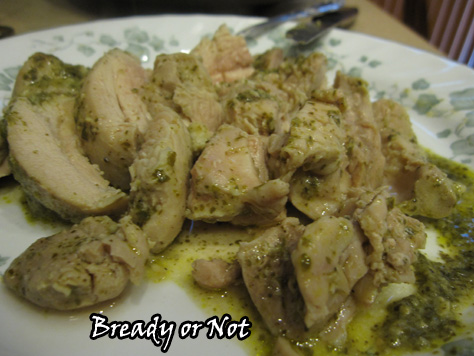 Modified from Picky Palate.
Bready or Not: Crock Pot Pesto Ranch Chicken Thighs
This chicken slow cooker recipe is different than most but super easy and delicious.
Ingredients
8

boneless skinless chicken thighs

2-3 pounds, thawed or mostly thawed

6-8

ounce

pesto jar

1

packet ranch dressing dry seasoning mix

or 3 Tb ranch dressing mix

1/2

cup

chicken broth
Instructions
Place chicken thighs, pesto, ranch dressing (dry from the packet) and broth into crock pot. Stir gently to coat chicken and combine everything.

Place lid on top. Cooking tip: It tends to cook in half the time you set on the crock pot, i.e., a 6-hour high setting means the chicken should be done in about 3 hours, depending on how many thighs are in there and how thawed they were to start. Leave thighs whole or chopped. (If you chop, add them into the pot again on warm for 15 minutes so they can soak up more flavor! It's also a great way to make sure they are cooked through--just chop the meat and cook on high a while more.)
These thighs are great with veggies, or in a salad, or cold out of the fridge. They also freeze wonderfully.