These Double Pecan Thumbprint Cookies take some extra work, but that is evident in their final appearance and flavor.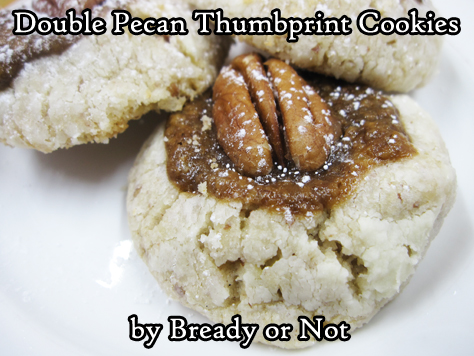 Seriously, these cookies are amazing. The shortbread-like base is filled with frangipane and crowned with a pecan. You get layers of flavor and texture in a single bite.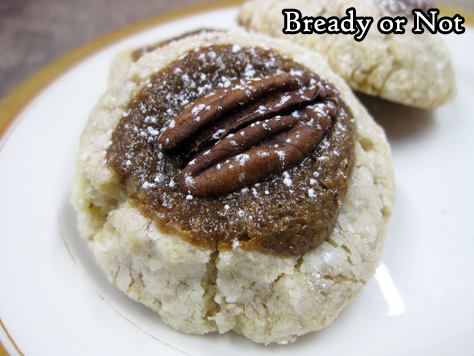 "What is frangipane?" you may ask. It's an almond custard found in various fine European baked goods. You'll find it in past Bready or Not recipes like last week's Galettes Des Rois.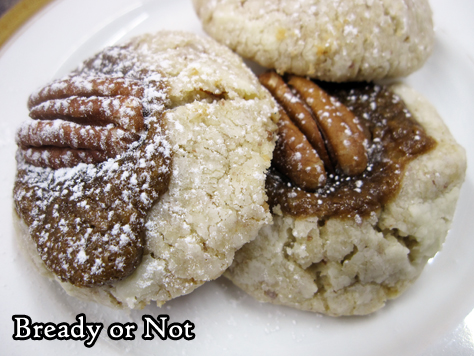 I wouldn't rate this recipe as difficult, just outright laborious.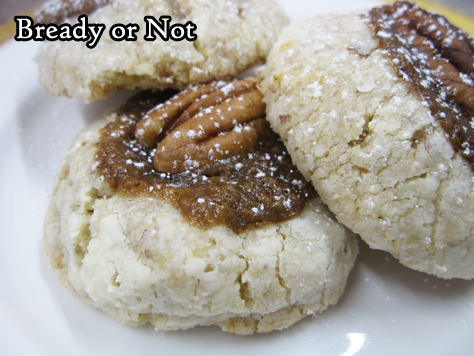 Plan to make these cookies over a day or a few days, and then try to space out the eating of the cookies like that, too. They are sooo dangerously good.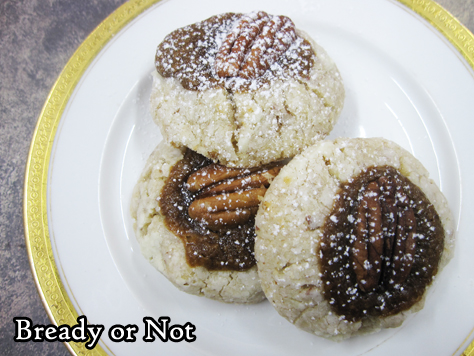 Modified from the original found in Bon Appetit December 2018/January 2019.
Bready or Not: Double Pecan Thumbprint Cookies
There's no denying these cookies take extra work, but they look like it and taste like it! A shortbread-like base is topped with luscious from-scratch frangipane with a whole pecan crown. These cookies are delicious decadence.
Equipment
food processor

stand mixer
Ingredients
Frangipane
2

cups

pecan halves

1/3

cup

white sugar

1

large egg white

2

Tablespoons

unsalted butter

room temperature

1

teaspoon

espresso powder

1/2

teaspoon

kosher salt

1/4

teaspoon

almond extract
Dough and Assembly
1 1/4

cups

all-purpose flour

1

teaspoon

kosher salt

1/2

teaspoon

baking powder

3/4

cup

unsalted butter

(1 1/2 sticks) room temperature

1/4

cup

white sugar

3/4

cup

confectioners' sugar

divided; plus more for serving, if desired

1

large egg yolk

1

teaspoon

vanilla extract

or vanilla paste
Instructions
Make the Frangipane
(This stage can be done as much as 3 days ahead of time. Cover the finished frangipane and store it in the fridge. There will be leftovers, but it's great toasted on bread or mixed into other cookie dough recipes.)

Preheat oven at 350-degrees. Line a small rimmed baking sheet with foil. Spread out the pecans on it to mostly be in a single layer. Lightly toast them for a total of 6 to 8 minutes, with a pause in the middle to stir them. Let the pecans cool. Set aside 1 1/4 cups to go into the cookie dough.

Pulse the 3/4 cup of pecans and white sugar in a food processor until nuts are very finely ground, which will take less than a minute (don't let them become paste!). Divide the egg, adding the egg white to the processor; place the yolk in a small bowl, add a sprinkle of sugar to help preserve it, then stash it in the fridge to go into the dough later.

Into the food processor, add the butter, espresso powder, salt, and almond extract. Pulse until everything is smooth and combined. Scrape the frangipane into a small bowl and chill for anywhere from 30 minutes (minimum) to 3 days.
Cookie Dough
In the clean food processor, pulse the flour, salt, baking powder, and 1 cup of the reserved pecans until nuts are very finely ground, about 1 minute. (Note that there is still 1/4 cup of pecans reserved for topping the cookies.)

In the bowl of a stand mixer, beat the butter, white sugar, and 1/4 cup confectioners' sugar until light and fluffy, about 4 minutes. Add in egg yolk and vanilla. Gradually mix in the dry ingredients until just incorporated, about 1 minute.

Cover bowl with plastic wrap and chill dough until it is firm enough to be scooped and hold its shape, 30 to 45 minutes.
Make the Cookies
Set oven racks in upper and lower thirds, and preheat at 350-degrees. Line two large baking sheets with parchment paper.

Place 1/2 cup confectioners' sugar in a bowl. Scoop out dough by the tablespoon and roll into balls, then roll in confectioners' sugar, knocking off any excess. Set balls on baking sheets, spaced a few inches apart.

Bake cookies for 6 to 8 minutes, until puffed but edges are still soft. Remove sheets from oven. Make an indentation in the center of each cookie with the handle end of a wooden spoon or a similar heatproof object. Spoon a heaping 1/2-teaspoon of frangipane into each well and top with a pecan half from the reserved 1/4 cup.

Return cookies to oven and continue to bake until edges are set and very lightly browned, 6 to 8 minutes more. Let cool on baking sheets.

If desired, serve with a dusting of extra confectioners' sugar on top. Cookies keep well in a sealed, room temperature container for up to 5 days.