Right before Valentine's Day, I like to share new brownie or chocolate recipes. Today I'm posting a recipe that was originally at the Holy Taco Church: Dulce de Leche Brownies.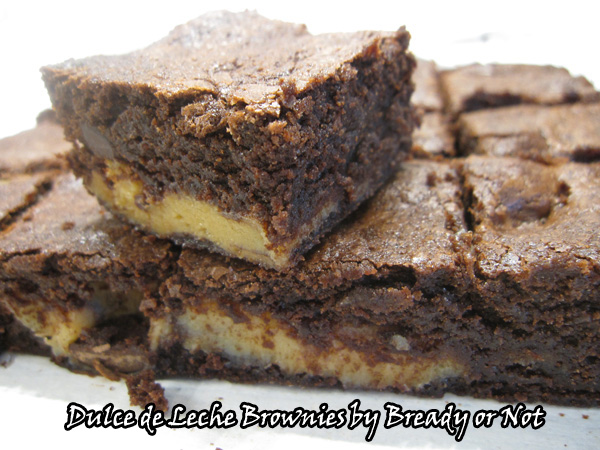 This is a dangerous recipe, and I'm not just talking calories. Sweetened condensed milk becomes lava after mere minutes in the microwave. Make this recipe with care.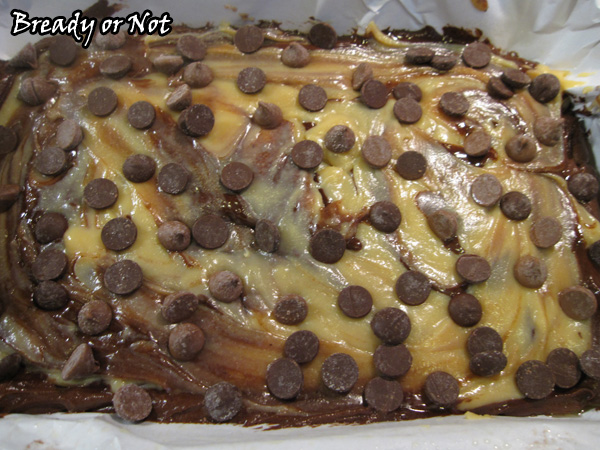 I have had this recipe for ages–I clipped it off a box of Challenge Butter. Mind you, I live in Arizona, so I can easily buy ready-made canned Dulce de Leche at any store, but I wanted to go hardcore to make this accessible to cooks around the world.
There is a warning in the original recipe to watch the bowl closely. This is legit. After the 3rd cooking burst in the microwave, I found my bowl had runneth over. Sweetened condensed milk everywhere. HOT, sticky stuff. Stuff that burns. Yeah.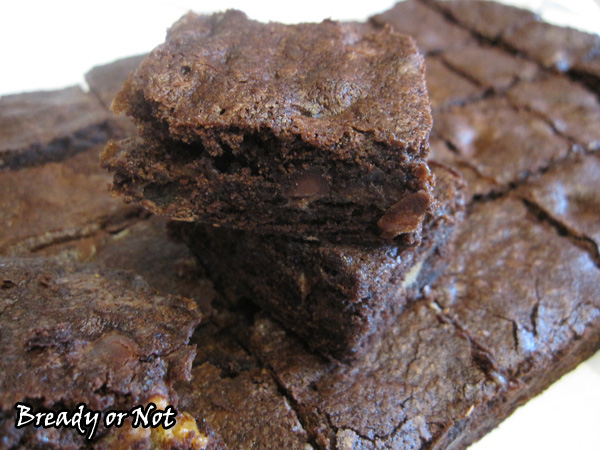 I cleaned up the microwave and the outside of the bowl as best I could, and from then on, I did 50-60 second cooking bursts, and even then I stopped it early a few times.
Was it worth the clean-up and risk of 3rd degree burns? HECK YEAH. Brownies?! Hello!
This makes a 9×13 pan of luscious, fudgy brownies. If you like'em cakey, you'll have to go elsewhere. Sorry. The dulce de leche isn't a super-thick layer. You can't even see it in most of the bars, but you taste it. It's ninja dulce de leche.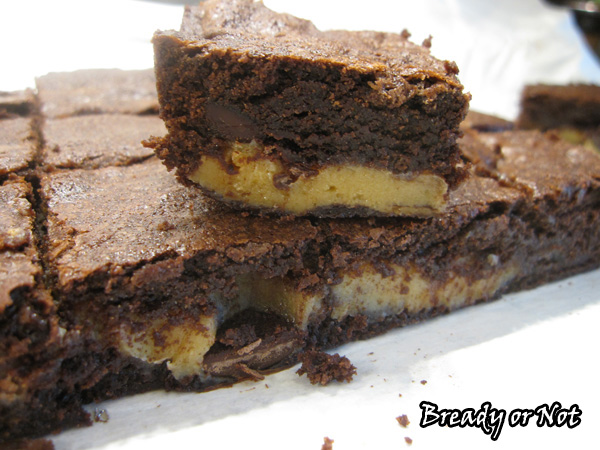 Subtle. Sweet. Potentially harmful to your health while preparing and while eating.
Modified from recipe from Challenge Butter.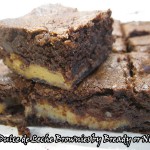 Print Recipe
Bready or Not: Dulce de Leche Brownies
Dulce de Leche adds a layer of sweetness to these luscious, fudgy brownies! This is modified from a Challenge Butter recipe; my version was originally posted at the Holy Taco Church.
Ingredients
Dulce de Leche
14

oz

can sweetened condensed milk

1

Tablespoon

corn syrup

2

Tablespoons

unsalted butter
Brownies
1

cup

unsalted butter

2 sticks, softened

11/4

cups

white sugar

1/2

cup

brown sugar

packed

4

eggs

room temperature

2

teaspoons

vanilla extract

1

cup

all-purpose flour

1

teaspoon

espresso powder

optional but awesome

3/4

cup

unsweetened cocoa powder

sifted

1/2

teaspoon

salt

1

recipe Dulce de Leche

above (or use canned Dulce de Leche)

1/2

cup

chocolate chips
Instructions
To make Dulce de Leche
(Note that you can buy canned Dulce de Leche on the Hispanic foods aisle in many grocery stores and skip this step! You can also make it in a crock pot or stove--look up these other methods online. Microwave is faster, but has some danger involved.)

Combine sweetened condensed milk and corn syrup in a LARGE microwave safe bowl. You need the bowl large because the stuff will start to boil like an erupting volcano.

Microwave on 50% power, stopping and stirring every 2 minutes. Start watching VERY CAREFULLY about the 5 minute point. It will start to boil over very quickly. Start doing 1 minute increments, stirring well in between. At the 10 to 12 minute point, it will thicken and look caramel-colored rather than white. It might look curdled but that goes away when you stir. Add in the butter and stir until it's melted. Set aside.
To Make the Brownies
Preheat oven to 325-degrees F. Line a 9x13 pan with foil and butter it or spray it with Pam.

In a large bowl, cream the butter and sugars until fluffy. Beat in eggs and vanilla. Combine flour, espresso powder (if using), cocoa, and salt. Add dry ingredients into creamed mixture; mix until well blended.

Spread about 1/2 of mixture in the prepared pan. This will just cover the bottom. Drop spoonfuls of Dulce de Leche evenly over this layer and smooth out. Sprinkle chocolate chips all over. Cover with remaining brownie batter; an offset spatula is great to smooth it to the edges.

Bake 35 to 40 minutes. Cool and cut into squares.

OM NOM NOM!