I'm happy to welcome Pat Esden to Bready or Not! Her novel A Hold On Me comes out in February from Kensington. I have never tried popovers (shocking, I know!) and her recipe for them looks fantastic.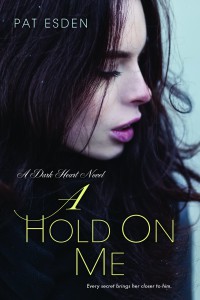 My novel A HOLD ON ME is a new adult paranormal tale of love and revenge. The main character, Annie, grew up dealing antiques and traveling with her father. When he's diagnosed with dementia, she's forced to return to her estranged family's estate in Maine.
One of the few people on the estate she sees as a potential ally is Laura, an employee whose main job is to produce a seemingly endless supply of comfort foods. Laura lived on the estate as a child. She went away in her teens and returned a few years later with a young son in her arms. What happened to her in those years is a mystery. But, now—almost twenty years later–Annie shouldn't mistake where Laura's allegiance lies. This cook may be known for her strawberry jam and popovers, but she also knows her way around the darker side of the kitchen's garden.
LAURA'S SKYSCRAPING POPOVERS:
INGREDIENTS
4 eggs
1 cup milk
1 cup white flour
1 teaspoon salt
2 tablespoons melted butter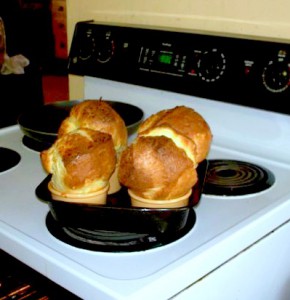 Position oven rack in lower part of oven. Preheat oven to 400 degrees.
Heavily grease popover pan cups with butter (I use 4 ceramic custard cups for this recipe or a traditional six cup cast iron popover pan) Just BEFORE filling cups with batter, preheat them in oven until sizzling hot.
BATTER
Whisk eggs and milk together
Add flour, salt, and melted butter
Whisk lightly (batter will be lumpy). Let batter sit for 5 minutes, then whisk lightly again. Repeat letting batter sit and whisking lightly until white flour lumps disappear. This process of whisking lightly and letting the flour be absorbed into the batter slowly is the key to extra-tall popovers.
Fill pre-heated popover cups ½ way with batter.
Bake for 45 minutes without opening oven.
Eat right away. Popovers shrink quickly. A hole poked in the top of the popover to vent the steam will slow the shrinking, but not for long.
LAURA'S RECIPE IDEA BOARD ON PINTEREST
---
A HOLD ON ME (Dark Heart Book #1) by Pat Esden
Kensington Books
Release date: February 23
She never wanted to return.
He wants nothing more than for her to leave.
But the fire between them is as strong as the past that haunts them.

Annie Freemont grew up on the road, immersed in the romance of rare things, cultivating an eye for artifacts and a spirit for bargaining. It's a freewheeling life she loves and plans to continue—until her dad is diagnosed with dementia. His illness forces them to return to Moonhill, their ancestral home on the coast of Maine—and to the family they left behind fifteen years ago, after Annie's mother died in a suspicious accident.

Once at Moonhill, Annie is shocked when her aunt separates her from her father. The next time Annie sees him, he's a bizarre, violent shadow of his former self. Confused, she turns to an unlikely ally for support—Chase, the dangerously seductive young groundskeeper. With his dark good looks and powerful presence, Chase has an air of mystery that Annie is irresistibly drawn to. But she also senses that behind his penetrating eyes are secrets she can't even begin to imagine. Secrets that hold the key to the past, to Annie's own longings—and to all of their futures. Now, to unlock them, she'll have to face her greatest fears and embrace her legacy…
Add A HOLD ON ME on Goodreads
PRE-ORDER NOW!
---
PAT ESDEN would love to say she spent her childhood in intellectual pursuits. The truth is she was fonder of exploring abandoned houses and old cemeteries. When not out on her own adventures, she can be found in her northern Vermont home writing stories about brave, smart women and the men who capture their hearts. An antique-dealing florist by trade, she's also a member of Science Fiction & Fantasy Writers of America, Romance Writers of America, and the League of Vermont Writers. Her short stories have appeared in a number of publications, including Orson Scott Card's Intergalactic Medicine Show, the Mythopoeic Society's Mythic Circle literary magazine, and George H. Scither's anthology Cat Tales.