I'm happy to welcome Cheryl Low with a Bready or Not guest post today! The second book in her Crowns & Ash series, Detox in Letters, is out TODAY. Her unique take on cookies here includes a frosting that mixes powdered sugar and avocado. That sounds like my kind of alchemy! Read on to find out more about her cookies and her series from World Weaver Press.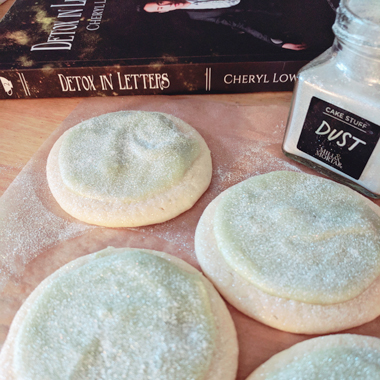 ---
SUGAR COOKIES WITH AVOCADO FROSTING & PIXIE DUST
&
DETOX IN LETTERS
Sweet, unexpected, and addictive. One is never enough.
The Crowns & Ash series takes place in a fantasy world where magic is a drug steeping in every cup of tea and baked into the cakes eaten at every meal. The characters are indulgent, born in a city with few rules and too much time filled with parties and duels. But they quickly realize that their comfort is orchestrated by the Queen, their magic stolen and fed back to them in drugs to keep them sedate.
The fine veneer of their posh city is cracking and soon not even Vaun, Prince of the Realm, can turn a blind eye to the mounting dangers in their midst. Flesh-eating pixies, poisoned dust, soul-snatching wolves and so much more.
The first book in the series, Vanity in Dust, introduces the Realm, the prince, and a deadly ploy to undermine the Queen's monopoly on the city's dust.
And the second, Detox in Letters, is available now! The Realm finds out exactly where their magic comes from, Prince Vaun tries to survive his mother's terrible demands, a rebel group threatens the High, and Princess Fay eyes the Queen's throne.
All while eating cake and sipping tea, because some things just never change.
---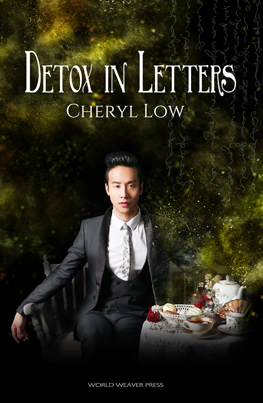 Detox in Letters – About the book:
Welcome to the Realm, where magic is your drug, your poison, and your only hope.
An illness is spreading through the city, marking the sick in mysterious letters scrawled across their skin. What is first thought to be madness reveals itself to be an awakening as residents rediscover themselves, their pasts, and their long-forgotten magic… things the Queen wants to remain buried. Things she will sacrifice her own children to suppress.
Mercy has never been a staple of the Realm. Treachery, blood, and magic steeps the city as the rebel leader, Red, seeks to topple the Tower, Princess Fay eyes her mother's throne, and Prince Vaun must decide whether to submit to his mother's terrible demand.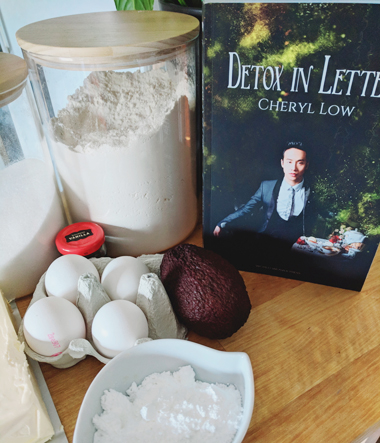 Where to buy Detox in Letters:
Amazon
Amazon UK
Goodreads
World Weaver Press
Barnes & Noble
Kobo
iBooks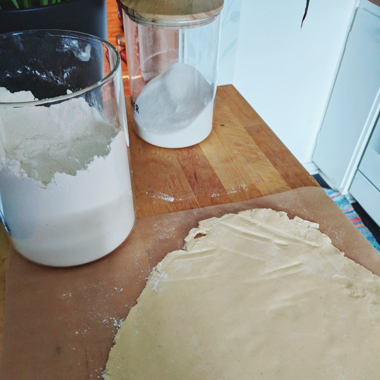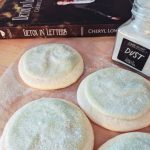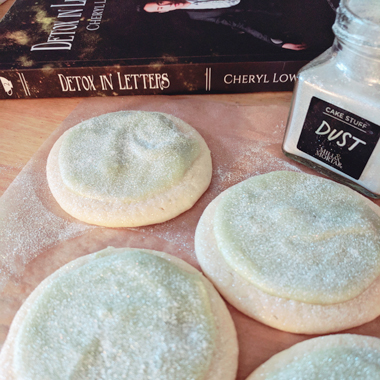 Print Recipe
Bready or Not Guest Recipe: DETOX IN LETTERS Sugar Cookies with Avocado Frosting by Cheryl Low
Cheryl Low's Crowns & Ash series takes place in a fantasy world where magic is a drug steeping in every cup of tea and baked into the cakes eaten at every meal. In this recipe inspired by her world, sugar cookies are frosted with a blend of powdered sugar and avocado, and topped with sparkly cake dust.
Ingredients
Cookie Ingredients:
3/4

cup

butter

1

cup

white sugar

2

eggs

1/2

teaspoon

vanilla extract

2 1/2

cups

all-purpose flour

1

teaspoon

baking powder

1/2

teaspoon

salt
Frosting Ingredients:
1

avocado

2

cups

confectioners' sugar

Cake dust
Instructions
Cream together butter and sugar. Add eggs and vanilla.

In a separate bowl mix flour, baking powder and salt.

Add flour mixture to butter mixture and then chill at least 1 hour in the refrigerator.

Preheat oven to 350 degrees.

Roll out dough onto a floured surface and cut into cookie shapes.

Bake 8-10 minutes. I take them out before the edges brown so they'll be super soft. Let cool.

Mash avocado and mix with powdered sugar into a frosting.

Frost cookies. Let the frosting harden and then dust with glittery cake dust so you can pretend their coated in magic pixie dust.
About the Author:
Cheryl Low might be a dragon with a habit of destroying heroes, lounging in piles of shiny treasure, and abducting royals—a job she fell into after a short, failed attempt at being a mermaid. She can't swim and eventually the other mermaids figured it out. She can, though, breathe fire and crush bones, so being a dragon suited her just fine.
…Or she might be a woman with a very active imagination, no desire to be outdoors, and more notebooks than she'll ever know what to do with.
Find out by following her on social media @cherylwlow or check her webpage, CherylLow.com. The answer might surprise you! But it probably won't.