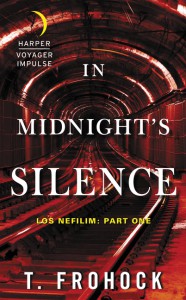 Today I welcome T. Frohock, a fellow Harper Voyager Impulse author and a generally awesome person. Her first novella in the Los Nefilim series is In Midnight's Silence and it is fantastic–I happily blurbed it! Think pre-World War II Spain with angels, demons, and dark machinations. The novella is out tomorrow and it's only 99-cents.
To get you ready for a good read, here is a healthy, genuine recipe that is something her characters might enjoy.
---
Okay, bready people, it's time to shake off those carbs and go for the green!
I have a new series coming out called Los Nefilim, which is set in Spain in the early thirties. While doing research for the novellas, I had to schedule events around mealtimes, because in Spain, lunch (usually held between 2:00 and 4:00 p.m.) is the biggest meal of the day. It is a lengthy affair with many courses whereas dinner is a lighter meal usually consisting of the kind of foods that Americans tend to associate with lunch.
When Beth offered her gracious invitation for a guest post, I contacted my friend in Barcelona. Josep suggested a couple of recipes for me: spinach with raisins and pine nuts, or panellets, I chose spinach, because I have a "vintage kitchen." That means my oven is old. I'm also a lousy baker and sweet potatoes have never appealed to me in any form. However, since this is a bready blog, I'm including a link to panellets, which are cookies or cakes made with sweet potatoes, almonds, and pine nuts. You can find a recipe for them here.
The recipe I'm going to tell you about is spinach with raisins and pine nuts, mainly because we've got to balance out all this delicious sweet stuff with something that is good for us.
I searched around online and found this recipe on Leite's Culinaria blog.
I had a great deal of success with it, so here goes:
Ingredients
1/4 cup raisins
1/4 cup pine nuts
3 tablespoons olive oil, plus 1 to 2 teaspoons for the nuts (optional)
1 small onion, chopped (optional), or 3 ounces serrano ham, minced (optional)
2 pounds spinach, tough stems removed and rinsed
Salt and freshly ground black pepper
A short note here: 2 pounds of spinach looks like you're walking out of the store with enough spinach to feed a small herd of goats. Not so. Like any other green, spinach cooks up small, so be sure you get the full 2 pounds.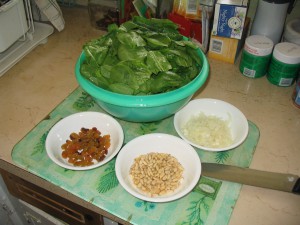 I measured everything out and covered the raisins in hot water in order to plump them. Give them about 30 minutes.
While the raisins are soaking, you want to remove the stems from the spinach. Removing the stems took me the longest, so if you're planning on using this recipe on a weeknight, I'd recommend preparing the spinach over the weekend. Yes, you can probably use frozen, but fresh is the best.
Once the stems are removed, rinse the spinach.
1. Roast the pine nuts in a small dry skillet over medium heat, shaking the pan frequently. This isn't the time to check your Twitter feed. It only takes about 3 to 5 minutes, and once they start to brown, you can go from brown to burnt in seconds. Pour them into a plate or small bowl to cool.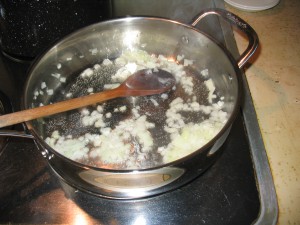 2. In a large sauté pan or skillet, heat 3 tablespoons of the oil over medium heat. If you are using either onion or ham, add them to the oil, stirring often. The onion should be soft and translucent, and the ham lightly colored. Probably 5 to 10 minutes.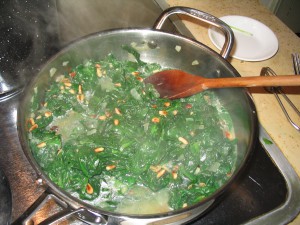 3. Add the spinach (with a little of the water still clinging to the leaves). Turn and stir constantly with tongs, until the spinach is wilted and shimmering with oil, about 3 to 5 minutes.
4. Drain the raisins and add to the pan along with the pine nuts. Stir well and season with salt and pepper. Transfer to a serving dish and serve warm.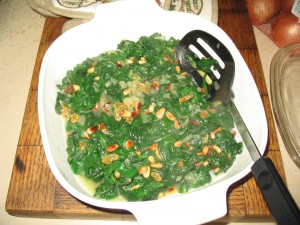 The olive oil, raisins, and pine nuts take all the bitterness from the spinach and leave it with a rich flavor in addition to giving the dish a nice texture. It was positively delicious, and this from a person who hates eating vegetables. I served the spinach with raisins and pine nuts with roast pork and red potatoes, but the dish would really complement any meat.
---
---
BIO: T. Frohock has turned a love of dark fantasy and horror into tales of deliciously creepy fiction. Her other publications include everything from novelettes to short stories. She is also the author of the novel, Miserere: An Autumn Tale. Her newest series, Los Nefilim, is coming from Harper Voyager Impulse and debuts in June 2015 with the novella, In Midnight's Silence.
T. lives in North Carolina where she has long been accused of telling stories, which is a southern colloquialism for lying.
In Midnight's Silence (Los Nefilim: Part I): 99 cents everywhere
Amazon
More about In Midnight's Silence
The fate of mankind has nothing to do with mankind …
Born of an angel and a daimon, Diago Alvarez is a singular being in a country torn by a looming civil war and the spiritual struggle between the forces of angels and daimons. With allegiance to no one but his partner Miquel, he is content to simply live in Barcelona, caring only for the man he loves and the music he makes. Yet, neither side is satisfied to let him lead this domesticated life and, knowing they can't get to him directly, they do the one thing he's always feared.
They go after Miquel.
Now, in order to save his lover's life, he is forced by an angel to perform a gruesome task: feed a child to the daimon Moloch in exchange for a coin that will limit the extent of the world's next war. The mission is fraught with danger, the time he has to accomplish it is limited…and the child he is to sacrifice is the son Diago never knew existed.
A lyrical tale in a world of music and magic, T. Frohock's IN MIDNIGHT'S SILENCE shows the lengths a man will go to save the people he loves, and the sides he'll choose when the sidelines are no longer an option.
---