This recipe for Hokkaido-style milk bread rolls makes 8 delicious soft, airy, amazing rolls.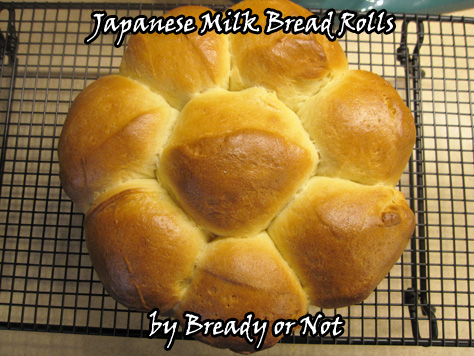 I couldn't help but be intrigued when I saw this recipe featured in a King Arthur Flour catalog. It relates to the cultural fusion that plays a major role in my latest book, Breath of Earth.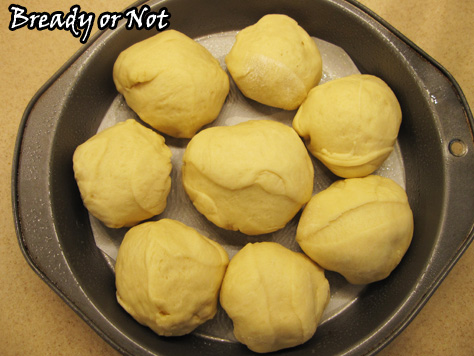 See, yeast breads in Japan were a real life kind of steampunk innovation. European bakeries began to open in major Japanese cities in the 1800s, but they didn't become more popular until later in the century when bakers began to fuse more Japanese flavors like adzuki paste into rolls. These kinds of sweet bread (kashi-pan) play a small yet vital role in my next book, Call of Fire.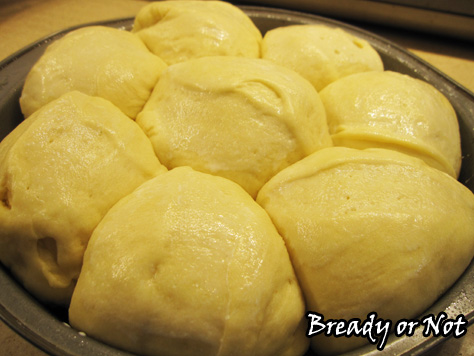 This particular roll isn't sweet unless you add some jam on your own. These are more of a combination between a standard dinner roll and an egg-based bread like challah.
I usually don't make breads that involve a pre-ferment stage, but I was pleased with how easy this was to make. I had the dough mix and rise in my bread machine, but you can mix this by whatever method you choose.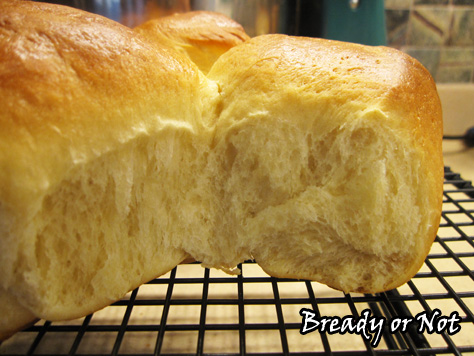 This is modified from the recipe at King Arthur Flour. They note there that this can also be made in loaf form. I also have my own recipe for doing a full loaf of Japanese-style Milk Bread (Shokupan). This is my usual load bread that I make about twice a week.
I can tell you, my husband wouldn't mind if I made these rolls a lot more frequently as well.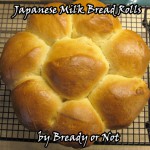 Print Recipe
Bready or Not: Japanese Milk Bread Rolls
This recipe, modified from King Arthur Flour, produces 8 airy and delicious Hokkaido-style milk bread rolls. It uses a fermented starter called a tangzhong that is mixed into the bread dough.
Ingredients
Tangzhong (starter)
3

Tablespoons

water

3

Tablespoons

whole milk

or half & half

2

Tablespoons

bread flour
Dough
2 1/2

cups

bread flour

2

Tablespoons

nonfat dry milk

1/4

cup

white sugar

1

teaspoon

salt

1

Tablespoon

instant yeast

1/2

cup

whole milk

or half & half

1

large egg

1/4

cup

unsalted butter

4 Tablespoons, melted

1

egg

optional, or extra milk to use as a wash
Instructions
To make the tangzhong:
Combine the starter ingredients in a small saucepan on low heat. Whisk until no lumps remain and continue to beat until it's thick and the whisk leaves no lines across the bottom of the pan; this takes 3 to 5 minutes. Pour it into a cup and set it aside to cool to room temperature.
To make the dough:
Combine the remaining dough ingredients and add the tangzhong. Continue to knead by hand, mixer, or bread machine until a smooth, elastic dough forms. Add more milk or flour if necessary to achieve the right texture.

Shape the dough into a ball and set it in a lightly greased covered bowl for about 60 to 90 minutes. It should be puffy, not necessarily doubled in size.

Prepare a small cake pan by lining the bottom with a cut round of parchment paper. Use nonstick spray on the base of the pan so the parchment stays in place, then spray the top of the paper and the sides of the pan.

Gently deflate the dough and divide it into 8 equal pieces. Shape each piece into a ball and place them in the pan. Cover it with plastic wrap and let the rolls rest for 30 minutes to an hour; keep an eye on them in case they rise fast!

Preheat the oven at 350-degrees. Gently brush the rolls with milk or an egg wash (1 egg beaten with 1 Tablespoon water).

Bake the rolls for 25 to 30 minutes, until they are golden brown on top. To check for doneness, use a digital thermometer inserted into the center of the middle roll to see if it is at least 190°F. If the rolls must cook longer, cover them with foil if they are very brown.

Remove rolls from the oven. Let them cool in the pan for 10 minutes, then transfer them to a rack to cool completely.

OM NOM NOM!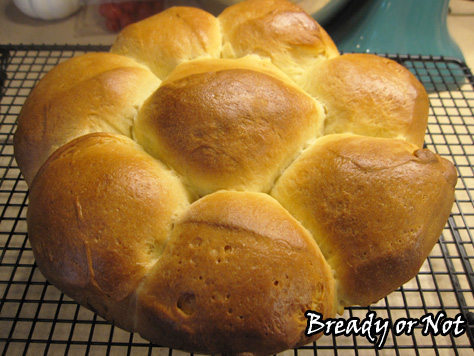 Save