It's my understanding that there are likely thousands of Lebkuchen recipes in the world, and here is mine.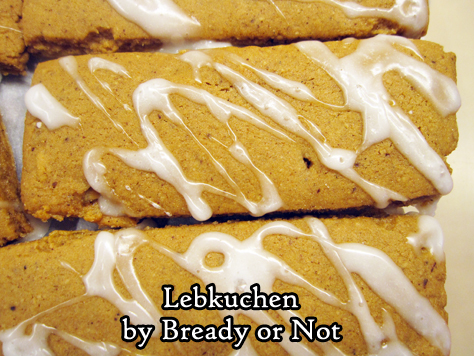 This traditional German Christmas cookie is like a gingerbread cookie, but is a lot more complex due to the spices used and the citrus mixed in.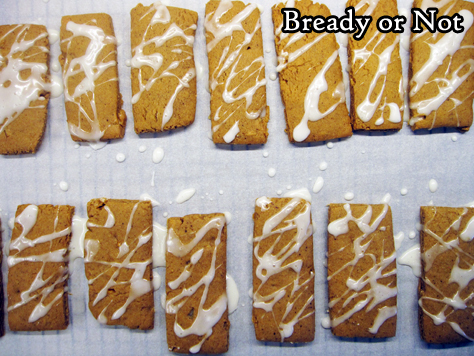 Even the glaze adds to that wonderfully fresh citrus flavor, as it has a bit of lemon juice mixed in.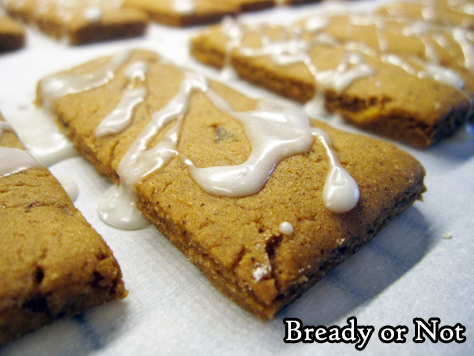 The only somewhat odd ingredient is chopped-up candied orange. I actually cut up a whole-slice version that Trader Joe's sells at the holidays, but otherwise candied orange should be found near fruitcake ingredients at many grocery stores.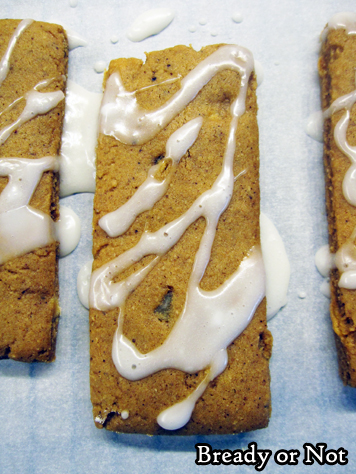 Note that this cookie dough needs to chill for a full day. That gives the flour time to develop and for the spices to really do their thing.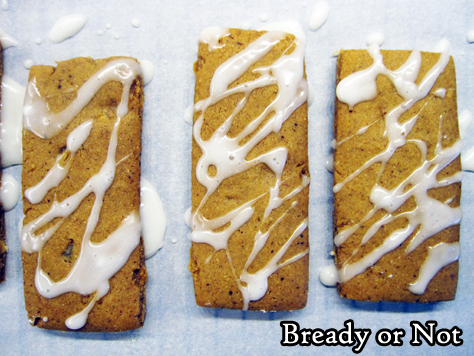 And trust me, you want their thing done. These are awesome cookies, sure to delight and surprise anyone who digs in.
Modified from a recipe printed in Cooking Light Magazine, December 2008.
Bready or Not: Lebkuchen
This take on the classic German holiday cookie is packed with complex spices and citrusy notes. Note that the dough needs to chill for a full day prior to baking. The final result is firm and chewy when fresh, and after about two days, they firm up more but remain delicious.
Ingredients
Cookies
3/4

cup

brown sugar

packed

1/2

cup

honey

1/4

cup

unsalted butter

half stick

1/4

cup

dark molasses

2

teaspoons

espresso powder

1

large egg

3/4

cup

ground almonds

sifted

1/2

cup

candied orange slices

chopped, or candied orange peel

3 1/2

cups

all-purpose flour

15.75 ounces

1

teaspoon

ground cinnamon

1/2

teaspoon

baking soda

1/2

teaspoon

ground cardamom

1/2

teaspoon

ground cloves

1/4

teaspoon

ginger

1/8

teaspoon

salt
Glaze
3/4

cup

confectioners' sugar

2

teaspoons

lemon juice

1 1/2

teaspoons

water
Instructions
In a medium saucepan on medium heat, constantly stir together the brown sugar, honey, butter, and molasses until the sugar is dissolved. Make sure it doesn't come to a boil. Transfer the mixture to large bowl and let it cool to room temperature.

Add the espresso powder and egg to the cool sugar mixture. Follow that up with the ground almonds and candied orange bits.

In a separate bowl, stir together the rest of the dry ingredients. Gradually combine the two bowls until just mixed. Lift it up and knead it for a minute or so to make sure no flour remains at the bottom.

Wrap dough in plastic wrap and stash in the fridge for at least a day.

Preheat oven at 325-degrees. Cover two large baking sheets with parchment paper.

Divide dough into 4 portions. Keep the other portions chilled while rolling 1 out into a 8×6-inch rectangle. Cut (a pizza slicer or bench knife are great) into 3×1-inch bars. Transfer to baking sheet, setting them an inch apart.

Bake for about 20 minutes, or until firm. If cooking both sheets at once, switch their positions about halfway through.

As soon as the cookies are out, mix up the glaze. Drizzle glaze back and forth over the warm cookies. Let glaze set for an hour before packing up cookies in sealed containers.