If I fed you at WorldCon/Sasquan in August, these are the cookies you ate.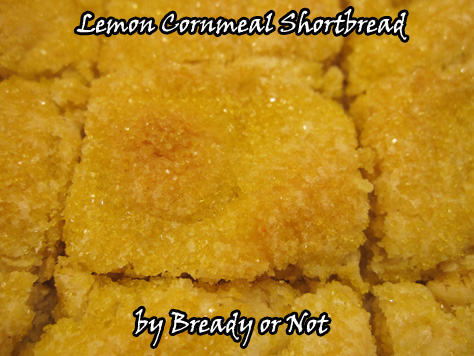 I was pretty happy that people seemed to like them. A lot.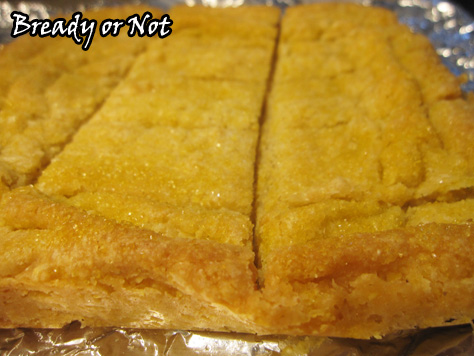 For me, it was the culmination of several weeks of testing existing recipes to create something that was…
1) Delicious. Come on, I have a reputation to uphold here.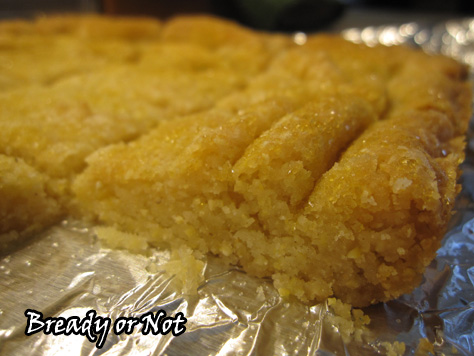 2) That would not melt in transit, which eliminated a lot of recipes right away.
3) A cookie that would travel well, i.e. not crumble, but could also keep for days without going hard or stale.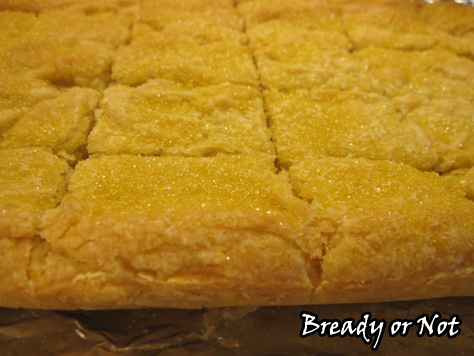 These shortbread cookies ended up perfect. They have the signature buttery-soft texture of shortbread that is complemented by the slight grit of cornmeal. They are firm enough and thick enough to stack in a container, padded with paper towels, and not break.
Then there is #1: the taste. Sweet. Lemony. Fresh.
Convention-tested. Convention-approved.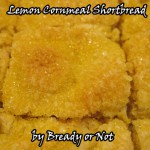 Print Recipe
Bready or Not: Lemon Cornmeal Shortbread
This Bready or Not original makes a 9x13 pan of fresh-tasting shortbread that is both firm and soft. It's excellent for shipping or travel.
Ingredients
1 1/2

cups

unsalted butter

3 sticks, room temperature

2

cups

confectioners' sugar

2

lemons

zested and juiced

1

teaspoon

lemon extract

2 1/2

cups

all-purpose flour

1/2

cup

yellow cornmeal

1/2

teaspoon

salt

turbinado sugar

or sparkling sugar
Instructions
Preheat oven at 325-degrees. Line a 9x13 pan with aluminum foil and apply butter or nonstick spray.

In a mixer bowl, combine the butter, sugar, lemon zest, and extract. Beat until it's light and creamy, about 2 to 3 minutes. Add lemon juice and stir.

In a separate bowl, sift together the flour, cornmeal, and salt. Slowly mix into the wet ingredients until it is just mixed. Dump the dough into the ready pan and use an uneven spatula to even it out.

Use a knife to score the bars, gently cutting through to establish where it will be sliced again after baking. The dough is very sticky; wipe the blade between passes, and dab the excess back into the top. It doesn't need to look neat. Completely sprinkle the top with turbinado sugar or sparkling sugar.

Bake until the shortbread looks dry and golden, about 35 to 40 minutes. Immediately use a knife to follow the previous lines and slice the shortbread into bars (when cool, the shortbread will likely crumble when cut). Set the whole pan on a rack to cool, eventually lifting them out by the aluminum foil to finish cooling.

Store in sealed containers at room temperature. This lemon cornmeal shortbread is excellent for travel and shipping as it keeps well for at least six days.

OM NOM NOM!