April's lemon theme lingers into May with this week's luscious Lemony Glazed Shortbread Bars.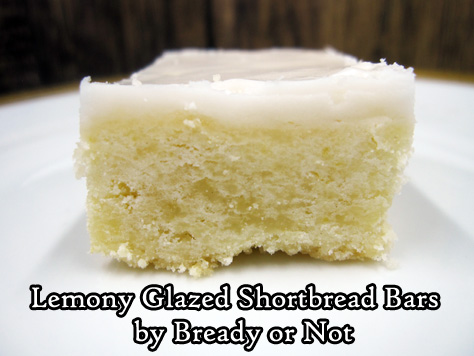 These things rely fully on lemons, no bottled lemon extract or flavor required. Get a lot of lemons. You need 6, maybe 7 medium or small lemons, or 4 giant lemons. Better to have leftover zest or juice rather than not enough.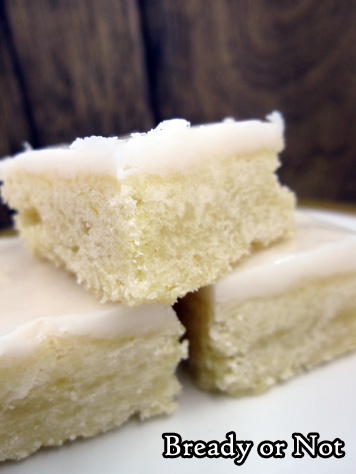 This dough is incredibly fun to work with, too. Thanks to the cornstarch with the flour, the result is soft and pliable like Play-Doh.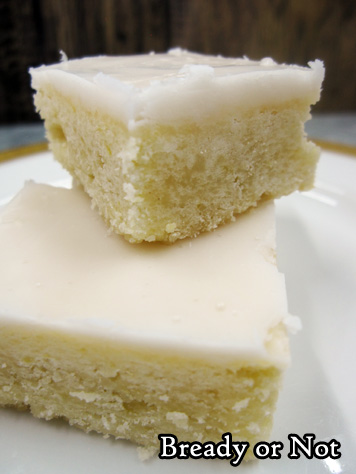 Most recipes I post that include glaze require the baked good to be completely cool first. Not so here. Make the glaze as soon as the dish is baked and put it on promptly. That means the glaze melts a bit after it's spread on top, fusing with the bars.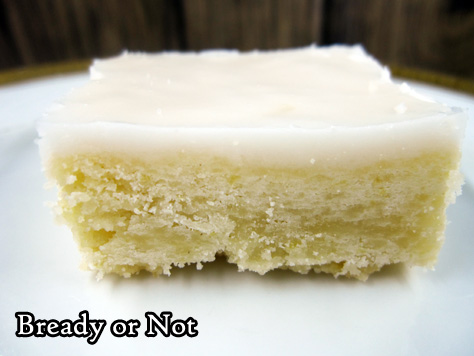 With so much lemon infused into these bars, these things ends up smelling so summer and fresh, and the taste…! If you love lemon, these shortbread bars are totally for you.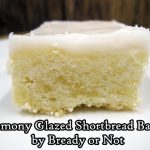 Print Recipe
Bready or Not: Lemony Glazed Shortbread Bars
These lovely bars are infused with lemon flavor. A lot of lemons are required. Read the ingredients list carefully, as zest is needed in the dough while juice is needed in both the dough and glaze. Make sure there is enough.
Ingredients
Bars
3

cups

all-purpose flour

1/3

cup

cornstarch

1 1/4

cups

confectioners' sugar

1/4

cup

finely shredded lemon zest

from 4 giant lemons or about 6 large lemons

1 1/2

cups

unsalted butter

3 sticks, room temperature

1

Tablespoon

lemon juice

1/2

teaspoon

salt

1/2

teaspoon

vanilla extract
Glaze
2 1/2

cups

confectioners' sugar

3

Tablespoons

lemon juice

1

Tablespoon

light corn syrup

1/2

teaspoon

vanilla extract

use clear extract if available, as regular will tint glaze a bit
Instructions
Preheat oven at 300-degrees. Line a 13x9 pan with foil and apply nonstick spray or butter.

In a bowl, sift together flour and cornstarch; set aside.

In another bowl, combine the confectioners' sugar and lemon zest. Using fingers, break apart the zest within the sugar to distribute the threads and release the oils. The result should be more yellow in coloration and quite fragrant.

In a big bowl, beat together the butter, lemon juice, salt, and vanilla extract until it becomes creamy, scraping bowl as needed. Gradually mix in the sugar and zest. Slowly work the flour/cornstarch mix into the big bowl. The dough should become pliable and cling together, until it can be formed into a ball.

Press dough evenly into the pan. Bake for 40 minutes.

Immediately make glaze. Stir together everything to form a thick, spreadable glaze; thicken with more sugar, if necessary, or add extra lemon juice or water to loosen it. Spread glaze over bars.

Cool completely, stashing dish in fridge to speed process if desired.

Use foil to lift contents onto a cutting board. Slice into bars. Store in a sealed container, with waxed paper between stacked layers, either at room temperature or in the fridge. Keeps for at least 2 days.