Confession: I'm classifying this as a fall recipe because of the maple, but I make these all year long.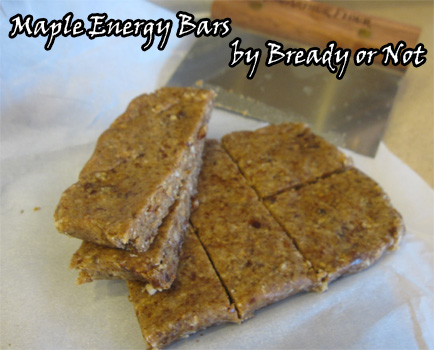 I know, I know. If you've been following me for any length of time, you know how I love maple. I like to make my own breakfast food, too.
Larabars are found in the energy bar section of retailers. They are delicious but are also awfully expensive–if you're lucky, you might get a bar for a buck on sale. Me? I'm cheap. I make my own versions. I have a chocolate chip cookie dough recipe that I really need to share at some point, but today is about the maple variety that I created on my own.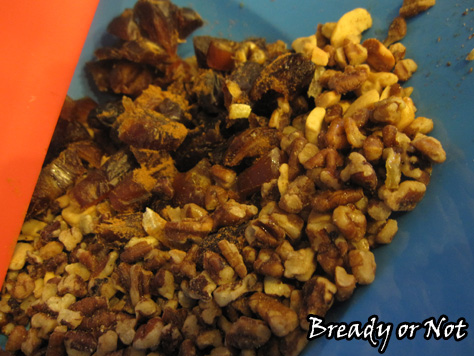 To make any homemade Larabar facsimile, you really need two base ingredients: dates and nuts. You switch out the nuts to your taste or based on sales, then change out seasonings to make things fresh and tasty. With the maple flavor, I like using a combo of cashews and pecans, but I've also done all cashews. Feel free to do almonds, peanuts, or whatever else you have handy, or combine them all!
I usually make these into a ball shape using my tablespoon scoop, but this time around I made bars. They are a bit more photogenic, I think. And man, do they taste good.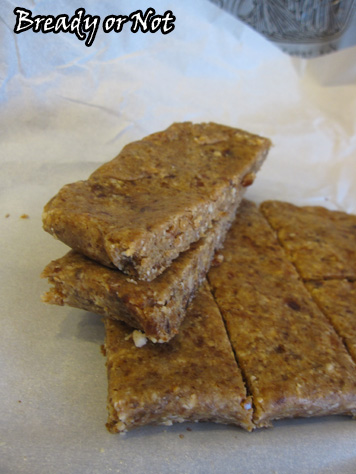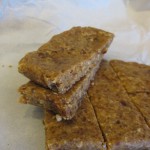 Print Recipe
Bready or Not: Maple Energy Bars and Bites
A delicious gluten-free breakfast food or snack!
Ingredients
1

cup

medjool dates

chopped

1/2

cup

cashews

1/2

cup

pecans

or combine other nuts to equal 1 cup

1-2

teaspoons

candied ginger

diced (optional, but tasty)

sprinkle

cinnamon

1/2-3/4

teaspoon

maple flavor

water

if needed
Instructions
In a bowl, combine all of the ingredients but the water. Pour 1/3 or 1/2 the mix into a high-powered food processor or blender. Pulse. Stir it with a spoon or spatula--it will be thick and gum up the machine. Pour the blended mix out, then add in more of the nut-date blend until everything is mostly blended. It's okay to have some chunks.

Squeeze the mash between your fingers. If it doesn't want to stick together, dribble in water by 1/2 teaspoon until it's cohesive.

You can shape them in two ways. Use a tablespoon scoop to form a ball, then compress them with your hands to tighten. Or, make bars. Place a sling of parchment paper in a bread pan. Pour the mash in. Compress as tightly as you can. Remove using the sling and cut to preferred size.

Keep stored in covered dish or closed baggie in fridge. Makes about 9 tablespoon-sized balls or 7 bars. Will keep for upward of 2 weeks.