These Maple Pecan Pie Bars offer all the goodness of pecan pie in a form that is 1) more readily portable, 2) keeps well for up to a week, 3) freezable.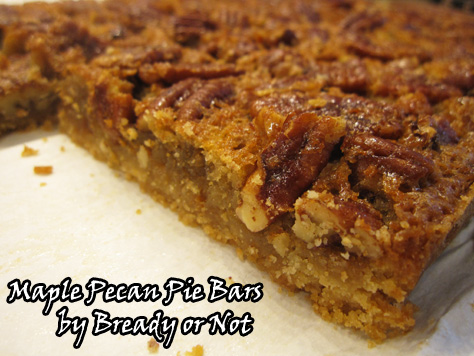 Oh, and did I mention these are DELICIOUS? They seriously are. My dad is a native Alabaman and he knows pecan pie and pecan in all forms. He LOVED these bars.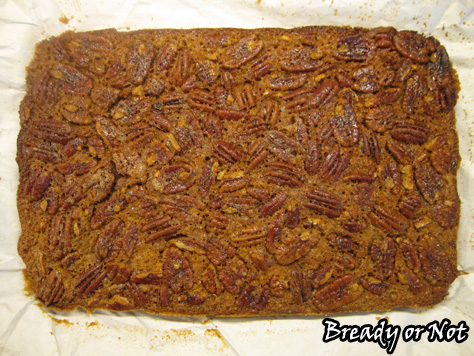 The base is shortbread, and atop that is a just-right thickness of pecans in syrup. This avoids the usual butt-ton of corn syrup that other recipes use and relies on a combo of maple syrup and brown sugar. Which is… maybe healthier? Kinda?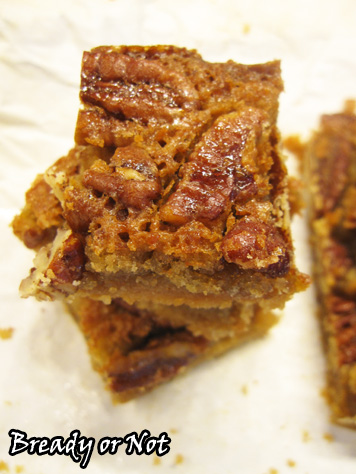 What matters to me, though, is that it tastes good. The maple syrup adds the right sweetness here to complement the nuts.
You don't have to use pecans here, either. You could certainly try walnuts, cashews, or a combination. Do go for "softer" nuts, though, to make it easier to cut the bars.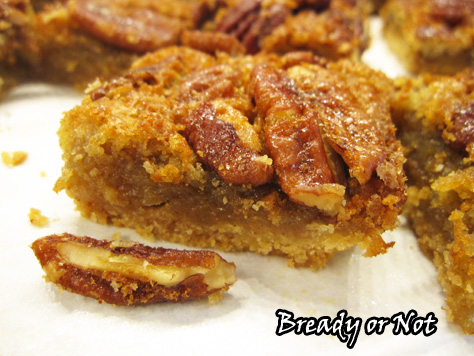 I froze a bunch of pecan bars between layers of waxed paper in a freezer container. They thawed again with no difference in taste. They also keep well for at least a week, making these a good candidate for shipping.
As my dad can attest, these bars are perfect for breakfast, snack, or dessert. While you could eat them along with vanilla ice cream, they are good eaten out of hand. Heck, you can even zap them in the microwave if you want them warmed.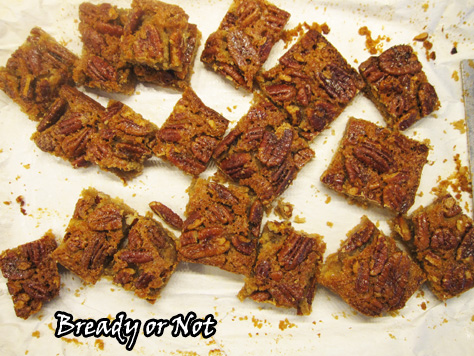 However or whenever you eat them, these Maple Pecan Bars will be delicious.
Modified from Bake or Break.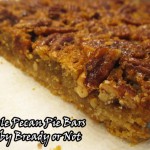 Print Recipe
Bready or Not: Maple Pecan Pie Bars
These Maple Pecan Pie Bars offer the deliciousness of pecan pie in a portable, delicious hand-sized bar. These bars keep for up to a week and also can be frozen for later enjoyment.
Ingredients
Crust
1 1/2

cups

all-purpose flour

3/4

cup

light brown sugar

packed

1/2

teaspoon

salt

1/2

cup

unsalted butter

1 stick, cold, cut into pieces
Filling
3

large eggs

room temperature

1/2

cup

pure maple syrup

1/4

cup

unsalted butter

1/2 stick, melted and cooled for a few minutes

1/2

cup

light brown sugar

packed

1/4

cup

white sugar

1/2

teaspoon

salt

1 1/2

cups

pecans

or mixed soft nuts like walnuts or cashews
Instructions
Preheat oven to 350-degrees. Line a 13x9-inch pan with parchment paper and lightly apply butter or nonstick spray along the bottom and sides.

In a large bowl, mix the flour, brown sugar, and salt. Add the cold butter and use a pastry blender or a fork to mash it down into small crumbles. The overall mix will feel sandy, but it'll hold together after baking.

Pour the crust mixture into the prepared pan. Use some wax paper and a heavy glass to compress the crumbs.

Bake for 15 minutes or until edges are lightly browned. Set aside as you make the filling.

Lightly beat the eggs in a large bowl. Add the maple syrup, melted-and-cooled butter, brown sugar, white sugar, and salt, stirring until combined. Stir in the pecans to coat.

Pour filling over the partially baked crust. Bake for another 30 to 35 minutes, or until filling is set.

Cool bars to room temperature and then use the overhanging parchment to lift the contents out to cut into bars. Store in a sealed container for up to a week, or freeze bars for later enjoyment.

OM NOM NOM!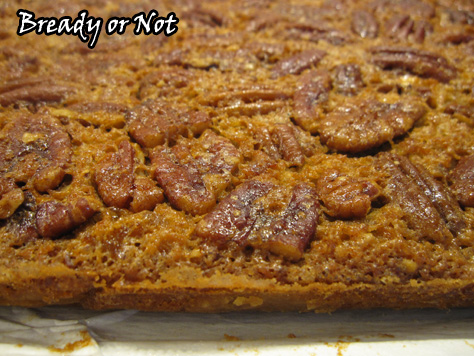 Save
Save