For the week leading into the release of The Clockwork Dagger, I am presenting the most awesome of cakes.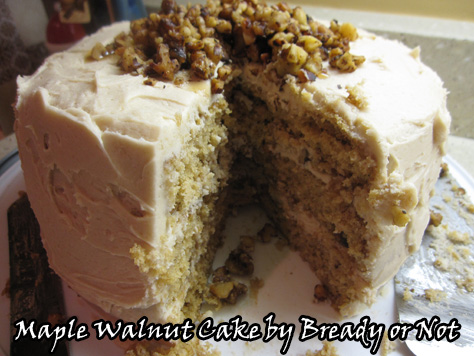 Three layers. Maple infused every which way. Oh yeah, baby.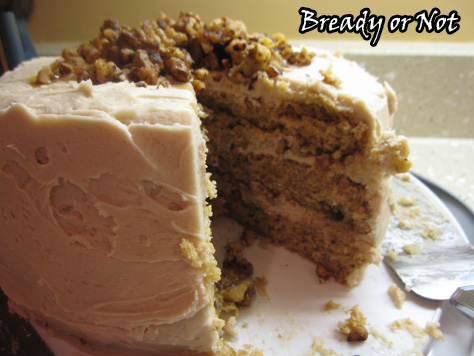 My one fear was that sweetness of the cake would be overkill like the way Cadbury eggs are to me now. I'm often asked if a recipe can be modified to omit the nuts. In this case, no. The nuts–in taste and texture–do a lot here to balance out the sweetness. They prevent that overkill.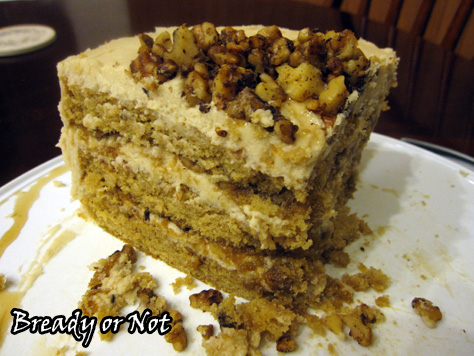 It shouldn't come as a surprise to anyone that since I love maple, that delight has also worked its way into The Clockwork Dagger. Since the geography in my book is loosely modeled on Western Washington state, it's only right that the country to the north is likewise based on Canada. Frengia is  known for its maple production.
[Hrm. Maybe in a year when the sequel comes out, I should do a maple theme for Bready or Not. There's an idea! Or maybe no one will notice because I do so much maple already…]
If you love maple as I do, this is your epic cake. Print this out. Make it now, or save it for the holidays. Just bake it up at some point.
Brace yourself for the maple-induced ecstasy.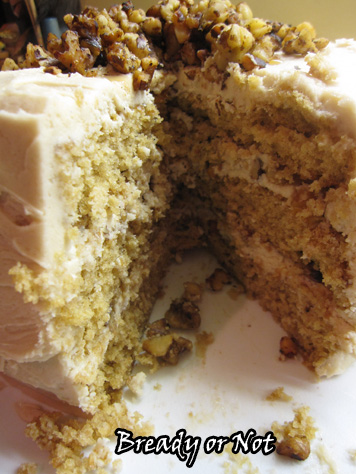 Modified from Maple Walnut Cake at Taste of Home.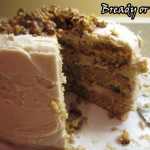 Print Recipe
Bready or Not: Maple Walnut Cake
An extraordinary layer cake!
Ingredients
THE CAKE [NOT A LIE]
1/2

cup

unsalted butter

room temperature

1-1/2

cups

light brown sugar

packed

3

eggs

room temperature

1

teaspoon

maple flavor

2

cups

all-purpose flour

1

teaspoon

baking powder

1

teaspoon

baking soda

1/4

teaspoon

salt

1

cup

buttermilk

or sour milk: milk with a tablespoon of lemon juice or vinegar
CANDIED NUTS:
1

Tablespoon

unsalted butter

1-1/2

cups

coarsely chopped walnuts

or pecans

1

Tablespoon

maple syrup

1/4

teaspoon

salt
FROSTING:
2

cups

unsalted butter

room temperature

5

cups

confectioners' sugar

1

teaspoon

maple flavor

1/4

teaspoon

salt

1/4 to 1/2

cup

half-and-half cream

or milk

3

+ tablespoons maple syrup

divided
Instructions
To make the cake:
Preheat oven to 350°. Use nonstick spray or butter on three 9-inch round cake pans. Cut out rounds of parchment paper for the bottoms of the pans, then grease the paper.

In a large bowl, cream softened butter and brown sugar. Add the eggs and beat well after each addition. Add the maple flavor.

In a separate bowl, whisk together the flour, baking powder, baking soda and salt.

Add the dry ingredients to the creamed mixture, alternating with the buttermilk, until everything is just blended.

Pour batter into each prepared pan as evenly as you can. Bake for 11-13 minutes or until a toothpick inserted in center comes out clean. Cool in pans for 10 minutes, then gently tip them onto a wire racks. Remove parchment. Cool cake layers completely. [Note: at this point you can even freeze the layers between wax paper, then wrap well in plastic wrap, to assemble the cake days or weeks later.]
To make candied walnuts:
Grab a small cookie sheet or platter and cover it with aluminum foil. Set aside.

In a large skillet, melt the tablespoon of butter. Add nuts and stir over medium heat until toasted, about 5 minutes. Watch the heat, as they can burn fast. Stir in the tablespoon maple syrup and salt; stir for 1 minute longer. Spread the nuts on the foil to cool completely.
For frosting:
In a large bowl, beat the softened butter until creamy. Slowly add in confectioners' sugar, maple flavor, salt and enough cream/milk to reach desired consistency. [If it ends up too wet, add more powdered sugar.]

Set out your serving platter. Add a few dabs of frosting; this will be like glue to help your bottom layer stay in place.

Place the cake layer on top. Spread with one cup of frosting. Sprinkle about 1/2 cup of candied nuts over the frosting and then drizzle about a tablespoon of maple syrup.

Repeat this with the next layer.

Place the top layer. Frost the very top and sides of cake, then add the remaining nuts and another healthy (ahem) drizzle of maple syrup.
OM NOM NOM and try not to die of sugar coma.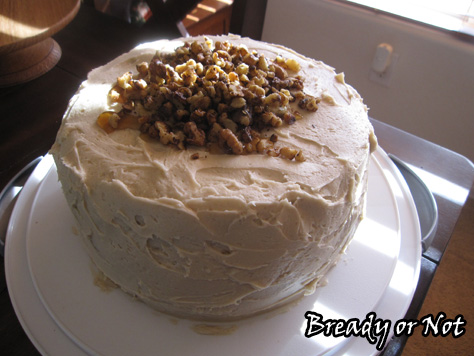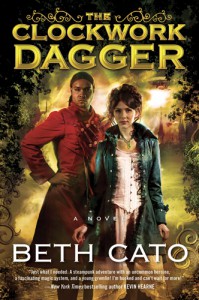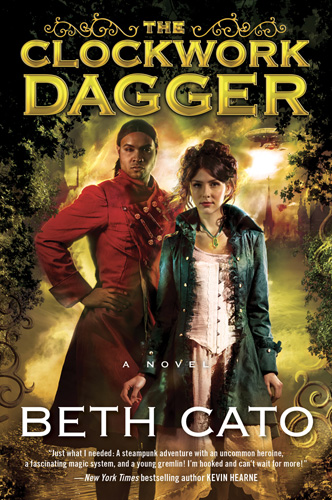 Trade Paperback & eBook
Paperback ISBN: 978-0-06-231384-3
ebook ASIN (Amazon): B00HLIYZ5U
ebook ISBN (Nook): 978-0-06-231385-0
Release: September 16, 2014
Amazon Barnes & Noble Powell's Books-A-Million Poisoned Pen Changing Hands Mysterious Galaxy