Millionaire Shortbread. Gorgeous. Delicious. A little bit of extra effort to make, but SO WORTH IT.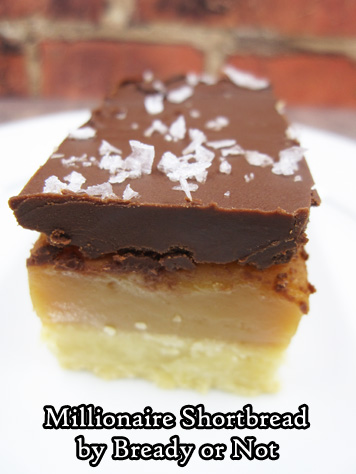 I wanted to concoct the best-possible Millionaire Shortbread. This involved strenuous testing of recipes. Much baking. Much reliance on test subjects (husband and his co-workers).
The resulting feedback? I wrote it down.
"This shortbread is enjoyed, and feared."
"To call them excellent would be an insult to your wife."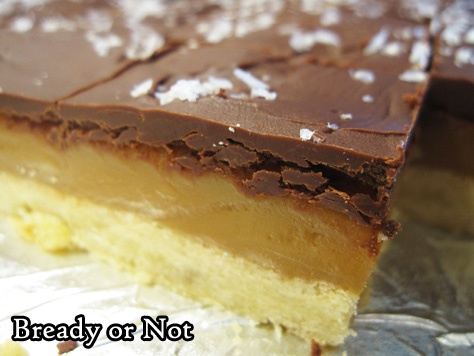 So yeah. The test subjects approved. I personally would rank this up there with my best all-time bakes, because it really combines the best of everything.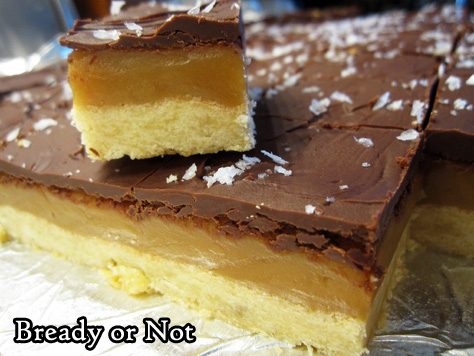 The shortbread layer is firm yet soft. THEN THAT CARAMEL. It is thick, luscious, and sweet. The chocolate provides the perfect balance, especially with the help of some Maldon salt flakes.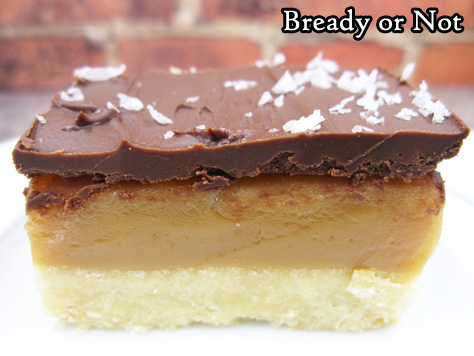 Do note that the ganache needs to be semisweet chocolate, or an even darker variety. Milk chocolate is just too sweet against that thick caramel. I say that, and I usually prefer milk chocolate.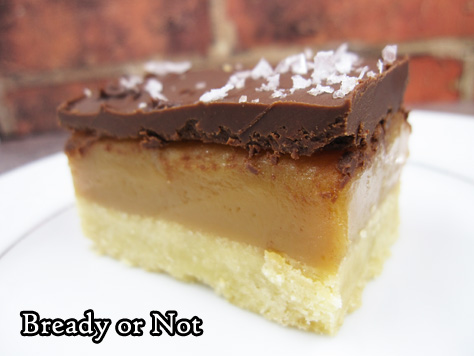 I wish I could say how long this keeps in the fridge, but my test subjects were a bit too voracious to provide perspective on that point.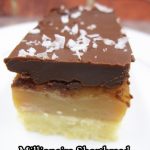 Print Recipe
Bready or Not Original: Millionaire Shortbread
This Millionaire Shortbread is pure rich indulgence, and so worth the extra effort to make!
Ingredients
Shortbread Crust
1

cup

unsalted butter

2 cubes, softened

1/3

cup

white sugar

1/3

cup

light brown sugar

packed

1

egg yolk

3/4

teaspoon

vanilla extract

2 1/4

cups

all-purpose flour

1/2

teaspoon

salt
Caramel
2

14-ounce cans

sweetened condensed milk

14

Tablespoons

unsalted butter

1

cup

light brown sugar

packed

1/3

cup

light corn syrup

1

teaspoon

vanilla extract

1/4

teaspoon

salt
Chocolate Ganache
11

ounces

semisweet chocolate chips

4

Tablespoons

unsalted butter

1/2 stick

Maldon sea salt flakes

for top, optional
Instructions
Shortbread base
Preheat oven at 350-degrees. Line a 13x9 baking pan with aluminum foil and apply nonstick spray or butter.

In a large bowl, beat butter until creamy. Add both sugars and beat until light and fluffy. Follow up with the egg yolk and vanilla extract. Scrape bottom of bowl to make sure everything is incorporated.

Gradually work in flour along with the salt. Don't overmix. It should still be crumbly. Drop dough into prepared pan and compress into an even layer. (A piece of waxed paper and a heavy glass make this easier.)

Bake shortbread layer for 20 to 25 minutes, until edges are turning golden brown. Set pan aside to cool while the next layer is made.
Caramel
In a large saucepan at medium heat, stir together the condensed milk, butter, brown sugar, and corn syrup. Stir constantly as it rises to a boil. Immediately drop heat to low, and continue to stir nonstop for about 10 to 15 minutes, until mixture turns a deep caramel color and thickens up; watch out, the caramel can spit out of the pan at times!

Remove pot from heat and promptly stir in vanilla extract and salt.

Pour caramel over the shortbread, using an uneven spatula or knife if needed to smooth it into an even layer. Cool pan for several hours until it reaches room temperature, or set in fridge to chill.
Ganache topping
In a microwave-safe bowl (or, alternatively, on the stove top in a pot) melt together the chocolate chips and butter. Once it can be stirred smooth, pour over the caramel. Spread out into an even layer. If desired, sprinkle Maldon sea salt flakes over the top.

Chill in fridge to let chocolate harden for at least 30 minutes. Use foil to lift contents of pan onto a cutting board. Let chocolate warm again, just a touch, perhaps for 5 or 10 minutes, before slicing into bars (otherwise, the chocolate will crack rather than be sliced through).

Store bars in fridge with waxed paper between layers. Keeps for days.