I hope it gets your attention when I say that these Mini Cookie Butter-Chocolate Babkas are among the best things I have ever made.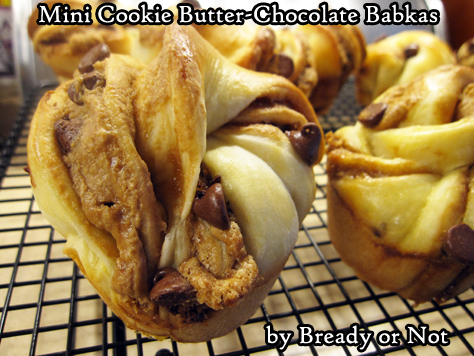 Really, these have it all going on. A tender enriched dough. Gooey chocolate. The sweet joy of cookie butter. Plus, the presentation is stunning with the dough coiled to reveal the layers of goodness.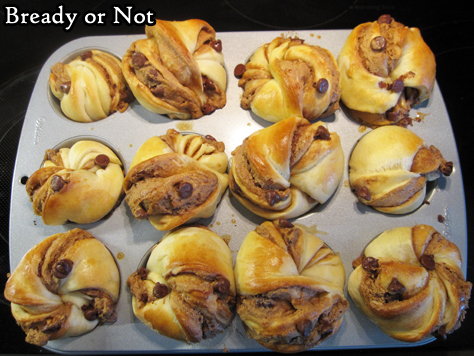 Even better, this recipe is great about portion control. You don't have a babka loaf to worry about. Each babka is muffin-sized. This makes it easy to take on the go, and they are also convenient to freeze.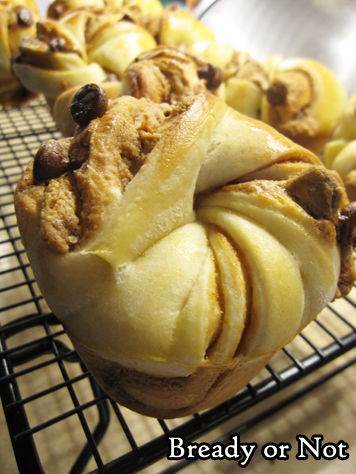 If you're unsure what cookie butter is, it is essentially sliced cookies pureed with oil to be the same consistency as peanut butter. It tastes like cookie dough in its purest form minus the risk of salmonella poisoning from raw eggs or flour. Find it near the peanut butter in a lot of stores; Biscoff is the most common brand, and it's called Speculoos at Trader Joe's.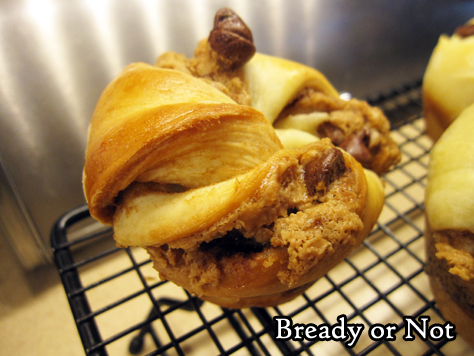 You can, of course, substitute a smooth peanut butter in this recipe–which is what the original recipe in Bake from Scratch was all about. But me, nah, I'm a rebel. And my husband doesn't like peanut butter, and he's the one who needs to eat these things.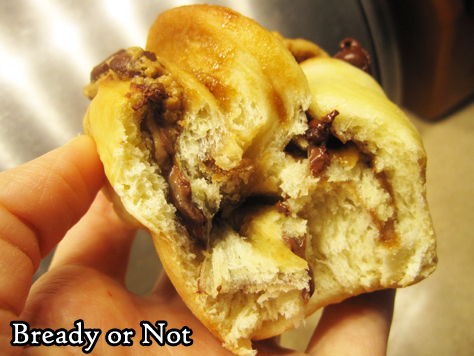 Modified greatly from Bake from Scratch Magazine July/August 2019; also online.
Bready or Not Original: Mini Cookie Butter-Chocolate Babkas
This recipe makes 12 miniature babkas within the convenience of a muffin pan! Cookie butter and chocolate chips are swirled together to create a decadent treat.
Equipment
12-cup muffin pan

nonstick spray

pastry brush
Ingredients
4 1/4 to 4 1/2

cups

all-purpose flour

divided

1/2

cup

white sugar

2 1/4

teaspoons

instant yeast

or one store-bought packet

1 1/2

teaspoons

kosher salt

1

cup

plus 1 Tablespoon water

divided

1/2

cup

plus 1 Tablespoon unsalted butter

melted and divided

2

large eggs

room temperature and divided

1

large egg yolk

room temperature

1

cup

creamy cookie butter

1/4

cup

confectioners' sugar

1

teaspoon

vanilla extract

1/3

cup

semisweet chocolate chips

plus extra
Instructions
In the bowl of a stand mixer fitted with the paddle attachment, stir together 4 cups flour, white sugar, yeast, and salt.

Using a saucepan or the microwave, heat 1 cup water and 1/2 cup (1 stick) butter until it is 120 to 130-degrees on an instant-read thermometer. Pour the water mixture into the flour mixture. Beat at medium speed for 2 minutes. Add one egg and egg yolk, and beat for another 2 minutes. Beat in a 1/4 to 1/2 cup more flour until a soft, sticky dough forms.

Switch to the dough hook attachment. Beat at low speed until dough is soft, smooth, and elastic, 6 to 8 minutes.

Add nonstick spray to a large bowl. Shape dough into a smooth ball, and place in bowl. Roll it briefly to coat in oil. Cover the bowl and let the dough rise in a warm spot until doubled in size, about 45 minutes.

Use nonstick spray on a 12-cup muffin pan.

In a small microwave-safe bowl, melt 1 Tablespoon butter. Add to it the cookie butter, confectioners' sugar, and vanilla, stirring until smooth.

On a lightly floured surface, roll the dough into roughly a 20x12-inch rectangle. Spread cookie butter mixture onto dough. Sprinkle with chocolate chips. Fold rectangle crosswise into thirds as if folding a sheet of paper for an envelope, forming a smaller rectangle, about 12x6 inches.

Cut rectangle crosswise into 12 (about 1 inch) dough strips. Gently stretch and twist one to coil it inside a prepared muffin cup, tucking the end inside edge of cup to create a rounded top. Repeat 12 times. If desired, press a couple of additional chocolate chips into the top of each babka, but try to place them so they won't melt off the pan during baking.

Cover and let rise in a warm spot until they are puffed, about 30 minutes. Meanwhile, preheat oven to 325-degrees.

In a small bowl, whisk together the last egg with 1 Tablespoon water. Brush tops of dough with egg wash.

Bake until babkas are golden brown, about 17 to 25 minutes. An instant-read thermometer inserted in center should register 190-degrees.

Babkas are much better served warm--eat them fresh, or heat up later with a 20-30 burst in the microwave! This makes the dough soft and the chocolate gooey. They keep well sealed at room temperature for up to 3 days, but can also be frozen and thawed later.