Pumpkin pairs with cream cheese in this delicious Pumpkin Cream Cheese Cupcakes.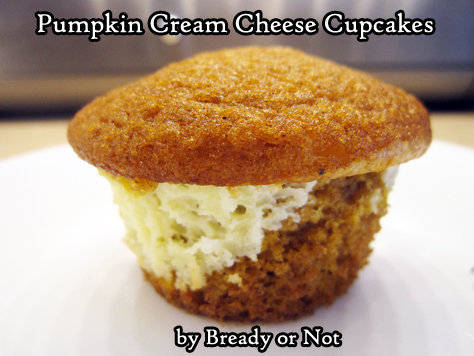 No need for extra sugar or frosting on top. These are delicious all on their own!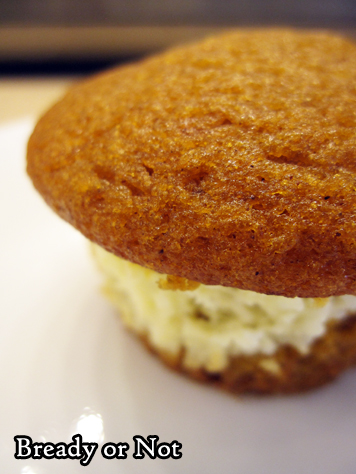 It seems that my pumpkin theme most years needs at least one cream cheese and pumpkin pairing. This one fulfills that requirement this year, and in a delicious way.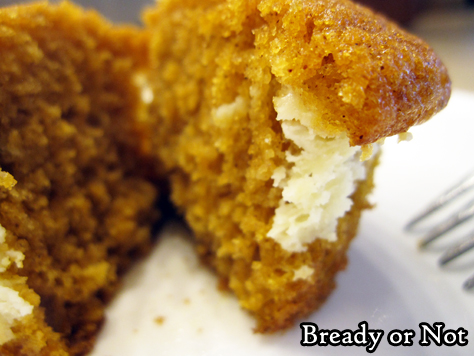 These cupcakes are light and airy with a bright flavor of pumpkin and spice, with the cream cheese adding wonderful sweetness.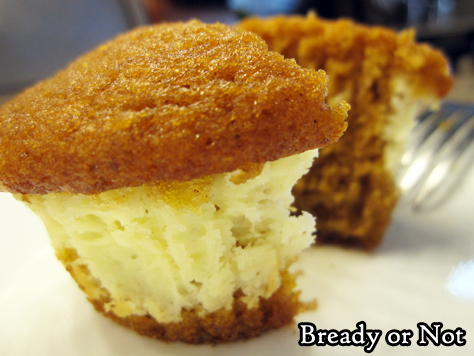 This recipe makes two dozen. It's certainly faster to bake up if you have two pans, but that is by no means required. One pan will do the job.
One warning about these things: they are so light and airy, it is easy to eat several at once. But because they are pumpkin, that makes them healthy, right? Just, uh, ignore that sugar and oil…
Bready or Not Original: Pumpkin Cream Cheese Cupcakes
These light, airy pumpkin cupcakes includes luscious pockets of cream cheese in the middle! Recipe makes 2 dozen.
Equipment
1 or 2 cupcake/muffin pans

paper cupcake liners
Ingredients
Pumpkin batter
15

ounces

pumpkin puree

2

cups

white sugar

1

cup

canola oil

4

eggs

room temperature

2

cups

all-purpose flour

2

teaspoons

baking powder

2

teaspoons

ground cinnamon

1

teaspoon

baking soda

1/2

teaspoon

salt

nonstick spray
Cream cheese filling
8

ounces

cream cheese

1/3

cup

white sugar

1

egg

room temperature
Instructions
Preheat oven at 350-degrees.

In a big bowl, beat together pumpkin puree, sugar, and oil. Beat in eggs one at a time.

In a small bowl, sift together the flour, baking powder, cinnamon, baking soda, and salt. Gradually blend into the pumpkin mix.

In a small microwave-safe bowl, carefully warm the cream cheese a touch, just to make it soft enough to mash. Stir in the white sugar and egg until it is cohesive; it's okay if there are still some small chunks of cream cheese.

Place paper liners in the muffin pan (or two pans, if available). Apply nonstick spray in each liner. Add pumpkin to fill each liner about 1/3; a teaspoon scoop is useful for this. Add some dollops of cream cheese into each. Add layers of pumpkin batter to cover.

Bake for 20 to 25 minutes, until a middle cupcake passes the toothpick test. Cool in pan for about 10 minutes, then gingerly use two forks to pry out each cupcake to set on a rack to cool more. Place in sealed container in fridge to store.