Welcome to an annual tradition at Bready or Not–the autumn pumpkin theme! We begin with Pumpkin Shortbread Cookies.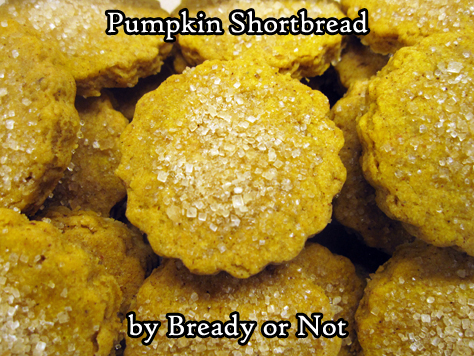 This recipe makes a small batch (about 30 1-inch cookies) of delicious pumpkin shortbread cookies. I crusted the top with turbinado shortbread to make them extra pretty.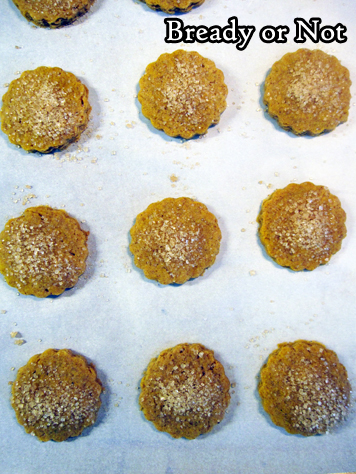 These cookies are not as dry as some shortbread can be, likely because of the pumpkin.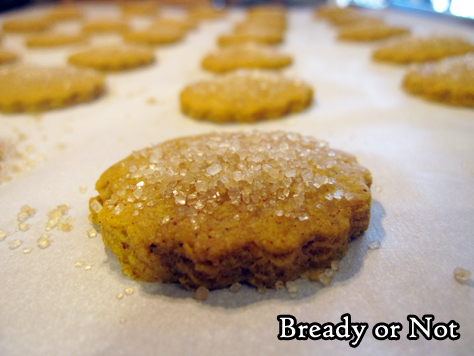 Pumpkin can make some baked cookies quite tacky; that's not a problem here, in part, because the puree is actually dried a bit prior to being mixed into the dough.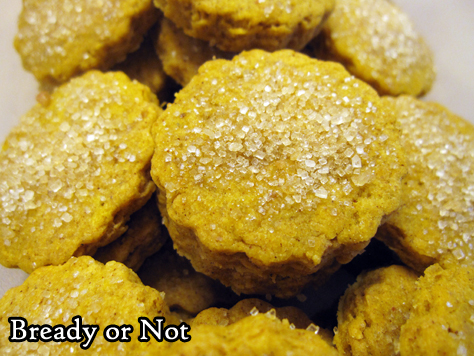 The end result is a cookie that is just moist enough, perfect to go with tea, coffee, or perhaps some cider or cocoa. The orange color of the cookies makes them even more perfectly fall.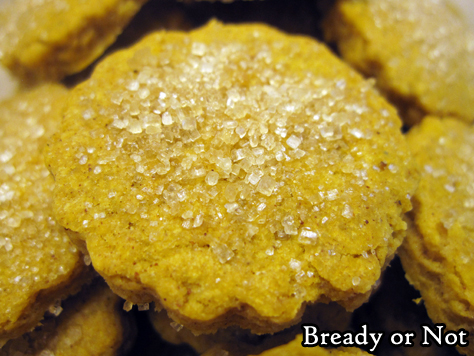 In Arizona, hot as it is, it's important to enjoy some fall traditions like pumpkin goodies, even if it's 100-degrees out and no trees are dropping leaves!
Bready or Not Original: Pumpkin Shortbread Cookies
This small batch of pumpkin shortbread embodies fall flavors and colors, all with a lovely sugary crunch on top!
Equipment
1 to 1 1/2-inch cookie cutter

parchment paper
Ingredients
1/4

cup

pumpkin puree

1/2

cup

unsalted butter

1 stick

1

cup

all-purpose flour

1/4

cup

plus 2 Tablespoons confectioners' sugar

1

teaspoon

cinnamon

1/4

teaspoon

ground cloves

1/4

teaspoon

ground nutmeg

1/4

teaspoon

ginger

turbinado

or other coarse sugar, optional, for tops
Instructions
Preheat oven at 350-degrees. Line a large baking sheet with parchment paper.

Measure out pumpkin puree onto a couple of layered paper towels. Gently pat dry, turning over puree to sop moisture from different angles.

In a medium sauce pan, brown the butter, carefully heating it until it smells nutty. Remove from heat. Whisk in the pumpkin puree until well combined. Note that it might bubble and pop, so take care.

In a large bowl, combined the dry ingredients. Use a rubber spatula to mix in the saucepan items.

Place the dough between two sheets of parchment paper and use a rolling pan to make the dough an even 1/4-inch thickness. Place it in fridge to chill for 5 to 10 minutes.

Set dough on counter and remove top parchment. Use cookie cutter to portion out cookies. Transfer to baking sheet, spaced out a bit. Mix leftover dough together again, adding a tiny bit of water if needed to make it cohesive, and cut out more cookies.

If desired, sprinkle turbinado sugar all over the tops of the cookies. Bake for 10 to 12 minutes, until cookies are set. Cool completely on baking sheet. Store in a sealed container.