Salted Caramel Chips now exist. There is hope for our world yet.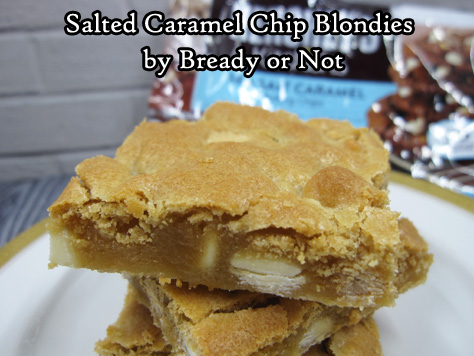 "What makes these chips different than just using caramel chips?" Well, they have the texture of and keep their shape like regular chocolate chips. Caramel bits are more chaotic–they melt, they ooze, they can create a sticky mess.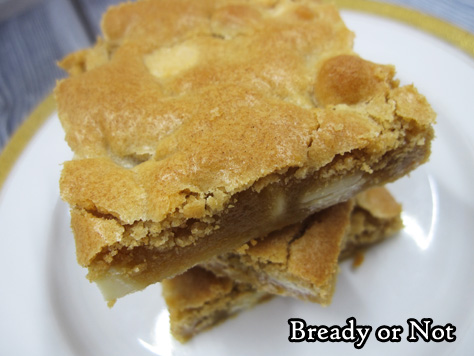 More and more stores are carrying salted caramel chips around Arizona. Locally, I have found Ghirardelli (at Walmart), Nestle (at Walmart and several stores), and a Kroger-branded kind (at Fry's Grocery Store).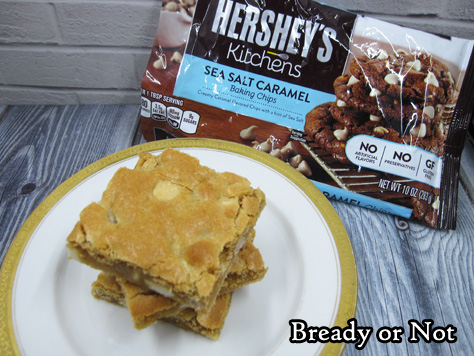 All three work and have a good flavor, but I liked the Kroger one the least. The color looks more artificial (yeah everything is about these is artificial but…) and the pieces are small and not quite as rich in flavor. Still, their price is good and they aren't bad, by any means.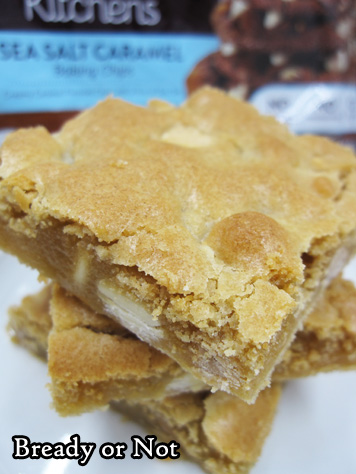 You'll see these chips used in a couple recipes in the next while–I bought several bags to test out!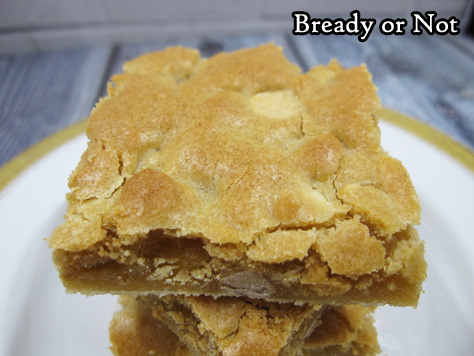 While I'll definitely stick to using real caramel in things like pies, these salted caramel chips are now my go-to for cookies and bars.
I do suggest keeping the ratio of 1 cup chocolate chips with 1 cup of caramel chips in this recipe. The caramel chips ARE strong–they are like butterscotch in that way–and the white chocolate adds a different kind of sweetness to balance them out.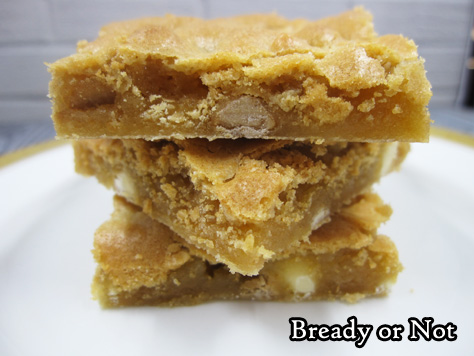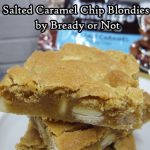 Print Recipe
Bready or Not Original: Salted Caramel Chip Blondies
Use a new innovation, salted caramel chips, to create stunning blondies! Ghirardelli or Nestle brands of caramel chips are recommended over store brands, but they'll all work well. These blondies are chewy and sweet perfection, embodied with the lovely flavor of salted caramel (and without the goop and stickiness of real caramel).
Ingredients
2 1/4

cups

all-purpose flour

1 1/2

teaspoons

baking powder

1/2

teaspoon

salt

3/4

cup

unsalted butter

1 1/2 sticks, room temperature

1 1/4

cups

white sugar

1 1/4

cups

brown sugar

packed

2

teaspoons

vanilla extract

3

large eggs

room temperature

1

cup

white chocolate chips

1

cup

salted caramel chips
Instructions
Preheat oven to 350-degrees. Line a 10x15 jelly roll pan with wide aluminum foil and apply nonstick spray or butter.

In a small bowl, mix together the flour, baking powder, and salt. Set aside.

In a mixing bowl, beat together the butter, both sugars, and vanilla to create a smooth batter. Beat in eggs, one at a time, followed by the flour mixture. Stir in the cup of white chocolate and cup of salted caramel chips. Spread batter evenly in pan.

Bake until evenly golden brown and set in the middle, 24 to 27 minutes. Cool completely at room temperature or chill before cutting. Blondies keep for up to 3 days in a room temperature sealed container.

OM NOM NOM!