Create luscious S'Mores in brownie-bar form with my original recipe for S'Mores Brownies!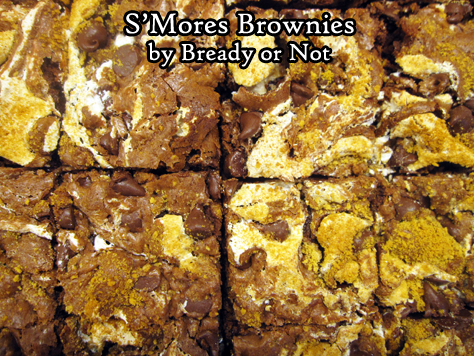 I had a jar of marshmallow fluff I wanted to use. I deliberated what to use it for and hit upon S'Mores Brownies, but to my surprise, I didn't find an existing recipe that used jarred fluff. Time to make my own recipe!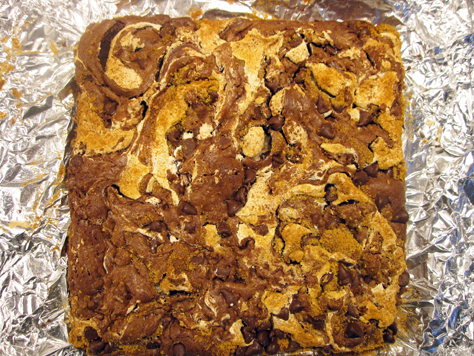 Using regular marshmallows to bake is delicious and all, but you also end up with caramelized, hollow sections. I wanted marshmallows to stay soft and gooey alongside the chocolate crumb. By golly, my idea worked!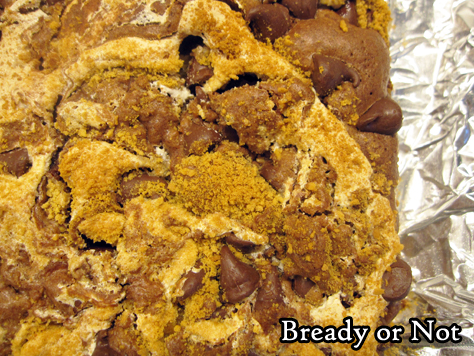 This is definitely a brownie for people who love chocolate. I loaded it with chocolate chips, inside and out. The graham cracker crumb and marshmallow complement it in a beautiful way.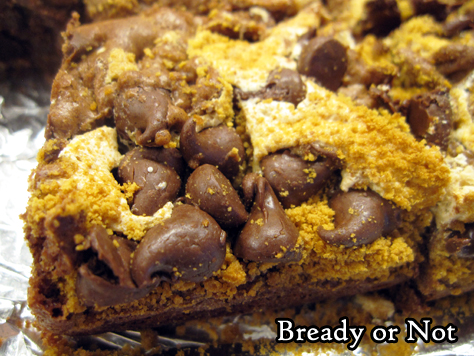 This will look messy as a batter. Marshmallow fluff is not the easiest stuff to work with. It's lumpy and sticky. The good news is, as the pan bakes, the contents will even out. The resulting marble effect make it look as delicious as it tastes.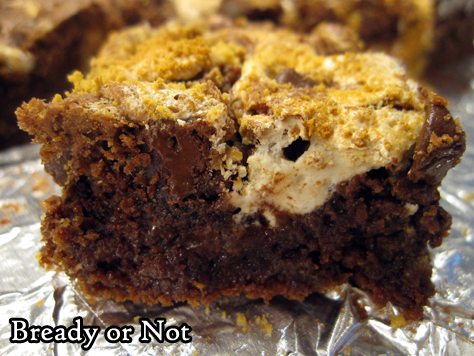 Store these brownies in a sealed container for days–and they can be frozen for longer, too.
Bready or Not Original: S'Mores Brownies
This Bready or Not Original recipe melds jarred marshmallow fluff and graham cracker crumbs into brownies, creating luscious, portable S'Mores!
Ingredients
1/4

cup

unsalted butter

half cube

2

cups

semisweet chocolate chips

divided

1/2

cup

white sugar

2

eggs

room temperature

2/3

cup

all-purpose flour

1/2

teaspoon

baking powder

1/4

teaspoon

salt

7

ounces

marshmallow fluff

one jar

1/2

cup

graham cracker crumbs
Instructions
Preheat oven at 350-degrees. Line an 8x8 or 9x9 pan with heavy foil and apply butter or nonstick spray.

In a microwave safe bowl, heat the butter and 1 cup of chocolate chips in brief bursts until fully melted and smooth; watch it carefully and stir well between each burst. Stir in the white sugar, followed by eggs, flour, baking powder, and salt.

Pour half the chocolate batter into the ready pan and spread into an even layer. Add small dollops of the marshmallow fluff across the top; it will be gloppy and sticky, so don't worry about getting it even.

Sprinkle graham cracker crumbs over the fluff and batter. Drop dollops of the rest of the chocolate batter on top along with the remaining 1 cup chocolate chips. Even out a bit, then use a butter knife or narrow spatula to swirl the layers together for a marbled effect. It may be mountainous in some areas but it will even out as it bakes.

Bake until the top is crinkled and edges are pulling away from the sides of the pan, about 25 to 30 minutes. Let cool at room temperature for an hour, then stash in the fridge for another few hours to completely cool.

Use the foil to lift the contents onto a cutting board to slice into bars. Store in a sealed container in fridge, waxed paper between stacked layers to prevent sticking. Keeps for up to three days, or freeze for later enjoyment.