Welcome to MACADAMIA NUT MONTH! Why is this Macadamia Nut Month? Because next month on the 23rd, the final book in my Blood of Earth trilogy comes out! Hawaii is a major setting in Roar of Sky, and I did a research trip to Oahu and the Big Island last year. That included a stay at a lovely bed & breakfast on a macadamia nut farm near Kona. I've loved macadamia nuts my entire life, but there's nothing like cracking through those double layers of shell to eat a macadamia nut fresh off the tree.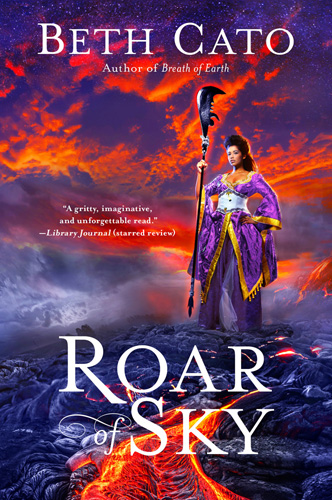 If you love macadamia nuts as well, get ready to bliss out. This month you'll get recipes for:
White Chocolate Macadamia Nut Pie (today)
White Chocolate Macadamia Nut Cookies
Lemony Macadamia Nut Bars
Mini Fruit Cake Loaves to make now for the holidays (macadamia nuts optional)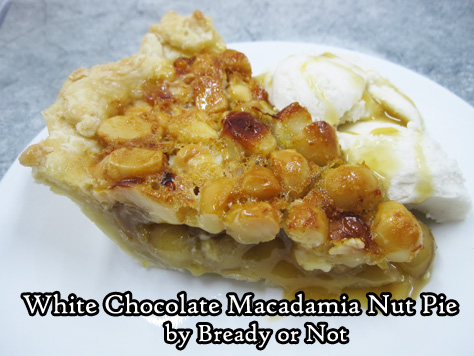 Macadamia Nut Pie. This pie is unquestionably decadent, but it is so very worth it.
I looked at about five recipes to formulate my own original take on this recipe. I confess, I was pretty nervous about this experiment.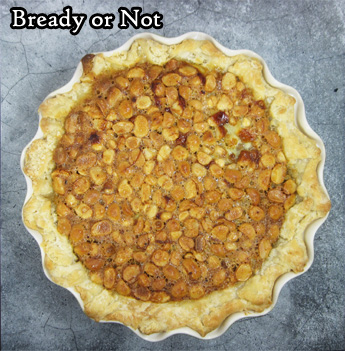 After all, I didn't want to waste these delicious nuts, even if I did buy two big bags at a good price from the Kona Costco during my novel research trip. Not like I can fly back there to stockpile nuts again soon (alas).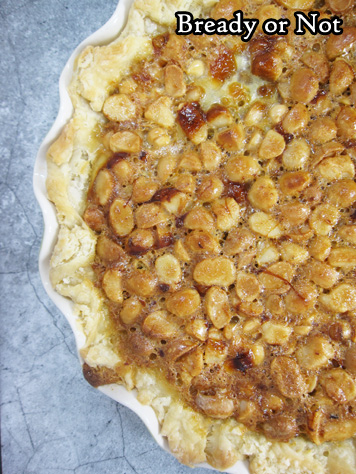 For years now, I've loved white chocolate macadamia nut cookies–hence I am featuring that recipe again next week. To me, that pairing of chocolate and nuts is sheer perfection. I just wasn't sure how it would translate to pie.
The results genuinely surprised me.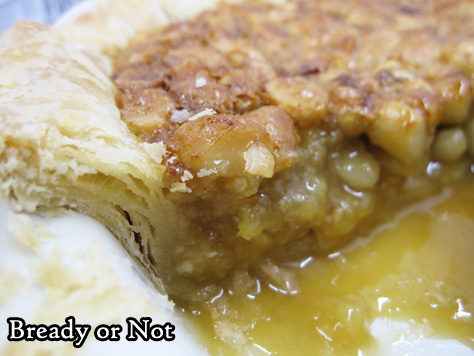 That's because the white chocolate melded with the corn syrup and brown sugar during the baking process, creating a kind of smooth caramel sauce.
Caramel and macadamia nuts is an awfully good pairing, too. But a very sweet one. This pie necessitated the purchase of a tub of vanilla ice cream.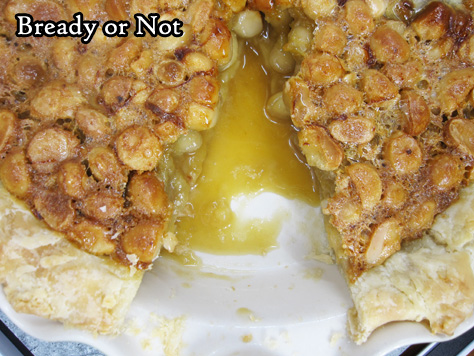 I then served the pie to my husband with ice cream on the side, and I spooned caramel from the pie plate over both. Oh yeah.
You won't need big slices of this pie. It's just too rich. The good news is, it keeps well in the fridge for up to a week.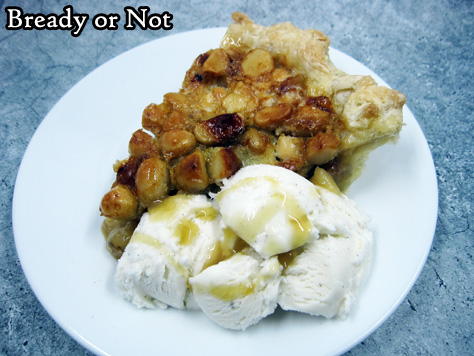 Come back next week for one of my favorite cookie recipes, and please preorder Roar of Sky!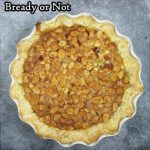 Print Recipe
Bready or Not Original: White Chocolate Macadamia Nut Pie
This incredible pie is loaded with macadamia nuts and goodness. The white chocolate melds with the other ingredients to create a kind of caramel sauce. Be warned: this pie is RICH. Cut small slices. Pair it with a scoop of vanilla ice cream, and use the extra sauce from the pie plate as a topping! Pie keeps well covered in the fridge for at least a week.
Ingredients
1

deep dish pie crust

9-inch unbaked, homemade or store-bought
Filling:
2/3

cup

white chocolate chips

2

cups

macadamia nuts

raw, coarsely chopped

4

eggs

room temperature

1

cup

light corn syrup

1/3

cup

brown sugar

packed

2

teaspoons

vanilla extract

1/4

teaspoon

salt
Instructions
Preheat oven to 400-degrees. Place a cookie sheet in the oven to heat up as well; this will help prevent a soggy bottom on the crust.

Place white chocolate chips and macadamia nuts in the unbaked pie crust, and place it in the fridge to chill.

In a mixing bowl, lightly whisk the eggs, then add the corn syrup, brown sugar, vanilla, and salt. Pour the filling over the white chocolate and macadamia nuts. Cover the pie crust edges with foil.

Bake for 15 minutes at 400-degrees. Remove the foil.

Reduce the oven temperature to 350-degrees and bake for another 25 to 30 minutes, until the top is lightly brown and the filling is set. Cool to room temperature before cutting.

OM NOM NOM!