This Pecan-Whiskey Pumpkin Pie is FANCY. It looks fancy, and let me assure you, it tastes fancy.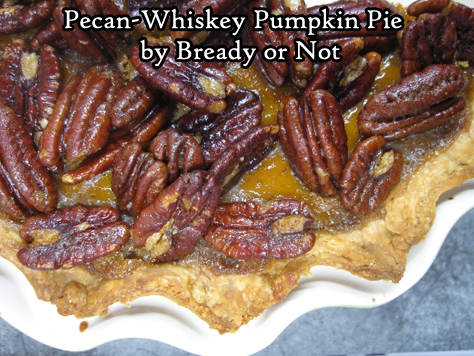 I'm relieved that the results are amazing, because honestly, this is the most complicated pumpkin pie recipe I have ever made.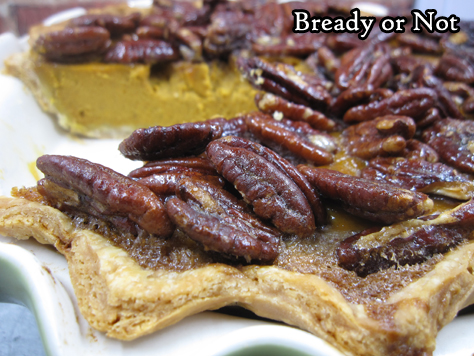 I'm used to the basic, yummy Libby's pie. This pie is substantially more intimidating, but doable.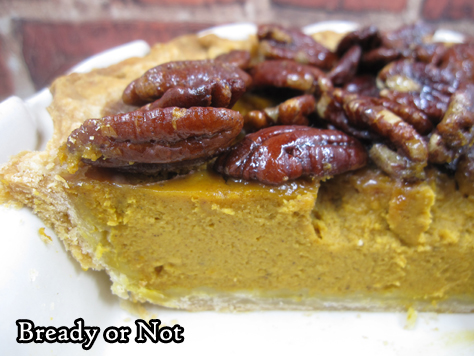 I found the original recipe in the November 2019 issue of Bon Appetit. I do not like how the original recipe is written. It's confusing at several points. Therefore, I largely rewrote it, creating what (I hope) is a more straightforward version.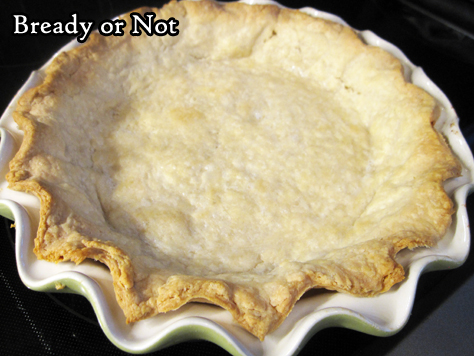 But it is still complicated. I suggest making the pie crust a day ahead, just to avoid dirtying everything all at once.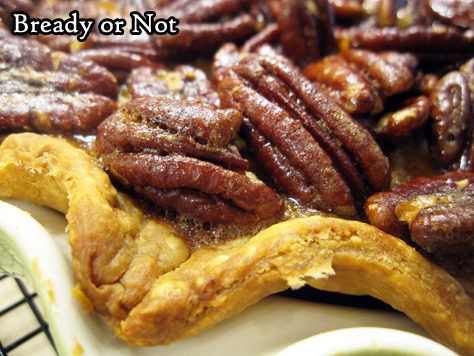 The end result is a pumpkin pie with a custard that is delicately firm and soft, with nuanced spices that perfectly complement the candied pecans on top.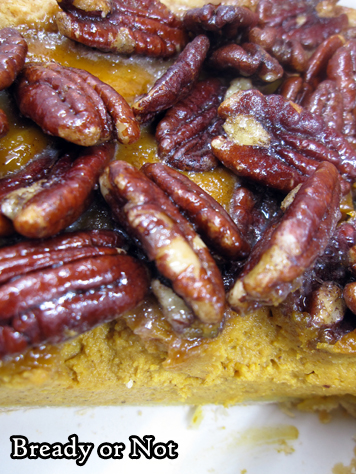 This is a pie to make to impress people. Truly, this is a Bake Off showstopper kind of pie.
Recipe heavily rewritten from original in Bon Appetit November 2019.
Bready or Not: Pecan-Whiskey Pumpkin Pie
This Pecan-Whiskey Pumpkin Pie is a true showstopper. No denying it--this is a complex pie recipe, but one with gorgeous, delicious results.
Equipment
deep dish pie pan

parchment paper

pie weights

immersion blender or blender
Ingredients
Crust
1 3/4

cups

all-purpose flour

1

Tablespoon

white sugar

3/4

teaspoon

kosher salt

3/4

cup

unsalted butter

(1 1/2 sticks) cold, cut into pieces

3/4

cup

ice water

1

large egg white

reserve yolk to use in pie filling
Pecan Topping
1 1/2

cups

whole pecans

2

Tablespoons

brown sugar

packed

pinch

kosher salt

1

Tablespoon

unsalted butter

melted

1

Tablespoon

pure maple syrup
Pumpkin Pie
3

large eggs

1

egg yolk

15

oz

pure pumpkin puree

3/4

cup

heavy cream

1/4

cup

white sugar

2

Tablespoons

rye whiskey

1

teaspoon

ground cinnamon

1

teaspoon

ground ginger

1/4

teaspoon

ground nutmeg

1/4

teaspoon

ground cardamom

pinch

ground cloves

6

Tablespoons

brown sugar

packed

2

Tablespoons

unsalted butter

melted

1/4

teaspoon

kosher salt
Instructions
Make the crust
Note that the dough can be made as days in advance and kept chilled. The crust can also be baked a day or two before the pie is finished; keep it covered at room temperature in the meantime.

Whisk together flour, sugar, and salt. Add butter and coat it with flour, then use fingers to press butter into shaggy pieces of varying sizes. Drizzle in about 5 Tablespoons of cold water and knead it into flour. Add additional small increments of water until dough just starts to come together. There should still be visible pieces of butter.

Dump dough onto a clean, lightly-floured surface and knead a few more times to work in any dry, shaggy bits. Form the dough into an even, broad disc and encase in plastic wrap. Tuck inside fridge to chill for at least 30 minutes, or up to 3 days.

To blind-bake crust, preheat oven at 400-degrees.

On a floured surface, roll out dough to make about an even 12-inch round. Loop it over the rolling pin to lift it onto a deep dish pie plate. Shape it into pan. Form the crust edge as desired and trim away any excess dough.

Line the inside of the crust with parchment paper. Fill entire crust with pie weights, such as dry beans.

Bake until the edges of the crust start to brown, about 20 minutes. Use parchment to lift out pie weights and set aside to cool--do so with great care!

Decrease the oven temperature to 350-degrees, and continue to bake for another 20 to 25 minutes. While it is baking, separate an egg; place the white in a bowl and beat it slightly, and reserve the yolk in fridge to use for the pie filling.

Remove crust from oven. Immediately brush a tablespoon of egg white over the bottom, which will help it resist going soggy once the filling is added. Return crust to oven for another 5 to 10 minutes. Reserve the remaining egg white for use in the pie.

At this point, the recipe can proceed to the filling stage, or the crust can cool completely and be covered to sit at room temperature for a few days.
Filling
Heat oven at 350-degrees; set a baking sheet inside oven at heat up, too.

While mixing the filling ingredients, toast the pecans on a foil-lined rimmed baking sheet for about 8 to 10 minutes, stirring them once at the halfway point. The pecan should be a little darker and fragrant.

If using an immersion blender, combine the following ingredients in an even-bottomed large pot (a slow cooker pot works for this) or use a large blender (in two batches, if needed). Combine eggs, egg yolk, pumpkin puree, heavy cream, and white sugar. Add the whiskey, cinnamon, ginger, nutmeg, cardamom, cloves, 6 Tablespoons brown sugar, 2 Tablespoons melted butter, and kosher salt. Blend until smooth.

Pour into crust and bake until the filling is puffed and mostly set--a little wobble is okay--about 40 to 45 minutes.

While that is finishing up, coat the pecans. Pull out the leftover egg white and whisk in 2 Tablespoons brown sugar and kosher salt. Add maple syrup and Tablespoon of melted butter, stirring until just combined. Add the pecans and toss to coat.

Carefully use baking sheet to bring out the pie. Use a slotted spoon to add the pecans on top of the pumpkin, letting the excess egg white slurry stay in the bowl.

Return pie to oven. Bake until filling is completely set, until a butter knife stabbed into center (avoiding pecans) comes out clean. This can take anywhere from 10 to 30 minutes. If necessary, cover the edge of crust with foil to prevent overbrowning.

Let pie cool at least 2 hours before cutting in, chilling first if desired. Store pie loosely covered by foil at room temperature or in fridge.