You could just make normal brownies, sure, but it's an indisputable fact that everything is better in pie form.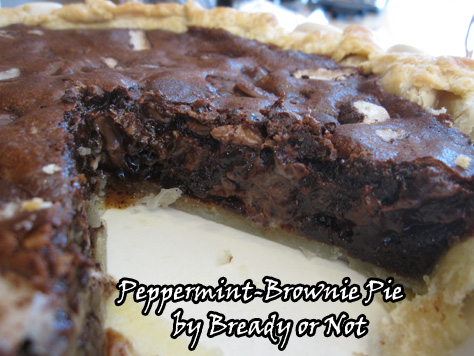 Back in March, we were in Tucson for the Book Festival on Pi Day. To my amazement, pie was hard to find. We ended up driving a good distance to a Village Inn, where they had already run out of most pies. Our selections ended up being fine, but my husband was tormented by a tabletop ad for a mint brownie pie that was not available.
"Don't worry," I told him. "I'll make one for you."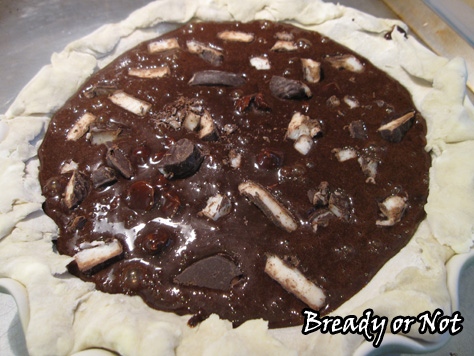 This ended up being more of a challenge than I expected. I ended up looking at a number of recipes until I found a good base recipe to modify. I wanted a strong mint flavor and for it to not necessarily LOOK Christmassy. I wanted a pie that could be made year-round.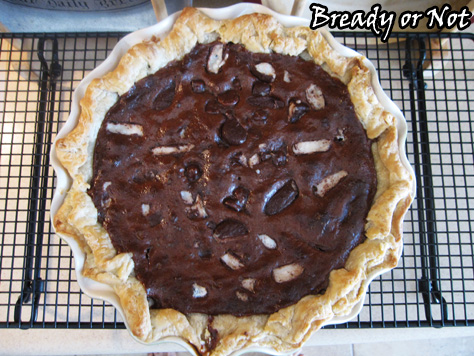 I already had some York Patties stashed away, courtesy of post-holiday clearance sales, so I had the very candy to mix into my recipe, too.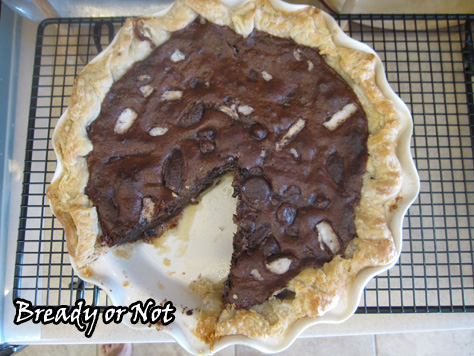 The end result was peppermint-brownie perfection. I used my homemade pie crust (shown below as well) and was pleased that the brownie contents didn't make the crust get soggy or hard.
If you love mint brownies, if you love pie, welcome to your new bliss.
Modified from Culinary Concoctions by Peabody.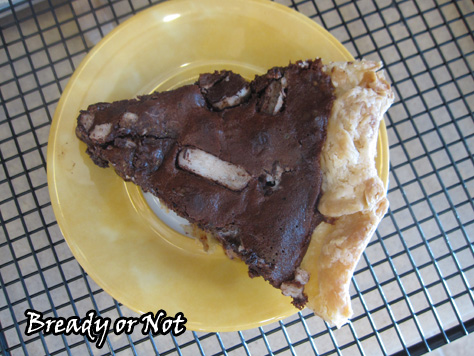 Bready or Not: Basic Pie Crust
A basic, reliable pie shell recipe. Great for sweet pies! Reduce the sugar, and use for savory pies, too!
Ingredients
3

cups

all-purpose flour

1

Tablespoon

sugar

1

teaspoon

fine salt

1

cup

unsalted butter

2 sticks, cold, cut into cubes

3/4

cup

ice water
Instructions
Make dough hours in advance or the night before. In a medium mixing bowl, whisk together the flour, sugar, and salt. Add in the cold butter cubes, and either use a pastry blender or pulse the ingredients in a food processor until the butter is pea-sized.

Pour in the cold water and pulse/mix together until the dough forms a loose ball. I like to use my hands at this point. The dough may be sticky, but it will firm up well.

Pour dough onto a floured surface. Divide into two balls and fallen them into discs. Wrap each disc in parchment paper, then in plastic wrap. Refrigerate at least one hour before placing in pie dish, or freeze for up to 3 months.

Roll out the refrigerated dough into a 12-inch round. Press it into a 9-inch dish, trimming the excess and pinching the edges. Wrap loosely with plastic wrap and freeze at least two hours before using, or keep frozen up to three months.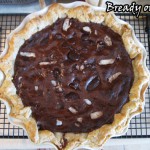 Print Recipe
Bready or Not: Peppermint-Brownie Pie
Peppermint brownies in pie form! This fudgy pie is even better after being chilled for a day. It features a strong, clean mint flavor. Perfect for the holidays... or all year long!
Ingredients
14

oz

sweetened condensed milk

1/4

cup

unsalted butter

half stick, cut into pieces for quicker melting

1/2

cup

unsweetened baking cocoa

sifted

3

eggs

room temperature

3

Tablespoons

all-purpose flour

2

tsp

espresso powder

optional but awesome

1

tsp

vanilla extract

1/2

tsp

peppermint extract

1

cup

milk chocolate chips

1

cup

York Peppermint Patties

chopped

1

pie shell

make your own or use a store bought crust
Instructions
Set out the pie crust atop a cookie sheet. Chop up the York patties and place half of them in the crust.

In a medium sauce pan, place the milk, butter, and cocoa powder. Warm on low heat. Stir occasionally so the mixture doesn't stick and scorch. Remove from heat when all ingredients are melted and mixed together fully. Set aside to cool for 15 minutes.

Preheat the oven at 350-degrees.

In a large bowl, lightly beat the three eggs. Temper them by adding a couple spoonfuls of the chocolate mixture and mixing. Do this three times. Finally, stir the remaining chocolate into eggs.

Add the flour, espresso powder, vanilla extract, and peppermint extract. Fold in chocolate chips.

Pour brownie batter into the pie shell and then top with remaining chopped York Patties.

Bake for 30-40 minutes on the cookie sheet, until a knife in the center comes out clean. Let set to cool for several hours. Store covered with foil in the fridge.

OM NOM NOM!