These Pumpkin Cheesecake Sopapillas are super-easy to make. You use crescent dough roll for the top and bottom! This comes together in minutes.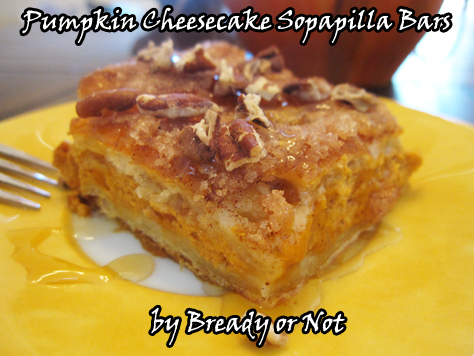 You get to work some churromancy here as well. Once you have your pumpkin bars assembled, you pour melted butter over everything. You create LAKES OF BUTTER. Then to make it healthier, you top that with more cinnamon and sugar.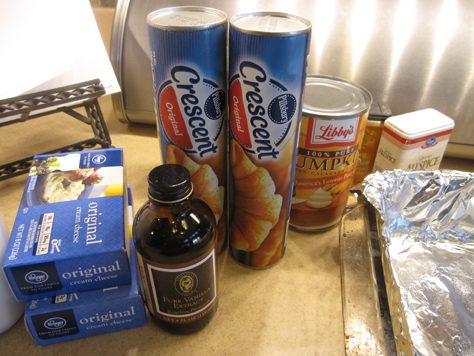 As it cools, the butter is absorbed, and that cinnamon-sugar forms an amazing crust on top.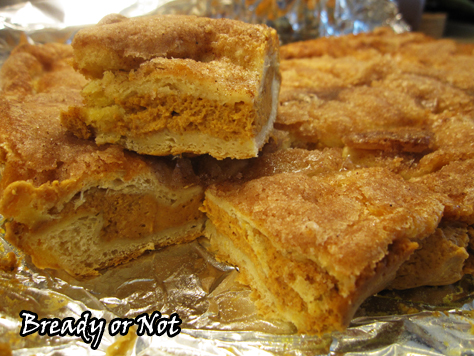 The dish is fast to assemble, but it does need a few hours to cool down on the counter and then chill in the fridge. After, that, though…! All you need to do to serve this up is zap a piece in the microwave. Top that with some pecans and honey, and you have your own seasonally-appropriate sopapilla.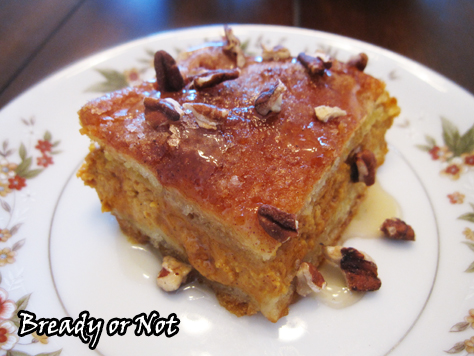 Eat it for breakfast. Snack. Dessert. Whatever. There's pumpkin in this and it's October. This could be dinner, if you so desire. Embrace the season! Get out the stretchy pants!
Modified from Willowbird Baking. Originally shared on the Holy Taco Church.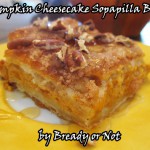 Print Recipe
Bready or Not: Pumpkin Cheesecake Sopapillas
These sopapillas come together fast thanks to the shortcut use of crescent roll dough for the pastry layers. After letting these chill to set, they taste best warmed in the microwave. Add some pecans and honey, and you have autumnal bliss on your plate. Modified from Willowbird Baking and originally shared on the Holy Taco Church.
Ingredients
Bars
2

cans

crescent rolls

any brand

16

oz

cream cheese

2 boxes, room temperature

16

oz

pumpkin puree

1/2

cup

white sugar

2

teaspoons

vanilla extract

2

teaspoons

ground cinnamon

1/4

teaspoon

ground allspice

1/2

teaspoon

nutmeg

1/2

teaspoon

ginger
Topping:
6

Tablespoons

unsalted butter

melted

1/2

cup

white sugar

1

teaspoon

cinnamon
Instructions
Preheat oven at 350 degrees F. Line a 9x13 inch baking dish with foil and apply nonstick spray. Unroll one can of crescent roll dough--keeping it as a single piece--and lay it in the dish. Pressing it out to cover the bottom and pinch seams together.

In a large mixing bowl, beat together the softened cream cheese and sugar until light and fluffy. Add the pumpkin puree, vanilla extract, cinnamon, ginger, nutmeg, and allspice. Spread the pumpkin mixture over the crescent roll dough in the pan.

Stretch out plastic wrap on a large cutting board. Use this surface to lay out the other can of crescent roll dough. Stretch it out and pinch together the seams. That done, use the board to flip the dough on top of the pumpkin layer.

Next is the topping. In a small bowl, stir together the 1/2 cup sugar with 1 teaspoon cinnamon. Pour the melted butter over the crescent dough top layer. Sprinkle the sugar mix all over the top.

Bake for 30 minutes or until golden brown. Let the bars cool completely at room temperature before placing them in the fridge to set for a few hours or overnight.

Cut the sopapillas into bars. They are best served warm, after a 20-30 second zap in the microwave, and topped with some pecans and drizzled honey.

OM NOM NOM!