The name of the recipe is somewhat misleading. These don't actually include pumpkin. Instead, they use dry pumpkin pudding mix!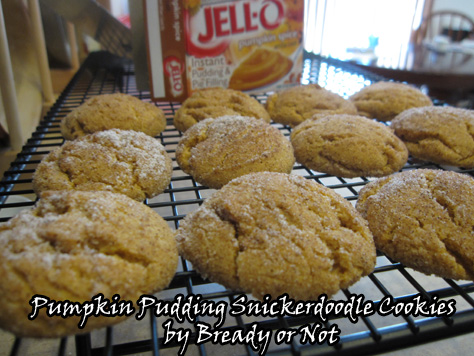 This important ingredient vexed me. I found this recipe for pumpkin streusel pudding cookies at Chef-in-Training two years ago and wanted to do my own remix as snickerdoodles last year. The pudding mix is a seasonal ingredient. Foolish me, I started looking for it at Walmart in September, which is when I really want autumnal food even though it's still 110-degrees here. No luck. I looked at every grocery store around. Still no luck.
Finally, the first week of November, I happened to be in Walmart. Lo and behold, they had the pudding mix! I bought several and resisted the temptation to cackle and dash through the store.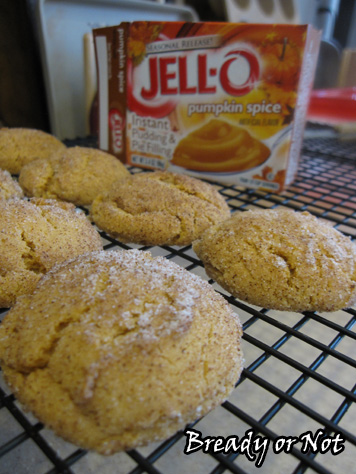 Therefore, you see, the timing of this post is so you can be on the prowl, too. Grab'em while you can!
Pudding mix is awesome in baked goods. It makes the end result soft, moist, and tender, and it stays like that for days. The pumpkin pudding here tastes like real pumpkin, but it has a lot more endurance. (If you want a real pumpkin snickerdoodle recipe, I posted one last year!)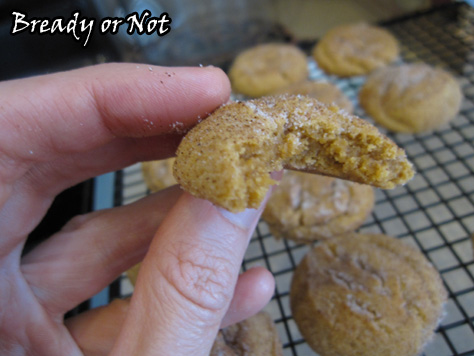 This recipe makes a lot, too. I ended up with about 50 cookies using my teaspoon scoop.
Bready or Not: Pumpkin Pudding Snickerdoodle Cookies
Ingredients
Cookie Dough:
3/4

cup

butter

softened

3/4

cup

brown sugar

packed

1/4

cup

sugar

1

small box pumpkin spice instant pudding mix

dry

2

eggs

room temperature

1

tsp

vanilla

1

tsp

baking soda

2 1/4

cups

flour
Topping:
1/4

cup

sugar

2

Tablespoons

cinnamon
Instructions
Preheat oven at 350-degrees.

In a large bowl, cream together the butter, brown sugar and white sugar.

Add the dry pumpkin spice instant pudding mix and beat until well combined. Next, mix in the eggs and vanilla.

In another bowl, combine the flour and baking soda. Slowly mix the dry ingredients into the butter-sugar mix.

Prepare the snickerdoodle topping in another bowl.

Form dough into small balls. Use a spoon to roll them around in the sugar and cinnamon. Place them on a greased or lined baking sheet. Bake for 8-10 minutes.