Life might really suck. But don't worry. Salted Dulce de Leche Fudge loves you.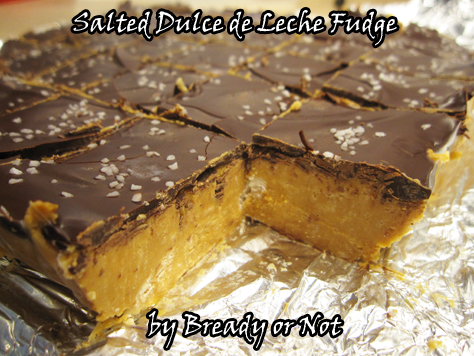 This fudge exists in Zen. It simply is. It does not think. It is here. A thing that you may partake of, a thing that makes stress fade away as dulce de leche-smooth chocolate melts on your tongue.
Its creation is fairly peaceful, too. This fudge is super easy. It comes together in just a few minutes if you use your microwave.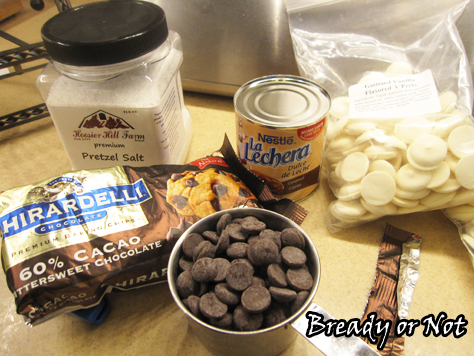 You can find cans of dulce de leche by the sweetened condensed milk in the grocery store, or on the Hispanic foods aisle. You can also caramelize a can of sweetened condensed milk to make it yourself.
I used bittersweet chocolate for the top layer. I'm not a bitter or dark chocolate sort, but it really works well here with the mild sweetness of the fudge. And the salt—the salt is essential. Coarse salt is nice because it keeps in crystals on the top—I really recommend pretzel salt, if you have it around.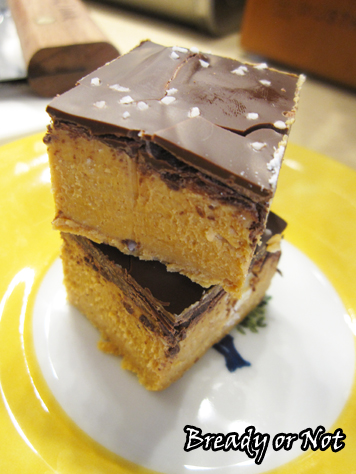 However you tweak the recipe, know that the end result will love you, and you will love it, and all will be right in the world for about twenty-two seconds. Until you eat more fudge.
Modified from Easy Salted Caramel Fudge at Something Swanky, with my version originally posted at the Holy Taco Church.
Print Recipe
Bready or Not: Salted Dulce de Leche Fudge
This microwave fudge comes together in minutes for a treat that is sweet and indulgent. Store it in the fridge for as long as a week!
Ingredients
13 - 14

ounce

Dulce de Leche can

3

cups

white chocolate chips

or white candy melts

1

cup

milk chocolate chips

or bittersweet or dark chocolate chips

1 - 2

pinches

coarse salt

pretzel salt or kosher
Instructions
Line an 8x8 or 9x9 baking dish with foil or parchment. Apply non-stick cooking spray. Measure out the two kinds of chocolate, separately, and open the can.

Over low heat in the microwave or on the stovetop, melt the white chocolate. Once it is smooth and completely melted, mix in the dulce de leche and a pinch of salt. Stir until the color is consistent. It will be very thick.

Glop it into the prepared baking dish and smooth out the top with a rubber or offset spatula.

Melt the darker chocolate morsels in the microwave; 30 seconds, stir, then another 20-30 seconds should do it. Pour the melted chocolate over the fudge. Even it out with your trusty spatula. Sprinkle salt over the top.

Let it cool completely on the counter or in the fridge for 3-4 hours, until it's set. The chocolate top will likely crackle some as you cut it, but that's okay. It makes tasty crumbs. Cut into small squares.

Leftovers will keep sealed in fridge for upwards of a week.

OM NOM NOM!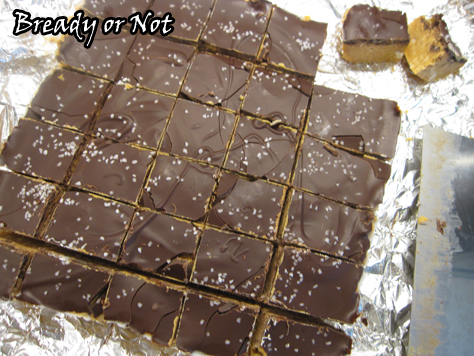 Save