We're kicking off the Christmas season with a recipe that's been a favorite of mine since 2003: Soft Gingerbread Bars!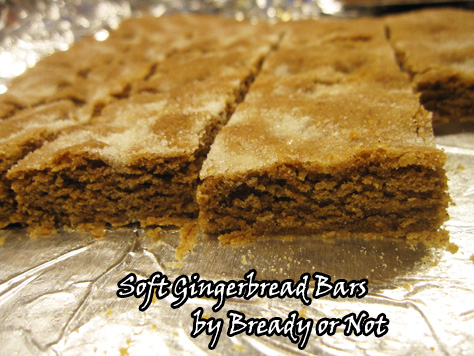 My original recipe was clipped from the inside of a Land O Lakes butter box. Before trying that recipe, I had associated gingerbread with dry, hard cut-out cookies.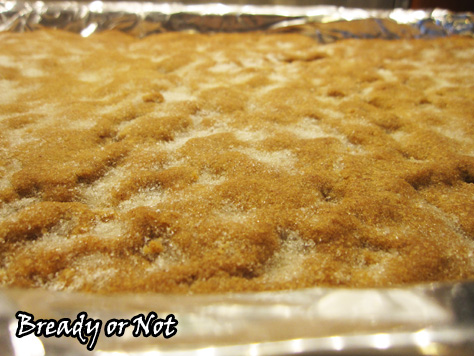 Land O Lakes enlightened me. They taught me gingerbread could be rendered into soft, chewy bars that were a sugary equivalent to crack cocaine.
These bars have been a household favorite ever since. You can cut the gingerbread into fancier shapes, but I prefer basic bars. These bars are soft and luscious, embodied with the divine scent of Christmas itself.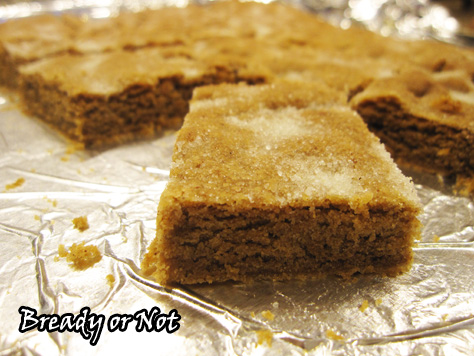 Plus, this is the perfect recipe when you're low on time–it mixes together quickly and bakes in under 20 minutes. No standing around the oven for an hour, waiting for batch after batch of cookies to be done.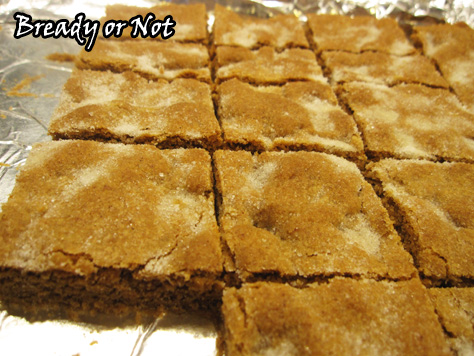 As soft as these bars are, they are surprisingly durable. When my husband was deployed in the Navy, I mailed several batches to him overseas. I packed them in Gladware with napkins for padding, and they survived the journey, intact and tasty.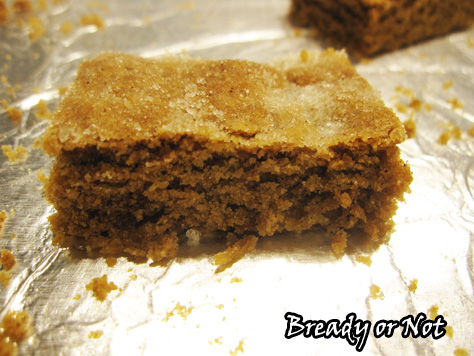 Modified from the original recipe at Land O Lakes Butter. Originally posted at Bready or Not back in 2012 on Live Journal.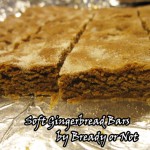 Print Recipe
Bready or Not: Soft Gingerbread Bars
These soft, thick gingerbread bars whip together in no time and bake in under 20 minutes! They are surprisingly durable, too, and keep well for weeks for mailing--even to overseas. Plus, they smell and taste like sugary heaven. Modified from a Land O Lakes recipe.
Ingredients
1 1/4

cups

white sugar

1

cup

unsalted butter

softened

1

egg

3

Tablespoons

molasses

3

cups

all-purpose flour

1

teaspoon

baking soda

2

teaspoons

ground cinnamon

2

teaspoons

ground ginger
Topping
2 - 3

tablespoons

white sugar
Instructions
Preheat oven to 350-degrees. Line a jelly roll or large bar pan with aluminum foil.

Combine the 1 1/4 cups sugar, butter, egg, and molasses in a large mixer bowl. Mix until creamy. Add the flour, baking soda, and spices and mix until just combined.

Press the dough evenly into the pan. Sprinkle a few tablespoons of sugar across the top. Dust the sugar with your fingers to fill the nooks and crannies.

Bake the pan for 16 to 20 minutes, or until very lightly browned around the edges. Cool completely. Cut into bars or other shapes. Try to resist eating them all.

OM NOM NOM!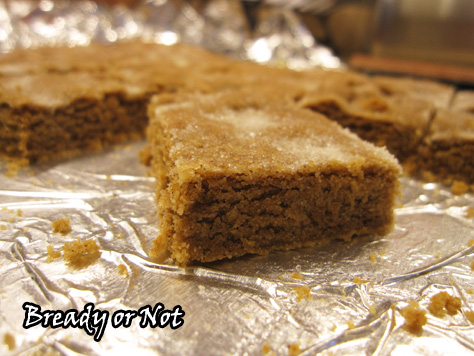 Save