Welcome to MACADAMIA NUT MONTH! Why is this Macadamia Nut Month? Because next month on the 23rd, the final book in my Blood of Earth trilogy comes out! Hawaii–with its groves of delicious macadamia nuts–is a major setting in Roar of Sky.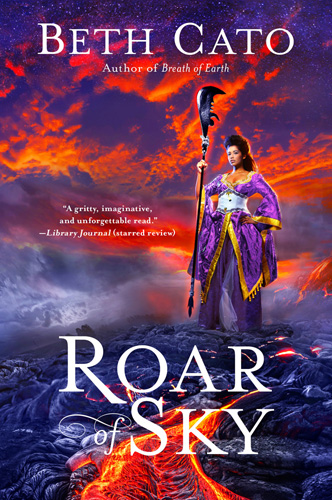 If you love macadamia nuts, get ready to bliss out. This month you'll get recipes for:
White Chocolate Macadamia Nut Pie
White Chocolate Macadamia Nut Cookies (today)
Lemony Macadamia Nut Bars
Mini Fruit Cake Loaves to make now for the holidays (macadamia nuts optional)
White Chocolate Macadamia Nut Cookies. One of the best cookies in existence. There are a lot of recipes out there and I've tried many, but I say with no doubt that this is the best.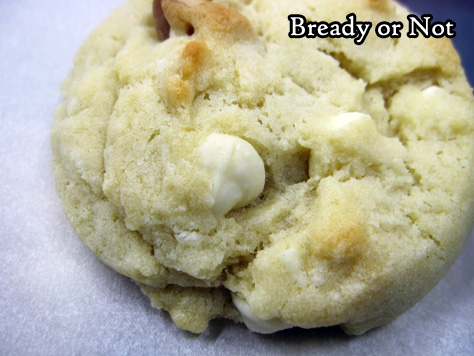 The melted white chocolate in the dough makes all the difference by adding slight sweetness and a smooth texture.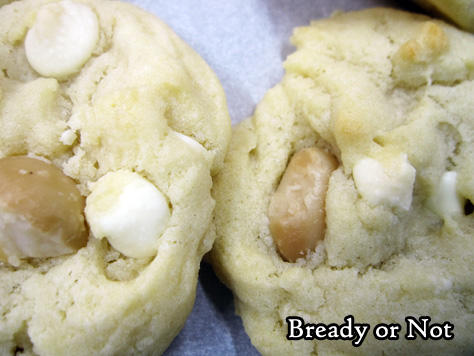 Be cautious when you melt the chips, though. It can burn quickly in the microwave. Zap it on low power for short stints of time, and stay close.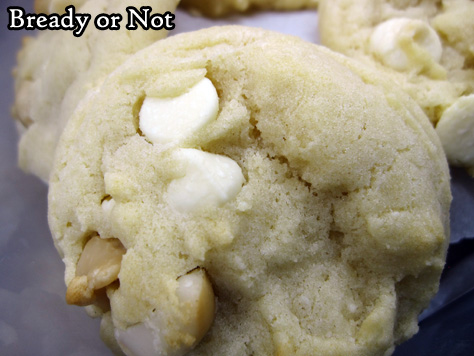 Did you know that macadamia nuts should always be stored in the fridge? They have a high fat content, and can go rancid at room temperature! Trust me, you'll know by the smell when you open the bag. Voice of experience.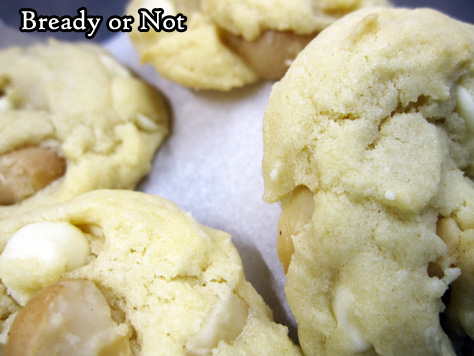 So don't let good nuts go bad. Keep them chilled, and use them up in yummy recipes like this one! If you love this kind of cookie, this recipe will be a keeper for you.
Come back next week for a lemony bar recipe with macadamia nuts, and please preorder Roar of Sky!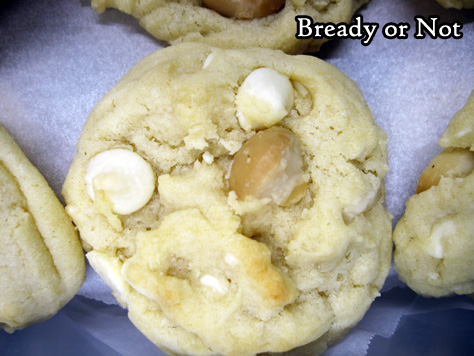 Original recipe from Betty Crocker Magazine #172 April 2001, page 8.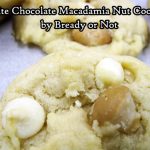 Print Recipe
Bready or Not: White Chocolate Macadamia Nut Cookies
What makes these cookies so magical? White chocolate melted into the dough! These cookies are crisp, light, and chewy all at once. Be careful when you melt the white chocolate in the microwave--it can burn in a matter of seconds! Using a tablespoon cookie scoop, this makes about 35 cookies. Original recipe from Betty Crocker Magazine, April 2001.
Ingredients
10

oz

white chocolate chips

divided

2/3

cup

white sugar

11

Tablespoons

unsalted butter

room temperature

1

teaspoon

vanilla extract

2

eggs

room temperature

2 1/2

cups

all-purpose flour

1

teaspoon

baking soda

1

teaspoon

cream of tartar

1

cup

macadamia nuts

coarsely chopped
Instructions
Preheat oven to 325-degrees. Place 1 cup of white chocolate chips in a microwave safe bowl. Microwave on 50% power in short increments, 20-25 seconds, and stop to stir between passes until the chips blend smoothly. Set aside to cool.

In a large mixing bowl, beat together the sugar, butter, vanilla, and eggs until they're creamy. Mix in the melted chips. Stir in flour, baking soda, and cream of tartar. Add the remaining chips and nuts.

Use a tablespoon cookie scoop or spoon to place dough in rounded lumps on cookie sheet. Bake 10 to 12 minutes, until the tops just begin to turn light golden brown. Cool on the sheet for several minutes, then move to a rack to cool.

OM NOM NOM!