If you want a treat that is decadent, gorgeous, and loaded with peppermint, bake this up.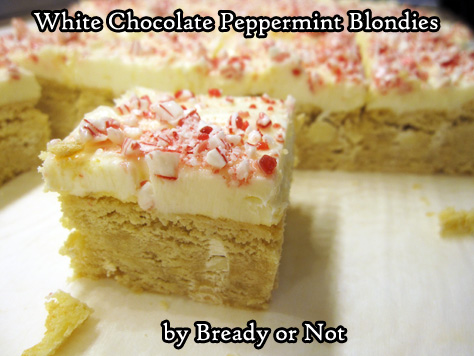 But once you put the peppermint bits on, eat them within a few hours. That's right, this recipe has the same issue as the Peppermint Chocolate Chip Cookie Sticks a few weeks ago.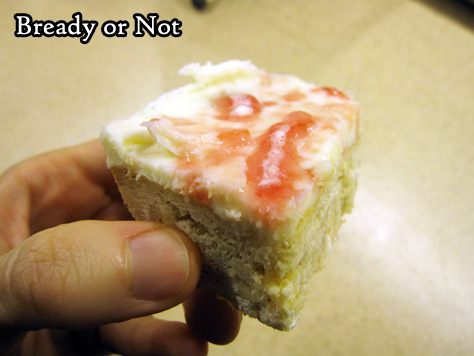 See that picture above? That's what the peppermint does, melting to look like stained glass. It's a purely cosmetic issue; the bars still taste fine and the peppermint even retains a slight crunch.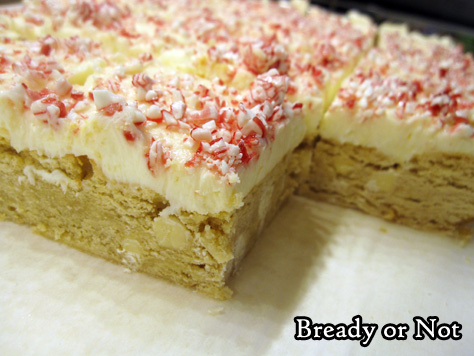 The solution to this is pretty easy, though. Add the peppermint bits right before serving, or just omit them. Or be prepared to eat them with oozy peppermint on top, as they'll still taste fine!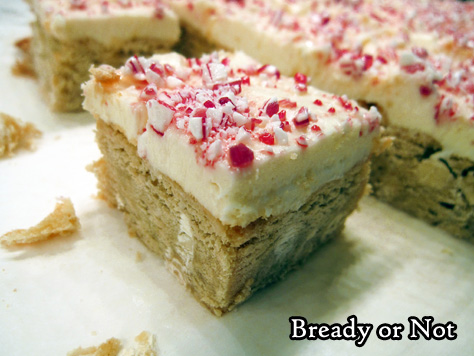 With that disclaimer done, I can say these things taste absolutely delicious. I mean, hello, blondies topped with cream cheese frosting! These are practically a cake.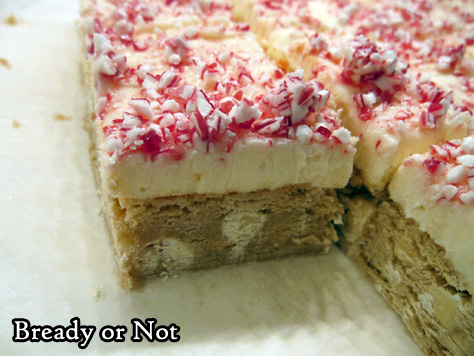 Modified from County Living, December 2015.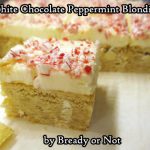 Print Recipe
Bready or Not: White Chocolate Peppermint Blondies
These blondies deliver sheer holiday decadence! Peppermint, white chocolate, and cream cheese frosting work together in a glorious way. Do note that the crushed peppermint bits will melt after a few hours, regardless of the temperature at which the bars are kept. They'll still taste fine, but they don't look as pretty!
Ingredients
blondies
3/4

cup

unsalted butter

1 1/2 sticks, softened

3/4

cup

white sugar

2/3

cup

brown sugar

packed

3

large eggs

room temperature

2

teaspoons

vanilla extract

divided

3/4

teaspoon

pure peppermint extract

2 2/3

cups

all-purpose flour

3/4

teaspoon

baking powder

1/4

teaspoon

kosher salt

1 3/4

cup

white chocolate chips

1 bag
frosting
16

ounces

cream cheese

2 boxes

1

cup

confectioners' sugar

1/2

cup

peppermints

crushed
Instructions
Preheat oven to 325-degrees. Apply nonstick spray or butter to an aluminum foil-lined 9x13 baking pan.

Beat together butter, both sugars, eggs, 1 teaspoon vanilla, and peppermint extract. In a separate bowl, whisk together the flour, baking powder, and salt.

Stir the dry mix into the butter mix. Add the chocolate chips. Spread the batter evenly in the prepared pan.

Bake until golden brown and the middle passes the toothpick test, about 30 to 35 minutes. Cool in pan on rack until room temperature, or place in fridge to chill.

When the blondie base is no longer hot, beat together the cream cheese and confectioners' sugar until they are light and fluffy, about 1 to 2 minutes. Beat in the remaining 1 teaspoon vanilla.

Spread frosting over blondies. Freeze for 30 minutes or chill in fridge for several hours to set.

Add crushed peppermints just before serving. NOTE: after a few hours, the peppermints will melt, regardless of the temperature of the bars. It looks weird, but tastes the same, even retaining a slight crunch. Other than that, the bars keep fine in the fridge for at least 5 days.

OM NOM NOM!