I'm happy to welcome fellow Harper Voyager steampunk author Brooke Johnson today! Her newest novel, The Guild Conspiracy, came out this past Tuesday, and continues her Chroniker City series.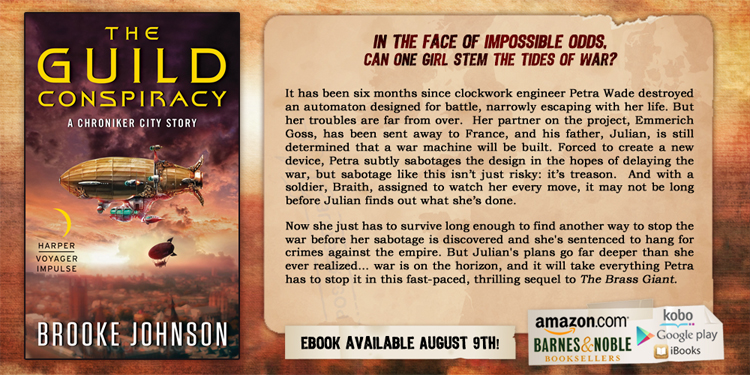 "Why I Love the Heroines of Victorian Steampunk"  
When people think of steampunk, they usually think of the Victorian Era—bustles, corsets, rose-tinted glasses, gas lamps, parasols, and da Vinci-esque contraptions made of clockwork and steam—and for good reason. The romantic flair of nineteenth century Victorian Britain is the steampunk genre's bread and butter. 
Most modern steampunk is set in the prim and proper sociopolitical atmosphere of the Victorian British Empire, with daring heroines who face all manner of dark creatures and machines within the pages of their respective books. There's a certain romantic quality to a strong-minded woman trying to make her way in man's world, with sensibilities more fitting for the modern world than the straight-laced rigors of nineteenth century society—and yet, still relevant in the oppressive patriarchal society of today.
Here are women far braver and cleverer than those of us reading their stories. They inspire us to do better, to be better, because for all our troubles as women in the world today, the heroines of Victorian fiction have much greater obstacles to face—and that's not counting the vampires, werewolves, governments, and conspiracies they take down along the way. Their problems are the same as ours: the trivialization of all things feminine, the disregard for women's rights, the inequality between genders, the expectations of beauty, and the apparent necessity to appeal to the male gaze. For all our "social progress" since the 1800s, these same problems are relevant today, and seeing these steampunk heroines act against the injustices of their time, however small their actions may seem, or how insignificant their accomplishments are in the grand scheme of things, they refuse to sit by and let things continue as they are. They seek to change the world, to carve a place for themselves in a world where they are looked upon as the inferior sex.
It's inspiring to read about their journeys, to see a part of ourselves in those characters and connect with them through their trials. Through them, we can dare to dream, dare to hope, dare to aspire to greater things.
That was my goal when I wrote The Brass Giant, the first book in the Chroniker City series. The main character of The Brass Giant and The Guild Conspiracy is a young female engineer who is forbidden to join the Guild—an exclusive brotherhood of engineering elite—for the sole reason that she is a girl. Despite that, she tries anyway, going so far as to risk treason to get one step closer to seeing her dreams realized. In a world where all the odds are stacked against her, she doesn't give up, even when she fails, and to me, that's admirable—even if it does get her into loads of trouble.
So, why do I love the heroines of Victorian steampunk? Because they are stronger, braver, and cleverer than me. They inspire me to be a better person, to stand up to the injustices of the world and make this world, this time-period, a better place for the generations to come—even if all I ever do is put pen to paper. I can only hope that my words inspire a young girl to dare to follow her dreams, to be unafraid of what the world may throw at her, and to show her that she deserves a place in the world just as much as any man. 
---
Where to buy The Guild Conspiracy:
SOCIAL MEDIA LINKS:
---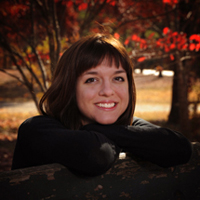 BIO:
Brooke Johnson is a stay-at-home mom and tea-loving author. As the jack-of-all-trades bard of the family, she journeys through life with her husband, daughter, and dog. She currently resides in Northwest Arkansas but hopes one day to live somewhere a bit more mountainous.
Save
Save