I'm an introvert. I like my cozy cave and routine. June was filled with book release and family and travel, and I feel like I'm still picking out things from rubble. Therefore, here are publications I had going back to June (other than Clockwork Crown) and other stuff.
At the Holy Taco Church:
– my recipe for this month is Porter Beer Chicken Thighs in the Slow Cooker!
From Phoenix Comicon:
– I posed for a picture for the great group Kids Need to Read. (Of all the shirts I had to wear that day…)
In the media:
– Michele Brittany wrote up a great article on my San Diego Comic-Con "Romantic Adventure" panel for Bleeding Cool.
At SF Signal:
– I took part in a Mind Meld on great detectives stories in speculative fiction! If you love mysteries mixed with scifi and magic, check this out and add to your to-read pile.
New story:
– "Headspace" in the Cats in Space anthology; on Amazon and Barnes & Noble. This story is pure fun: about a kitten named Trouble who ends up on a very interesting ride through deep space.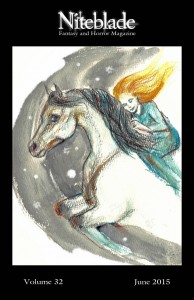 New poetry:
– "What Happened Among the Stars" in the latest Niteblade; my poem is also featured as the cover illustration!
– "Leaf Dragon" in New Myths