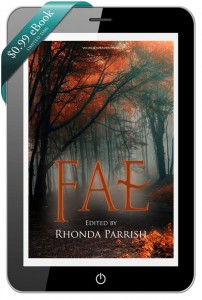 Last year my story "The Cartography of Shattered Trees" was included in a wonderful anthology called FAE. Well, the ebook is now on sale for just 99-cents!
Meet Robin Goodfellow as you've never seen him before, watch damsels in distress rescue themselves, get swept away with the selkies and enjoy tales of hobs, green men, pixies and phookas. One thing is for certain, these are not your grandmother's fairy tales.
Fairies have been both mischievous and malignant creatures throughout history. They've dwelt in forests, collected teeth or crafted shoes. Fae is full of stories that honor that rich history while exploring new and interesting takes on the fair folk from castles to computer technologies to modern midwifing, the Old World to Indianapolis.
Fae bridges traditional and modern styles, from the familiar feeling of a good old-fashioned fairy tale to urban fantasy and horror with a fae twist. This anthology covers a vast swath of the fairy story spectrum, making the old new and exploring lush settings with beautiful prose and complex characters.

---
99-cents at all the places!
For Canadians: Amazon.ca