It's pumpkin time! And squash and apple time! Plus, it's legitimately maple time. Last year I gathered my past fall recipes. Now that my recipe content is split between BethCato.com and LiveJournal, I really wanted to post those recipes again. The list now includes the 2013 posts, too.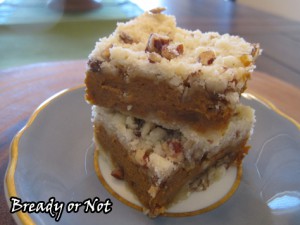 Mini Pumpkin Donuts with Maple Glaze
Pumpkin Snickerdoodles
Pumpkin-Molasses Freezer Pie with Ginger Snap Crust
Maple Spritz Cookies
Pumpkin Pie Bars
Maple Fudge Bites
Pumpkin Gnocchi
Pumpkin Poppers
Overnight Crock Pot Apple Butter
Butternut Squash & Chickpea Salad with Almond Butter Dressing
Pumpkin chocolate chip brownies
Pumpkin-applesauce bundt cake
Candy corn cookies
Halloween party bundt cake (cake mix)
Pumpkin pie
Pumpkin cranberry breakfast cookies
Pumpkin roll bars
Pumpkin spice smoothie
Also, on Pinterest I have a wide array of boards including a Bready or Not board and a pumpkin board where I try to list the amount of puree each recipe calls for. It probably won't surprise you that I have a devoted space for maple recipes, too.