Harper Voyager has released a sampler of their new books coming out these next few months. It includes authors like Kim Harrison, Nick Cole, Richard Kadrey… and ME. The first two chapters of The Clockwork Dagger are included! And there was much rejoicing!
The really cool thing… it's FREE and available from most every electronic book purveyor.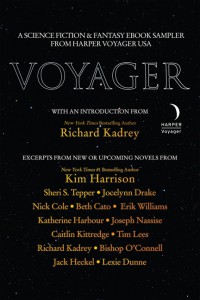 Grab it for your Kindle via Amazon.
Or as a freebie Nook book at Barnes & Noble.
Kobo has it, too!
Heck, it's even at Google Play.
No matter where you get it, it's free and totally yours. I'm rather excited to read all the samples, too–though I've already read Nick Cole's whole book Soda Pop Soldier and can vouch for its awesomeness.