I'm excited to host M. Darusha Wehm as a guest today. She's the author of Children of Arkadia from Bundoran Press, just released on April 28th, but she's not just here to talk books. Oh no. She's here with a BREAD RECIPE. I'll let Darusha say it best…
---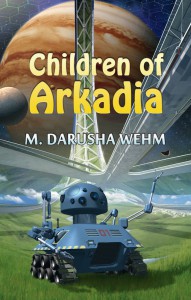 Children of Arkadia follows three generations of humans and AIs participating in an audacious experiment — to create a just and free society in an orbital space colony. The book is, in many ways, utopian science fiction. The Arkadians are literally trying to build a better world. Of course, it's not that simple, and this story revolves around how people can (or can't) resolve the inherent conflict between competing views of what doing the right thing actually entails. And, of course, how they are going to feed themselves.
Arkadia is a mix of high-tech and rural living. Farming is the chief concern of most of the people — human and AI — and even those not directly participating in growing food are, to some extent or another, foodies. Among the human population, at least, everyone needs to eat.
There is no commerce on Arkadia, but there is trade. Chen Wu is one of Arkadia's volunteer bakers and he doesn't think of himself as lazy — he's efficient. He makes a lot of bread, so he does it the easy way: by letting time do the work.
---
Chen Wu's Seed Loaf
Ingredients
4 cups flour
1 tsp salt
1/2 tsp yeast
2 cups water
1/2 cup seeds (flax, sunflower, chia, sesame, whatever)
Instructions
Add all the dry ingredients to a large bowl and stir them up.
Add 2 cups of warm water, mix until you get a damp, doughy ball. You can do this all with a wooden spoon, there's no need to knead! Cover with a cloth and let it sit overnight.
The next day, pour the dough into a loaf pan and bake at 220C/425F for 40-60 minutes.
This seed loaf is my real-life everyday bread, using 3 cups of white flour, 1 cup of whole wheat and flax seed or meal. I've let the dough sit for more than 24 hours and as little as 8 hours. Longer is better, but the bread has always turned out.
You can use more or fewer seeds; I wouldn't go with more than a cup, though.
This recipe is based on Jim Lahey's No-Work Bread, from How To Cook Everything.
---
Bio: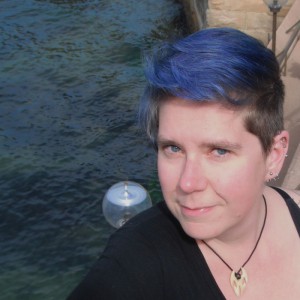 M. Darusha Wehm is the three-time Parsec Award shortlisted author of the novels Beautiful Red, Self Made, Act of Will and The Beauty of Our Weapons. Her next novel, Children of Arkadia (Bundoran Press), will be released April 28, 2015. She is the editor of the crime and mystery magazine Plan B.
She is from Canada, but currently lives in Wellington, New Zealand after spending the past several years traveling at sea on her sailboat. For more information, visit http://darusha.ca.
Publisher's Blurb:
Children of Arkadia
Kaus wants nothing more than to be loved while its human counterpart, Raj Patel, believes fervently in freedom. Arkadia, one of four space stations circling Jupiter, was to be a refuge for all who fought the corrupt systems of old Earth, a haven where both humans and Artificial Intelligences could be happy and free. But the old prejudices and desires are still at play and, no matter how well-meaning its citizens, the children of Arkadia have tough compromises to make.
When the future of humanity is at stake, which will prove more powerful: freedom or happiness? What sacrifices will Kaus, Raj, and the rest of Arkadia's residents have to make to survive?
For more information, click here or go directly to Amazon to order.