Let's start off the month with a bunch of happy links!
I had two new poems published this week:
– a YA poem with a magical take on bullying and abuse: "Obsidian" at Kaleidotrope
– a somewhat creepy steampunk poem called "The City" in Mythic Delirium
Then my poem "Sorry," published earlier this year at Mobius Magazine, was nominated for Best of the Net.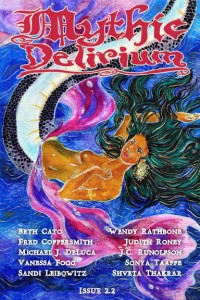 Then there's the cool miscellaneous stuff…
– a three minute on-camera interview with The Daily Quirk, recorded at San Diego Comic-Con
– Amy Sisson reviews my story from Nature, "Bread of Life," and says nice things!
– I was name-dropped in the Functional Nerds Podcast at about the 34 minute mark. This tickles me to no end because of Patrick Hester talks about my cookies. Also, buy Fran Wilde's book Updraft. It's awesome.