I was tagged by my agent-sister Alyssa Goodnight to take part in the Meet My Character Blog Tour. Since I still have The Clockwork Dagger on my brain (gee, I wonder why?), I thought I'd talk about my heroine.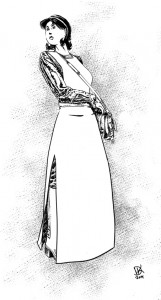 1.) What is the name of your character?
Octavia Leander.
2.) Is he/she fictional or a historic person?
She's completely fictional, though inspired by medics, nurses, and corpsmen who have served in recent wars.
3.) When and where is the story set?
It's set on a secondary world (based on Earth, but not Earth). The geography is based on the area around Seattle, Washington, and the time period is inspired by post-World War I Europe. The primary action is in a kingdom named Caskentia.
4.) What should we know about him/her?
Octavia was orphaned at age 12 when an enemy airship crashed atop her village. For the past ten years, she's been mentored by Miss Percival at an academy for medicians in training. Much of that time has been spent in field hospitals at the front line of an endless war between Caskentia and the Waste. She has unusually powerful healing skills drawn from a world tree called the Lady.
5.) What is the main conflict? What messes up his/her life?
Armistice has been declared–yet again–and Octavia is setting out to establish her own medical practice in a village. When her airship journey is plagued by murder and poison, it becomes clear that Octavia is the intended target.
6.) What is the personal goal of the character?
She wants a true home, a place to belong. Instead, her trip becomes a scramble to stay alive at all.
7.) Is there a working title for this novel, and can we read more about it?
The book is out as of the 16th! The Clockwork Dagger was published by Harper Voyager and it's available everywhere. Here you can read the back cover copy and find links to many booksellers.
8.) When can we expect the book to be published or when was it published?
It's out! It's real! Wheeeee!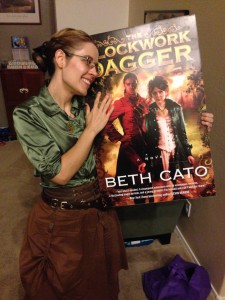 Writers, feel free to copy/paste the meme and continue it!