Theme of the week: novel edits. Not big scale revisions, but the more nefarious, subtle kind. The sort that requires you to squint at a single paragraph for 30 minutes to get the nuance just right.
That's why I decided to give my brain a break and work on my website instead. That's called "productive procrastination."
These works have been added to my Bibliography as well.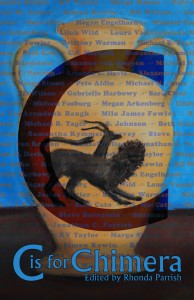 Stories:
– "Bear-bear Speaks" in Daily Science Fiction
– "A Dance to End Our Final Day," an very personal old favorite of mine, reprinted in EGM Shorts
– Letter S in the brand new C is for Chimera (Alphabet Anthologies Book 1)
– in the realm of nonfiction, Chicken Soup for the Soul republished online my story "Long Distance Love," about how I met my husband
Poetry:
– "Fried Okra" reprinted in the 2016 Rhysling Anthology (and wow, is this a great anthology)
– "Dragon, Bound in Stone" in Star*Line 39.2
Guest Blog:
– "The Importance of Slides: About Beth Cato's Story in C is for Chimera at Rhonda Parrish's site
Interview:
– "The Importance of Slides: Beth Cato's Story in C is for Chimera at Rhonda Parrish's site
Mentions in other media:
– included in 10 Arizona Sci-Fi and Fantasy – Authors You Should Know — Besides Diana Gabaldon and Stephenie Meyer in Phoenix New Times
– quoted in What They Said: The 2016 LA Times Festival of Books at Book Yurt
#SFWAPro