Another happy review from a major site!
Kirkus Reviews, Top Picks for Speculative Fiction Reads in September: "This steampunk fantasy includes all the right elements for a rip-roaring adventure."
—
New publication! A poem – "To Walk Upon Clouds" at NewMyths.com.
Holy Taco Church post for September–a review of Gadzooks, an acclaimed restaurant in downtown Phoenix!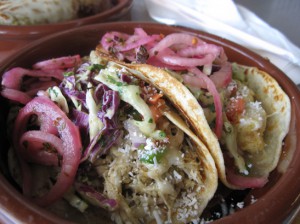 I'm also blogging, uh, everywhere.
Essay: "How OWW inspired Me to Write Steampunk" in the September Online Writing Workshop Newsletter.
Chat Log from Wednesday's #sffrtcht can be found here.
Clockwork Cookie Blog Tour
– Pumpkin Snickerdoodles with Pam Wallace
– Shokupan Bread with Lee Hallison
– Buttery Beer Bread with Darusha Wehm
– Cheap Korean-Style Beef with Jodi Scaife
– Double Irish Cream Cookies with Erin Hartshorn
If I forgot something or someone, my apologies. The crazy OMG-BOOK-RELEASE stuff has definitely kicked in these past two days.