Wow. What a weekend.
From Thursday with the craziness of the Holy Taco Church and friends dining together in a former church now dubbed the Taco Guild, to Friday's full day of convention, to Saturday with back-to-back panels and a grand finale of Drinks with Authors… whew! I'm still tired. My toenails are even sore after two days of steampunk boots.
I'm very happy I was able to share the days with my friend Rachel, who flew out from Texas to keep me sane, because I do crazy things like feed churros to the people but I don't feed myself. We also glammed ourselves up for Saturday!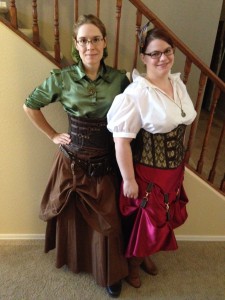 I made so many new friends. Maybe a few enemies. But we won't speak of them.
Plus, I was even provided the divinity known as Churro Bacon Cupcakes. A holy chorus sang. For a few brief seconds, the world was at peace.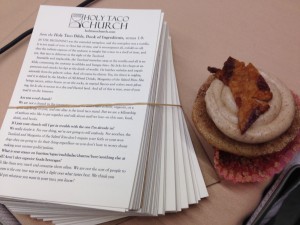 Then the cupcake was gone and the world went to crap again.
But that's okay, because there's always next year, and more awesome people, and more cupcakes.