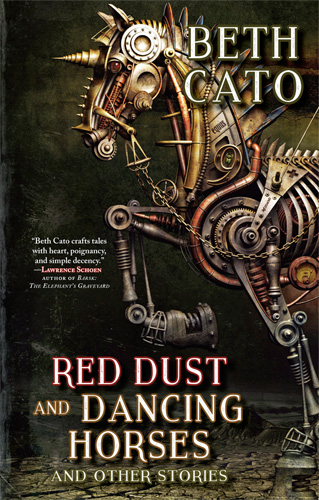 Release day! My collection is now officially unleashed upon the world:
This debut collection from Nebula-nominated author Beth Cato brings together works that span history and space, a showcase of vividly imagined speculative stories that range from introspective and intense to outright whimsical. Here you'll find the souls of horses bonded into war machines of earth and air, toilet gnomes on the rampage, magical pies, a mad scientist mother, a bitter old man who rages against giant extraterrestrial robots, and a sentient house that longs to be a home. The book features 28 stories and 6 poems, and includes Cato's acclaimed story "The Souls of Horses."
People said nice things about it!
"Cato hits her intended targets with compassion and insight." –Publishers Weekly
"These hauntingly beautiful stories and poems each contain a deep aching sadness wrapped around a beautiful gleaming hope–like fog around a sunbeam. If you weren't in love with Cato's writing before you sat down to read this collection, you will be by the time you're finished."
–Rhonda Parrish, editor of Equus
Order it in paperback and ebook from Amazon, Barnes & Noble, and straight from the publisher, Fairwood Press.