The ebook sale for The Clockwork Dagger is ongoing through Christmas! It's for $1.99 at: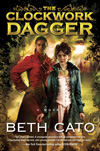 In other news this week, I have a new story published at Perihelion SF: "A Mother's Touch," a story of medical advancement, dragons, and death with dignity.
I'm also over at Rhonda Parrish's blog with a very true cat Christmas tale.
If you're looking for more recipes for this week, I might be able to help. Not only do I have a lot here on my site, but on Pinterest I have over 6,000 pins, many of those being recipes. That includes a board of my Bready or Not recipes, a collection on non-baked desserts, and a full repertoire of sweets that require glorious, glorious maple. Plenty of om-nom-noms to be had.