Today's a big double-whammy publication day! I have two brand-new stories out in the world, both in awesome publications.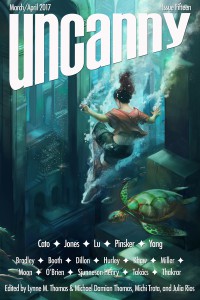 First of all, my story "With Cardamom I'll Bind Their Lips" is in Uncanny Magazine! Not only can you read the story, but it's also featured in their podcast along with an interview with me. I kinda love this story. It's about a girl sleuth/apprentice ghost sealer who happens to talk to animals, and like so many child sleuths, her investigation leads her down a very dangerous path indeed.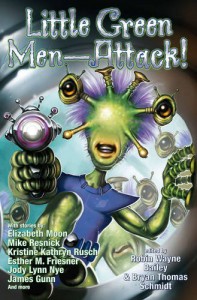 My other release is in a humorous anthology from Baen: Little Green Men–Attack! All of the stories use little green aliens in some way. Mine happens to be about a violent take on Victorian roller derby, "A Fine Night for Tea and Bludgeoning." And it's funny! With an alien named Elvis! (I don't have much luck with funny stories. I try to write funny, and I'm told it's "whimsical". But this story actually turned out to be humorous, and now it's in an anthology with my literary hero Elizabeth Moon. So forgive me if I need to flail and dance.)
You can buy this book at Amazon, B&N, and pretty much anywhere.
#SFWAPro
Save
Save