If you're in the Phoenix, Arizona, area, make note that this weekend is the fantastic, glorious, squee-inducing VNSA Book Sale! This is one of the biggest used book sales in the whole country and it takes up an entire exhibition hall of the State Fairgrounds. See this pic I took last year?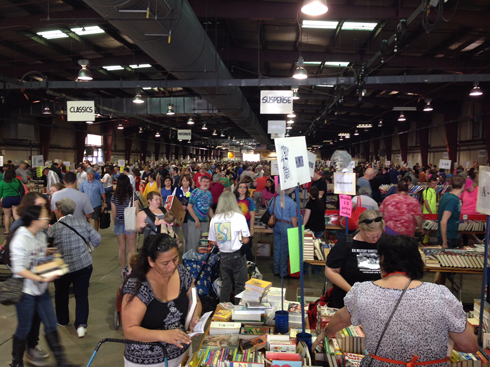 That picture was taken on Sunday, which is the LEAST CROWDED of the two days. Saturday is crazy because people line up hours before it opens, the fire marshal regulates how many people can enter the building, and it is really an overwhelming number of books and people. I like Sunday because it's easier to browse AND all of the normal books are 50% off. This year Sunday happens to be Valentine's Day. I told my husband that the VNSA sale is what I want. That's how I roll.
If you go, be sure to take a rolling cart, tote bag, or some way to carry books. Don't trust your arms alone to safely your treasures.