No matter where you are in the world, you can order signed copies of Call of Fire through Poisoned Pen Bookstore in Scottsdale, Arizona. They know their stuff–they handle massive quantities of books for authors like Diana Gabaldon. Order online, by phone, or walk in. They can hook you up with my other books, too: Clockwork Dagger, Clockwork Crown, Deep Roots, and Breath of Earth.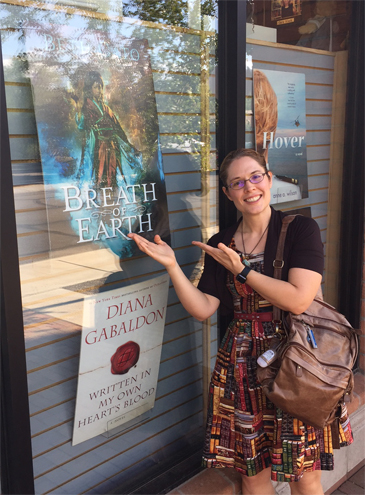 If you live around Phoenix, you have some other options, too. Last Saturday, I drove a big loop around the metropolitan area to visit as many Barnes & Noble stores as possible that listed Call of Fire as in-stock via their website. Here's where I signed books:
Metro Center B&N: 1 Call of Fire
Happy Valley B&N: 3 2 copies Call of Fire
Desert Ridge B&N: whole bunch of signed Dagger, Crown, Breath of Earth, and Call of Fire
Tempe B&N: 1 Call of Fire (with more copies of that and Breath of Earth on order)
There are also a few signed copies of Call of Fire at Half Price Books stores around Indianapolis. I'm not sure exactly where they dispersed after Gen Con, so maybe you can get a kind of treasure hunt out of it.
If you want to see my books in your local stores–whether in Arizona or elsewhere–order them through the store! That way, the local manager sees there is a demand, and that encourages them to order more to stock the shelves.
Libraries kind of work the same way. You can request my books be stocked there. If the novels are checked out regularly, the librarians know, too, and will buy more books by that author… and will also replace books if they get too worn.
If you have any questions about where to find my books, comment here or use my contact form, or reach out on Twitter or Facebook. I'll be happy to help you out!
#SFWAPro