Make a big ol' pot of meat with this recipe for Slow Cooker Beef Chili!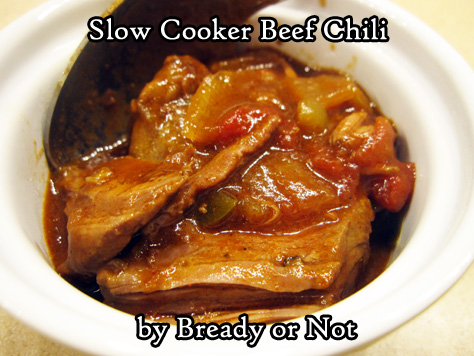 My husband loves a good, spicy chili. He does not like beans. This recipe is his favorite.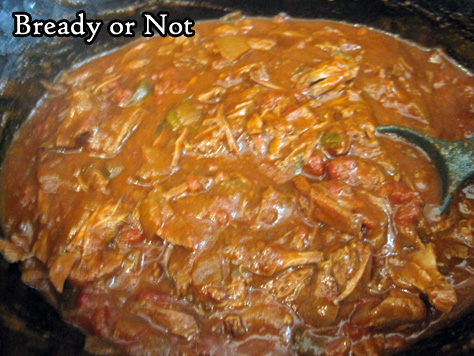 I find it simple to put together, too. The only fussy thing is taking the time to brown the meat, but I can typically do that in two batches.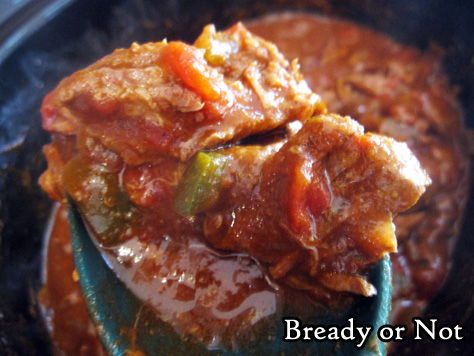 There are several heat levels of Rotel-like canned tomatoes and chilies out there. There are also tomato sauce cans and boxes with added spice. In our case, I add a hefty sprinkle of a local Hatch New Mexican seasoning mix.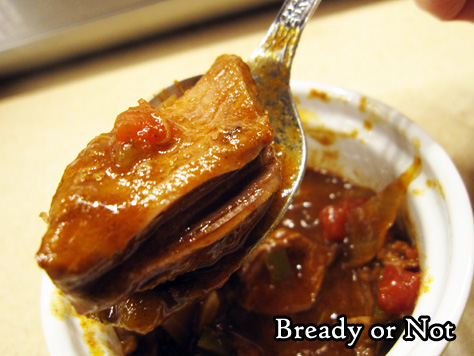 These make for great leftovers, too, and you can even throw some in a freezer bag to heat up later on!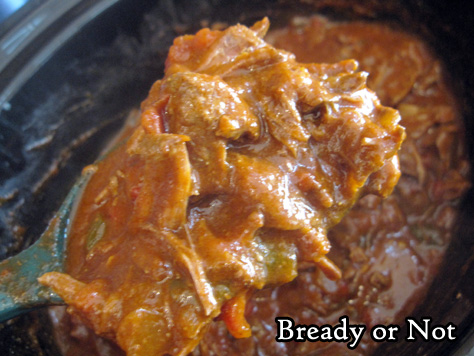 Modified from The Everything Soup, Stew, & Chili Cookbook edited by Belinda Hulin.
Bready or Not: Slow Cooker Beef Chili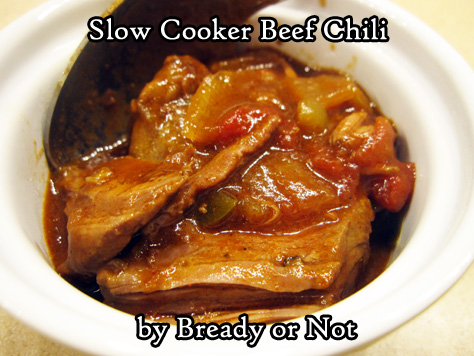 This all beef, no bean chili recipe makes a big pot of delicious chili! Make it as spicy as you want by using different types of Rotel and additional spices and sauces. Modified from The Everything Soup, Stew, & Chili Cookbook edited by Belinda Hulin.
2 to 2 1/2 pounds beef stew meat or chuck roast, chopped into 1-inch cubes
2 Tablespoons vegetable oil
1 whole onion, diced
1 green bell pepper, cored and diced
2 Tablespoons all-purpose flour
4 Tablespoons chili powder, hot or otherwise
1 teaspoon ground cumin
1 teaspoon salt
1/2 teaspoon garlic powder
1 10-ounce can tomatoes and green chilies, like Rotel
14-15 ounces canned or boxed tomato sauce
additional spices or sauces, to preference
In a skillet or wok, brown beef in vegetable oil over high heat. Use a slotted spoon to transfer beef to the crock pot. Add onion to pan and cook for just a few minutes to soak up the drippings. Add onion to the slow cooker, followed by the green bell pepper.
In a small bowl, combine the flour, chili powder, cumin, and salt. Sprinkle over the meat. Pour the cans of chili and tomatoes and the tomato sauce over the meat. Stir with a large spoon.
Place lid on slow cooker and cook on low for 6 to 8 hours, or on high for 3 to 4 hours. Turn heat to low, and break the meat into smaller pieces. It should flake apart under little pressure. Taste and adjust seasonings as desired.
Eat and enjoy. Keep leftovers in fridge up to 3 more days, or freeze for later enjoyment.
OM NOM NOM