For a limited time only, snag the ebook of Breath of Earth for a mere $1.99! This book has only been on sale once before, in May-June 2017, and I doubt it'll go on sale again this year. Get it while you can, then go on to read the next two books in the completed Blood of Earth trilogy. No wait required!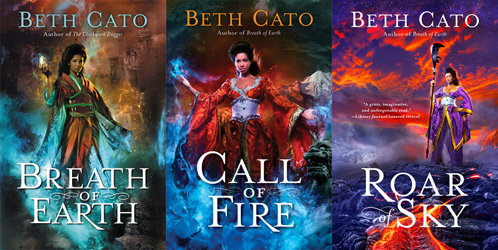 About Breath of Earth:
After the earth's power under her city is suddenly left unprotected, a young geomancer must rely on her unique magic to survive in this fresh fantasy novel from the author of the acclaimed The Clockwork Dagger.
In an alternate 1906, the United States and Japan have forged a powerful confederation— the Unified Pacific—in an attempt to dominate the world. Their first target is a vulnerable China. In San Francisco, headstrong secretary Ingrid Carmichael is assisting a group of powerful geomancer wardens who have no idea of the depth of her own talent—or that she is the only woman to possess such skills.
When assassins kill the wardens, Ingrid and her mentor are protected by her incredible magic. But the pair is far from safe. Without its full force of guardian geomancers, the city is on the brink of a cataclysmic earthquake that will expose the earth's power to masterminds determined to control the energy for their own dark ends. The danger escalates when Chinese refugees, preparing to fight the encroaching American and Japanese forces, fracture the uneasy alliance between the Pacific allies, transforming San Francisco into a veritable powder keg. And the slightest tremor will set it off. . . .
Forced on the run, Ingrid makes some shocking discoveries about herself. Her already considerable magic has grown even more fearsome . . . and she may be the fulcrum on which the balance of world power rests.
#SFWAPro
Read More
Let's start off the new year with a deliciously cheesy recipe to make a salad extra special: Baked Goat Cheese Salad Rounds!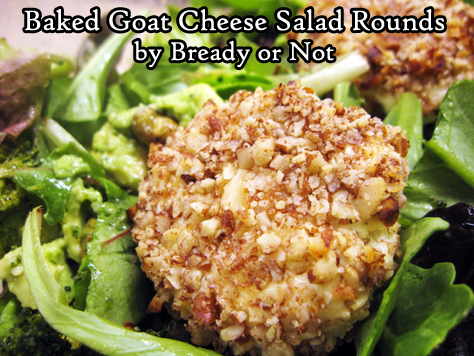 This recipe is super easy. There are only four ingredients! The work is minimal as it goes in stages.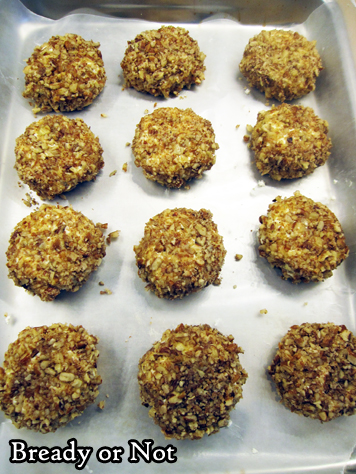 The end result is a delicious, fancy cheese to add to your salads over the coming weeks. I do large salads with lots of cheese, so I use two rounds. For a small salad–or if you want less cheese (goat cheese IS strong)–do one round.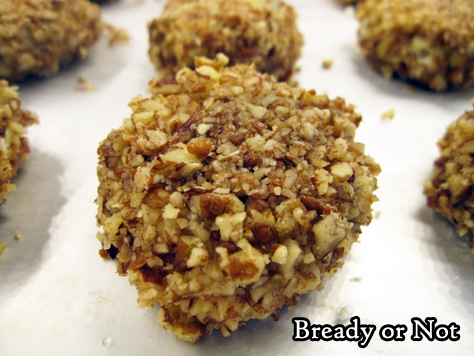 The nice thing about this is that the recipe has everything portioned and ready in the freezer. In the time it takes to assemble the salad, the cheese rounds are baked and ready for eating.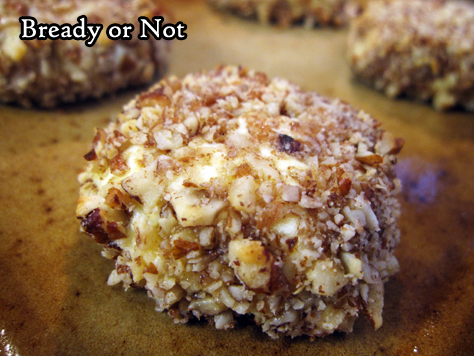 This is true whether you're cooking for one, or for a group over for brunch.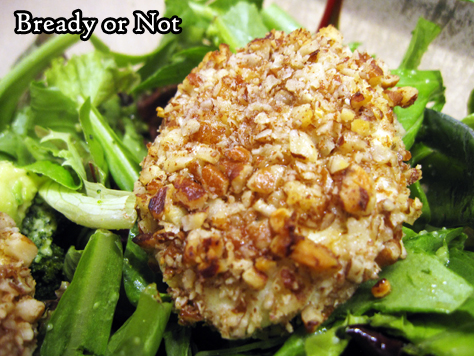 I made this recipe using the goat cheese available at Costco, where it is sold in a pack of two 10.5-ounce logs. A glance at Bready or Not of a month ago will show where the other log went–into Swirled Goat Cheese Brownies.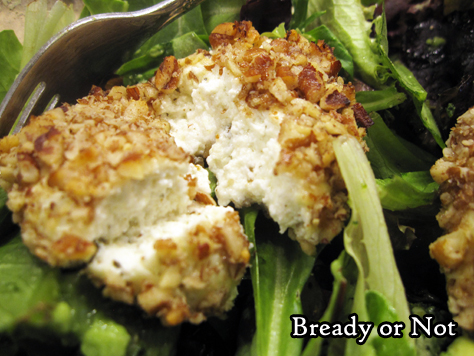 Adapted from a recipe featured in Best of America's Test Kitchen 2010.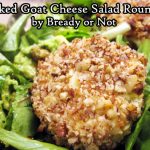 Print Recipe
Bready or Not: Baked Goat Cheese Salad Rounds [Gluten Free]
This simple and healthy recipe produces gluten-free, pecan-coated goat cheese rounds that are kept frozen until meal time. This is a great recipe for a person eating solo, or to bake up as an elegant cheese to accompany salads for a crowd.
Ingredients
1

cup

pecans

10 1/2

ounces

goat cheese

softened

1

teaspoon

dried Italian herbs

2

large eggs

room temperature
Instructions
In a food processor, pulse pecans until finely chopped. Transfer the pecans to another bowl. Add the cheese and herbs to the processor and process until smooth, about 30 seconds. Chill cheese in fridge in a covered bowl until firm, at least an hour.

Set up a work station. Beat the two eggs in a small bowl. Place next to the bowl of pecan pieces. Lastly, line a small cookie sheet or plate with waxed paper.

Use tablespoon scoop to doll out about 12 equal dollops of goat cheese onto the waxed paper. Smooth out a ball of cheese between palms, then dip into the egg, allowing excess to run off, then press and roll the ball to coat with pecan. Set back on waxed paper. Repeat with other balls. Use palm or the bottom of a glass to compress the cheese into flat rounds. Place in freezer for several hours, at minimum.

Once they are set, transfer the rounds to a sealed container for the freezer with waxed paper between the layers. IMPORTANT: They will go straight from the freezer to the oven. Don't thaw, or they'll lose their shape when baking!

When ready to bake, preheat oven or toaster oven at 475-degrees. Place foil on cookie sheet. Remove from freezer however many cheese rounds desired to cook; two rounds per large salad works well. Spray foil and cheese lightly with cooking spray.

Bake until the nuts are golden brown and cheese is warmed through, 7 to 10 minutes. Let cool several minutes. Set on a salad of greens tossed with a vinaigrette.

Frozen cheese rounds will keep well up to a month.

OM NOM NOM
Read More