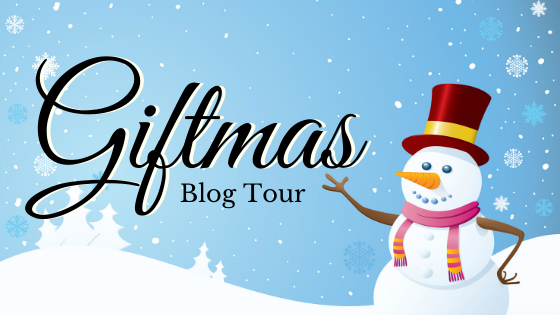 If people know only a few things about me, it's that I bake, I share lots of cute cat gifs, I write some stuff, and that I love, love, LOVE cheese. As part of the Giftmas Fundraiser, I'm sharing a recipe I just made for the first time during my American Thanksgiving last month–and I'm hoping you'll share some money and goodwill to help the Edmonton Food Bank, too. Your donation (in Canadian dollars) will help a lot of folks in need this season. One dollar equals three meals.
Please give to the Edmonton Food Bank for Giftmas!
Scroll down past the recipe to enter an incredible Rafflecopter giveaway that includes loads of stuff, including a signed Chicken Soup for the Soul Christmas book featuring one of my stories. You needn't donate to enter the giveaway–in fact, even spreading the news about Giftmas is a big help. Use #Giftmas2019 on social media to do that.
As part of Giftmas, there's also a Snowman drawing contest. The whole family can take part in this one! Find out the details from Rhonda Parrish.
2019 has been a cruel year, and 2020 could go straight-out apocalyptic. Let's help each other stay warm and fed.
Let's start that effort with some delicious cheese.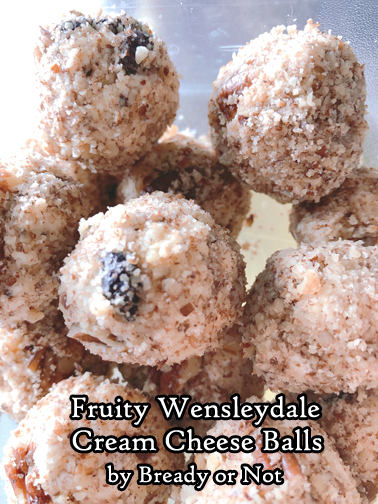 This recipe is inspired by a glorious cheesecake I experience at the Wensleydale Creamery during my dream-come-true trip to the UK in June. I immediately began mulling ways that my cheese-loving mom could enjoy a facsimile of the cheesecake, but with a lot less carbs.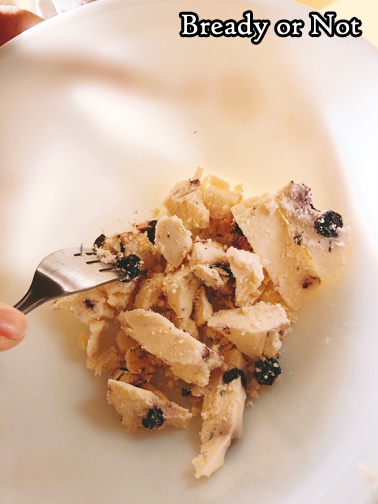 The result is this recipe for Fruity Wensleydale Cream Cheese Balls. This is gluten-free, keto-friendly, low-carb, and probably other buzz words with dashes, too. More importantly, it's DELICIOUS.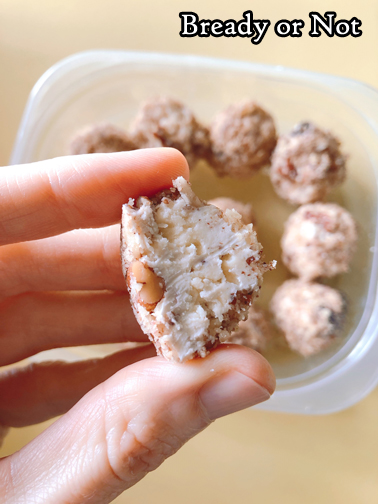 Please support the Edmonton Food Bank for Giftmas!
Bready or Not Original: Fruity Wensleydale Cream Cheese Balls
A delicious, cheesy treat that is low-carb, gluten-free, and keto-friendly! Form tablespoon-sized balls using equal portions of Wensleydale cheese with fruit (though fruity Stilton or cheddar may also work) and cream cheese; add extra dried fruit that matches the cheese; roll them in ground pecans (or maybe even walnuts), and ta-da! Makes about 15 tablespoon-sized balls. Recipe is easily doubled if you need to feed a crowd!
Ingredients
4

oz

Wensleydale cheese with fruit

such as blueberry or cranberry

4

oz

cream cheese

half block

2

Tablespoons

dried fruit

that matches cheese

1/2

cup

ground pecans
Instructions
Use a fork to chop cheese into chunks of various sizes. Add dollops of cream cheese and extra dried fruit and stir together, taking care distribute the Wensleydale without breaking it apart too much.

Place ground pecan pieces in a small bowl. Use a tablespoon and hands to form small balls. Roll in pecan bits to coat. Store in a sealed dish in fridge. Flavor improves after a day as the pecan flavor infuses the cheese balls more. Keeps for at least four days.
Read More
These Fruitcake Cookies turned out gorgeous AND delicious, but could've been a total disaster.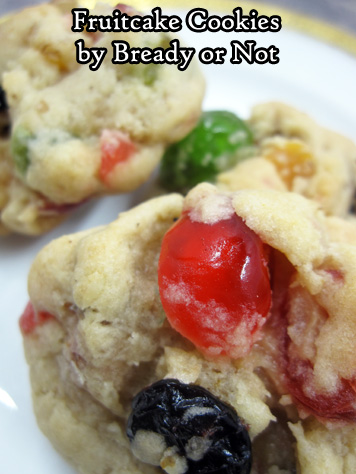 I completely rewrote a base recipe for these cookies before I even got to the kitchen. Once I started combining ingredients, I realized I had a major problem.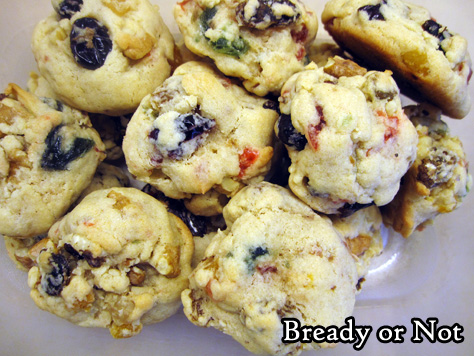 I had too little dough to hold my fruit and nuts. Uh oh! If I continued as planned, they would not be the slightest bit cohesive.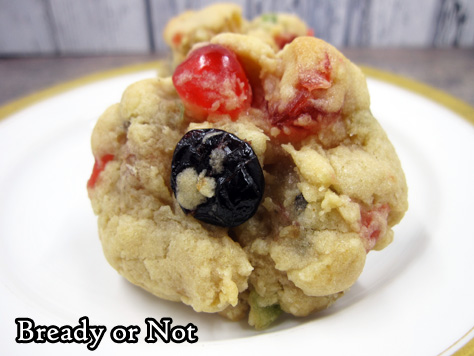 So, I winged it. I added more flour, more brown sugar, another egg. The dough became cohesive. I baked the first batch. They stayed cohesive.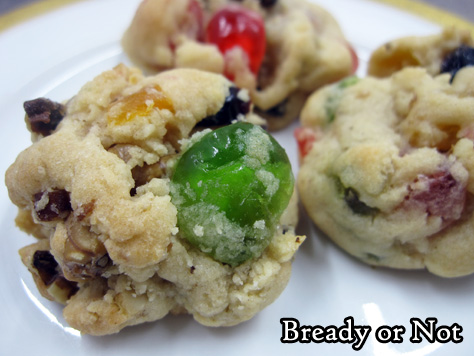 Whew! The cookies were saved. Not only saved, but absolutely delicious. The combination of ingredients brings all the best elements of fruitcake without all the fuss.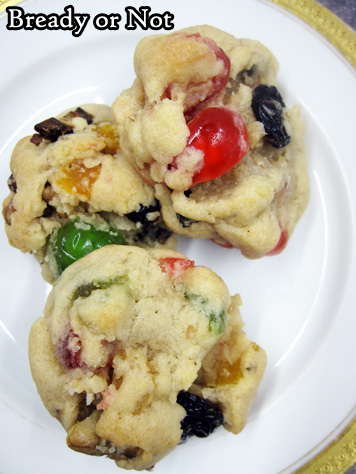 Want more fruitcake? Here's my recipe for Mini Loaves–which wouldn't be ripened by Christmas, unfortunately–and also another Fruitcake Cookies recipe, this one like oatmeal cookies. I also have a recipe for brownies that uses candied cherries and one that uses candied orange peel in delicious scones. Keep in mind that a lot of fruitcake ingredients can be found for fabulous clearance prices after Christmas, so bake up these recipes in the new year! Good food shouldn't be confined to one season.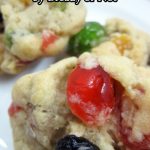 Print Recipe
Bready or Not Original: Fruitcake Cookies
The fruit listed in the ingredients is a suggestion. Customize these cookies however desired, to not exceed 2 1/2 cups. The result is a crisp, chewy cookie packed with fruit and nuts (but not too packed). Be sure to include the almond extract; that small amount adds some major oomph. Makes 40 cookies using a tablespoon scoop.
Ingredients
1/2

cup

golden raisins

1/2

cup

dried cranberries

1/4

cup

dried apricots

finely chopped

1/4

cup

dried dates

finely chopped

1

cup

candied cherries

coarsely chopped

1

cup

walnuts

and/or pecans, coarsely chopped

2 1/2

cups

all-purpose flour

1/4

cup

unsalted butter

1/2 stick, softened

1/4

cup

shortening

1/2

cup

white sugar

1/2

cup

brown sugar

packed

2

eggs

room temperature

1

teaspoon

vanilla extract

1/2

teaspoon

almond extract

1/2

teaspoon

baking soda

1/2

teaspoon

salt
Instructions
Preheat oven at 350-degrees. Line baking sheet with parchment.

Combine fruit and nuts with 1 cup of flour, coating everything. This will prevent the fruit from sinking as the cookies bake.

Cream together the butter, shortening, and sugars. Add the eggs with the vanilla and almond extract. Stir in the remaining flour with the baking soda and salt.

Stir in the fruit/nut/flour mixture until just combined.

Drop dough by tablespoons onto the prepared baking sheet. Bake for 10 to 12 minutes.
Read More