This Apple Cream Cheese Brioche Tart isn't a beginner's recipe, I'll say that straight up. There are gobs of steps, multiple rise times, lots of dirty dishes. But the result? Wow.
This is really a show-stopper kind of bread for a dessert, breakfast, or brunch. You have an enriched bread with a creamy, rich filling topped with spiced apples.
We had to test the best ways to eat the leftovers, too. The tart is fantastic fresh. Because of the creamed cheese, it needs to be stored in the fridge–but it's thick and cloggy if eaten cold.
However, heating it in the toaster oven doesn't work–the cream cheese will melt off! Like Goldilocks, we eventually found the "just right." It was a quick zap in the microwave, maybe 15-20 seconds depending on your machine. Enough to take the chill off without making it hot.
The things we bakers must do for science and the good of the people…
Read More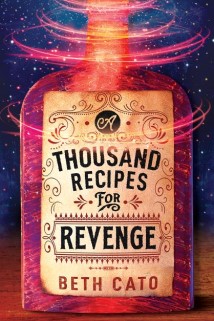 A Thousand Recipes for Revenge is officially out one month from today. I have something special to share, though. My book and its sequel are being published through 47North, one of Amazon's publishing wings. If you are an Amazon Prime member in the US, you can grab the ebook of A Thousand Recipes for Revenge NOW for free, courtesy of Amazon First Reads. Not a prime member? You can get it for only $1.99! Deals are good for the month of May. (I believe that this deal also applies in some way to folks in the UK, Australia, and Canada, but I'm not sure how the numbers differ! Hey, let me know.)
The full print book and audiobook will be available on June 1st–and the ebook will still be available on Amazon (and everywhere else, too) for a few bucks more.
[Link is through the Amazon Affiliate program.]
#SFWAPro
Read More