I am dedicating my next book (Call of Fire, out on August 15th!) to the Great British Bake Off. Why? Because the show is my bliss. It's a cooking reality show that thrives on niceness and support, where baking is appreciated by technical skill as well as taste. It's a show that makes me smile. After a long day of writing and revision, it offers me an escape to the verdant, green British countryside, where I can behold amazingly "scrummy" desserts and savory dishes.
Bake Off also has a lot to teach writers about dedication, perseverance, and community. Let's break it down with the help of some illustrative gifs.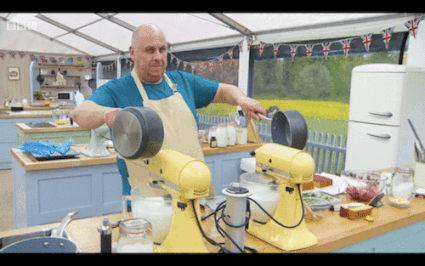 – The Power of a Deadline
More than once, I've had people tell me, "I wish I had time to write. Maybe I'll do it once my kids are in school/I change jobs/I retire." Guess what? Life will always get in the way. Plus, writing itself can be a slog due to sheer procrastination (hello, internet), plot snarls, endless research, and so on.
Deadlines are powerful. Deadlines make you grimace, plant your hind end in a chair, and churn out the words. Deadlines make you take risks in your writing.
Bake Off operates within deadlines, too. Two hours to make an elaborate cake that you'd normally spend a day on! Four hours to make this obscure European pastry you've never heard of or seen before in your life! And the bakers are in. Like a writer, they may only have a vague idea of the end result, but the clock is ticking. They need to have something to present to the judges, Mary Berry and Paul Hollywood.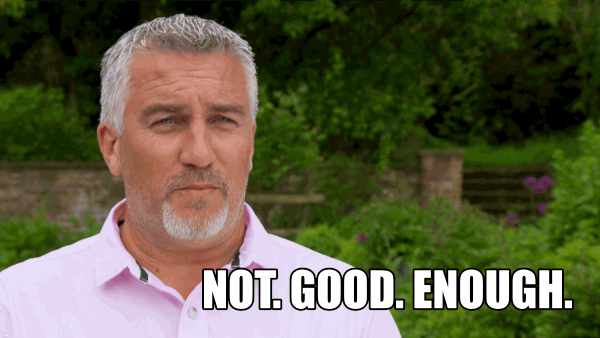 – Constructive Criticism
Baking Show presents the absolute ideal of constructive feedback: the negative balanced with the positive. This is something every writer needs to learn, and it is not easy. It requires tact, both in giving this feedback and responding to it in regards to your own work.
If you need a visual on how it is done, watch Paul and Mary. They might be presented with a cake that is an absolute disaster as far as presentation, but they still cut it open. They judge the texture and the taste. With a gracious smile, they say, "Yes, it looks terrible–you know that–but the taste is spot-on. You know your flavors."
That's the very thing writers need to hear, too. It's how we improve–and how we learn to build on our strengths. "Yes, it's a messy draft and there are some major info dumps, but your characters are amazing. The dialogue sparkles."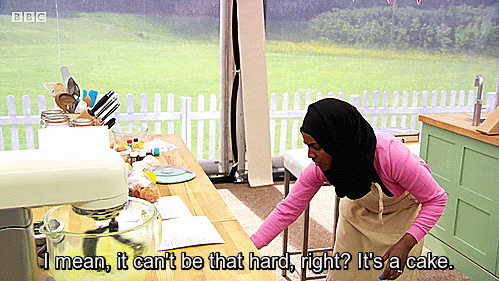 – Innovation
Writers are often told, "Write what you know." Cooks intrinsically do this, too; we learn family recipes, our cultural and ethnic lore through food, and the recipes of where we live. Writers and bakers also know that we can't be confined by what we have directly known and experienced. There are infinite realities we can experience through taste and imagination.
The bakers in the tent often look to their roots for inspiration and add those flavors to the traditional British or European fare they are challenged to create. They mix, match, and defy traditional pairings, and something magical happens (whether or not that magic fully works is up to Mary and Paul). This is what writers must do, too. We twist around tropes and develop fresh stories.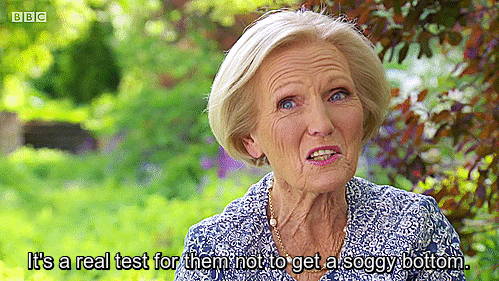 – Reinforce Knowledge of the Basics
A writer doesn't have to know how to fully diagram a sentence to be a real writer, but it is necessary to grasp the basics, the flow, that makes a story work. Writers also need to read. We need to understand what is expected in certain genres, or how to submit to markets, or query agents. There is a huge learning curve involved.
Bakers need those same skills. This is highlighted in the technical round that takes place during each Baking Show episode. The bakers are surprised by a new recipe from Mary or Paul–a recipe that has incomplete directions. "Make fondant." "Make 1-inch diameter macarons." "Bake"–with no temperature or time listed. The ingredients are all there, but the bakers need to understand the roles of fats and acids and rise times to make this new recipe come to a delicious result.
These basics are not static, either. There are always new skills to learn, whether you're making a new cake recipe or a story.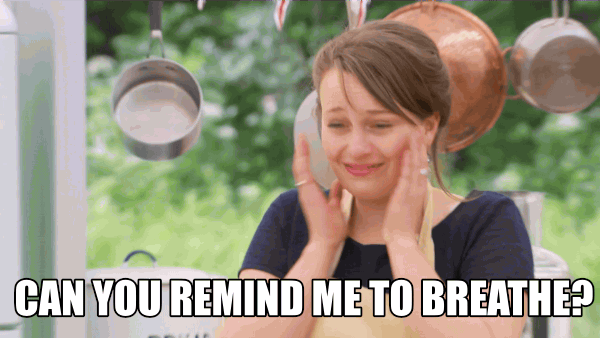 – Supportive Community
Writing is hard. Editing is hard. A support network is vital. The encouragement of family and friends means a lot, but unless they are writers as well, they won't completely get what we go through. You need other writers at your level who are willing to share updates on a new magazine, willing to critique, willing to listen on those days when the rejections flow and the words don't.
That kind of community is what makes Great British Baking Show so extraordinary. American reality shows are petty and mean; they relish in someone's downfall, and add sound effects for good measure. Baking Show eschews that manufactured drama. The contestants become friends. They bond as they work on stations near each other, weekend after weekend. They are competitors, yes, but they are willing to share ingredients at times, or help get a cake out of a pan. There are no sly camera angles to show sabotage–that's not even a thought.
When a baker has a bad weekend and must leave the tent, it's a moment of sadness. They gather for a group hug. Tears are shed. The survivors are saying farewell to a friend.
This is something writers must keep in mind, too. We each endure travails in our lives. We each want to make it as a writer. And yes, we are also vying for those few available slots in a magazine or anthology. It doesn't need to be a cruel kind of competition, though. The publishing world is small, and we need companions for the long journey.
Originally posted at Novelocity. #SFWAPro
Save
Save